Update Aug 17, This blog post got a little crazy as I updated it over time. I also compiled a series of emails called The Secrets Behind The Infographic. And so, to get the graphic and the secrets, just add your name and email to the list below. And yes, you can easily jump off the list once you're satisfied. The original post is down below.
Here's the color version (simply click to open OR right-click to save, use cmd-click for Macs)
---
Original post below …
---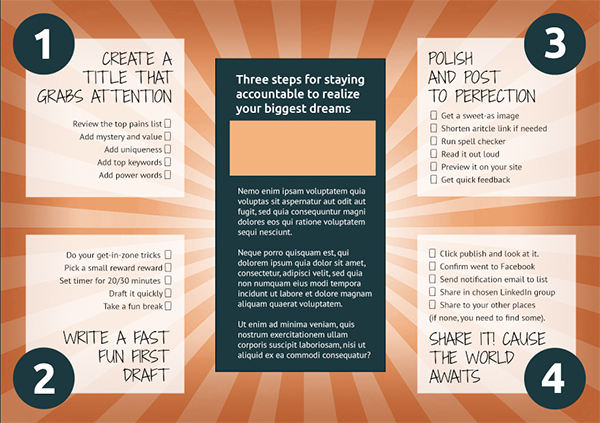 You're in luck if you're a new-ish blogger, soon-to-be blogger, aspiring blogger or even a seasoned writer who …
wants to be consistent
wants to write engaging blogs
wants to build his/her coach image as an expert
wants to attract people from search engines
wants to blog faster (it's taking too much time)
wants good topics to write about that people want to read
This 1-page printable infographic I'm creating will have checkboxes and quick tips for great blogging.
Over the 10+ years blogging for myself, helping coaches blog as well (blogging for fun but also to bring traffic, clients and income) I've run into a host of challenges that this infographic is designed to hack down 😉
But I want your help to make sure this graphic is magnificent.
Want it? Sure, no problem. Just send me your left arm and your first born 😉
Just kidding. I need two things from you:
Make a post below and tell me your #1 biggest frustration, worry, concern or question about blogging below.
In the body of your post, include your blog's web address (yes, I know you can put your address in one of the fields, but please also add it to the actual comment you make).
As I craft this visual work of art, I'll share it for feedback.
When the infographic is done over next few weeks, I'll send you a copy.
So, just do the two things I listed above to get it. Thankee!