This is going to be a juicy post sharing with you some key tips for making this happen: How to get a steady supply of clients, using the Web as your main vehicle.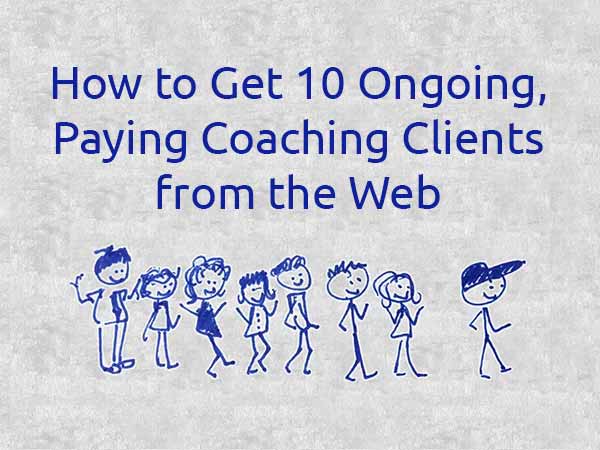 I know many coaches wish to have an international, mobile (live wherever or travel more) business. The dream of living in other countries, traveling for a few months, retiring sooner and doing more work they love, while still serving clients by phone or Skype is just awesome.
Furthermore, they want to getting paid well and jump for joy as their clients great exciting progress in their work/life/career/health etc.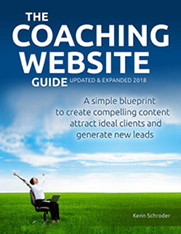 Learn the tips, tricks and techniques to build your professional image and get people to contact you in The Coaching Site Guide.
This article will not go heavily into advertising or article submission or running webinars as those things require some time-consuming ramp up to implement.
Rather will I'll focus on where you can start right now to engage with potential clients and build your image using groups, forums, social sites or other online hangouts.
This approach can help you get clients right away, get traffic, learn about your market, building your credibility, connecting with other experts and test out your message. Very powerful.
It will require some time to participate and a little courage to be vocal for fear of judgement (Yes, there are trolls out there itching for a fight and you'll want to avoid them at all costs).
Ready to get your feet wet, get out there and lead possible clients to you?!
Here are the 8 steps to 10 ongoing clients from the web …
Step 1. Find places online where plenty of people would make a good fit.
You've got ideal types of clients and if they have a heartbeat, they are online in some way shape or form. Your job is to find out where.
For example, if you're working with massage therapists and/or new age body worker types, a quick look at LinkedIn Groups easily found one group of 14,000+ members. There are also associations for massage therapists.
If you're working with new managers who suck at leading, seek places where they go for help on this subject. Maybe leadership discussion groups or perhaps they follow a leadership guru out there who writes about managing others. That guru's blog might be a place to find such new managers who you could coach.
If your market subscribes to an industry magazine, then that publication probably has an online community or group you could join.
I like to brainstorm and search for ways to reach them where they are hanging out en masse.
Step 2. Create a helpful, positive, supportive presence.
Hang out in those groups (public ones are great for direct access to your market) and be helpful.
Write articles to teach and educate and you'll quickly become a voice to be heard.
Be coachy and inspire, question, cheer, and challenge them to do great things.
If you're submitting an article or an ad to a publication, they likely have a blog or online community where you can show up as well.
Step 3. Invite people to your website for more helpful goodness.
While being seen in those groups, mention handy articles, free giveaways or any other resources that are available at your site.
This gets people back to your site. Be tactful when you do share stuff like mentioning your articles as "additional info." Avoid blatant self promoting as it's highly unattractive.
This is what I call the expert website and I wrote about it in The Coaching Site Guide. It's a website that engages visitors, builds you up, and inspires them to contacting you for help.
Step 4. Get them your list for more interaction.
When people come to your site, invite them to stay in touch through your email list and, IMPORTANT, promise continued valuable info for being on that list.
In it's simplest, you can state "get tips for helping you accomplish X" where X represents the subject matter you're all about along with the bigger picture impact your work has on people's lives/work/careers/health.
Even better would be an instantly accessible must-have freebie like a pdf or infographic or video.
Step 5. Grow a positive relationship over time.
While on your list, send helpful stuff to them.
Ask questions and interact. Get to know them as a coach would. Share wisdom bits from your past clients, personal experience or from the gurus you follow.
One simple, fast, credibility boosting way is to write short articles to your blog and share them with your list. This both builds your website content and serves your list.
In time, they will grow to love you.
Step 6. Invite people from you list to have a chat.
Send an offer to your tribe (your list, any groups your in) to have a chat with you on the phone.
You could start with a simple email to start the conversation, but quickly turn that into a call, be it 20 minutes or 30 or an hour.
Quick little story to give you guts to invite people to a call if you're feeling clumsy about selling …
While my job is to help coaches build great websites that generate leads, that job is incomplete if I don't make sure the website is fitting into the bigger client-attraction strategy.
While working with a client who is building up to a steady 5 clients, he shared with me a great way to think about inviting people to a call …
He put potential clients into 3 categories:
Cold – People you don't know, or haven't talked to in a while (say few weeks). Simply invite these people (by email, phone, any way) to a call where your job is simple to connect with them and get them warm. Don't worry about selling or anything, just a positive interaction.
Warm – People you've talked to recently and had a good connection with. They are warm. Your job is to simply talk to them to see if things can get hot. Go ahead and inquire about their top frustrations or big dreams in life/work/health, etc. If you invite them to a call, say you are curious about their pains/goals/desires/challenges. If in the call, they open up, share deep stuff, and really let it out, consider them hot.
Hot – They have tough troubles or big goals they want to reach. They are willing to share this with you. They will likely ask you about what you do as a coach for possible help. You can offer to tell them how you work and then simply invite them to work with you as a client.
Your job at this point is just step 1 – get people from cold to warm by connecting as a curious friend.
The phone is your friend and a verbal conversation is a powerful way to gain trust and generate new clients.
Step 7. The Investment Difference
If people are warm to you, that's incredibly helpful to getting them signed up. Trust is big.
What I've found nearly as valuable as earning trust is getting answers to two questions:
What will things be like 1 year from now if you continue on the path you're on?  This could be 2 or 6 months or whatever makes sense for your coaching and types of clients.
What would you love things to be like 1 year from now? What would be pretty exciting, even if a bit unrealistic? G
Getting them to spend time answering these questions, will give them a good look at what's at stake here.
I call this difference the investment difference because if you think about the difference between exciting future and crappy future, that difference is what the client is putting their money towards.
And you don't need to use my words above to ask them. Find your own way, with your own words to determine both life in the future with the pain and the desired future life that would be exciting. 
Step 8. Sign up new clients with a sweet offer.
At this point, you've been having calls with folks and when you've discovered some important matters they need coaching on, you should invite them to work with you.
Make the offer. Invite them to pay you for help.
I can be as simple as, Would you like to sign up for coaching with me?
The offer for coaching can be as simple as X Per Hour or Y Per Month. But I've found that when you learn about your clients struggles, often the time period to work together and the structure (long calls? fortnightly? monthly? phone and/or email?) will be dictated by the challenges and needs.
Here are some examples …
One
Those new-in-biz massage therapists may not be able to afford $600/month for 3 one-hour sessions, but they might do well with 1 call, a group call, and email support at $200/month.
And you aim to help them grow their small business to an additional $1000 per month while working fewer hours, the investment is obviously worthwhile. It becomes an easy yes to hire you.
Two
An executive's health is fading and his career is at risk. But he's got a crazy busy schedule and to start with you a 30-minute quick call and daily email accountability check-in is what he might need. He's a quick decision maker and action taker, so the short focused call could work.
Your coaching is an investment to insure he thrives in his 200k job, and so 1k health coach agreement with very short calls and daily check-in would fit.
Avoid anything that delays or complicates the sign up process like scheduling another call to follow up or even sending a link to make payment.
It's best to just lay out the offer right there and take payment via the phone, if possible.
Any delay in the offer kills the momentum (bad for both your income and their momentum) and other things in life will just derail your client securing efforts.
As a quick recap …
Step 1. Find Places Online
Step 2. Create Positive Presence
Step 3. Invite to Your Website
Step 4. Get onto Your List
Step 5. Grow a Relationship
Step 6. Invite to Chat
Step 7. One Year Out
Step 8. Make Sweet Offer to Sign Them Up
Your job is to get out there and lead people through steps to getting to know you, to a call, to an offer to formally work together.
Really that's all there is to it.
Yes, there's work to do, but make sure you're implementing all of the steps above in your process.
Simple right? So what's stopping you?!?!?!
I can hear those stones tumbling around in your head? What are you thinking? Share your thoughts below.