Many coaches want to climb that first mountain of success in their coaching business – proving that you can do it.
Typically, this means obtaining a steady supply of paying clients, often 5 or 10, that will support your lifestyle, enable you to leave a less desirable job (or go part-time), or add a nice supplemental income stream.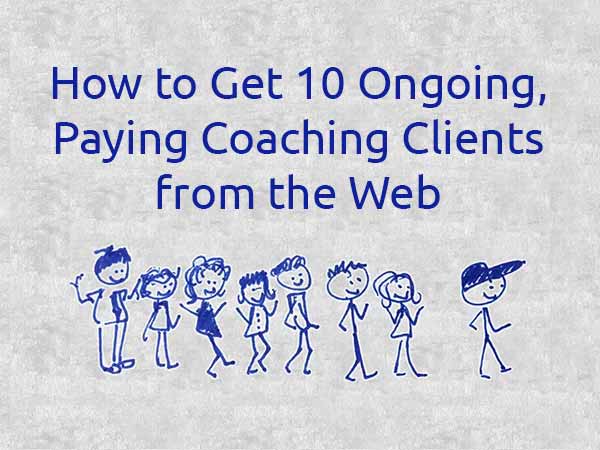 You also get to do soul-satisfying work and celebrate with your clients as they realize their important goals.
The lifestyle flexibility from setting your own hours and being mobile also allow you to pursue new hobbies and travel more – big pluses.
How would you shape your work schedule? Would you get more sleep? Spend more time with friends? Visit places you've always want to go?
Whatever your dreams and goals are, to make that happen as a coach, you'll need to bring in the clients and income – and do that using the Web.
Let's talk about how to do that …
The 8 Steps to Steady Clients from the Web
Step 1. Sharpen your message.
An experienced lumber jack spends a lot of time sharpening the blade AND carefully picks his contact point on the tree. He cuts down trees fast.
Me, totally ignorant, would spend zero time sharpening and chop all around the base of the tree. It'll take me forever to bring it down. Ineffective.
This is because focusing has more impact.
The same goes for your coaching business.
Instead of wielding a general "Do you want coaching?" message anywhere on the Web which is vague and people can't see value in it, try sharpening your message to speak to a specific person who has a tough challenge – and choose specific places where it will reach them.
I like crafting a persona (a single person with a big challenge) and then positioning online materials (website, email, messages, everything) to speak them.
People can't help but respond to what you say if it's tailored sharply to them.
Step 2. Find hangouts.
With your ideal client in mind, your next job is to find ways to get your message in front of them, online.
There are an ever-growing number of ways to do this from article writing, to networking, to cold emailing, to ads, to videos, to webinars, to social media, and more.
For example, if you're working with massage therapists and/or new age body workers, a quick search in LinkedIn Groups revealed one group of 14,000+ members.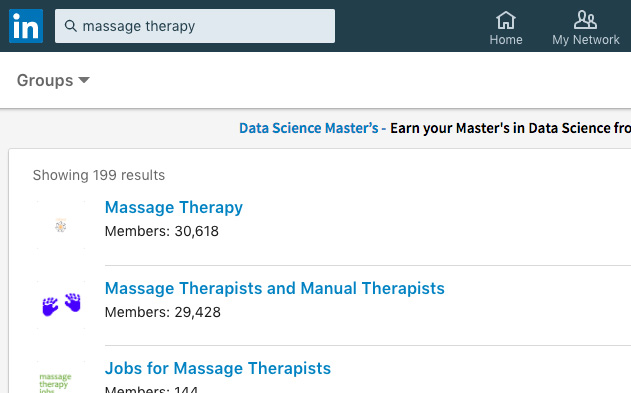 On Facebook, I quickly found a group of 33000+ members, shown here: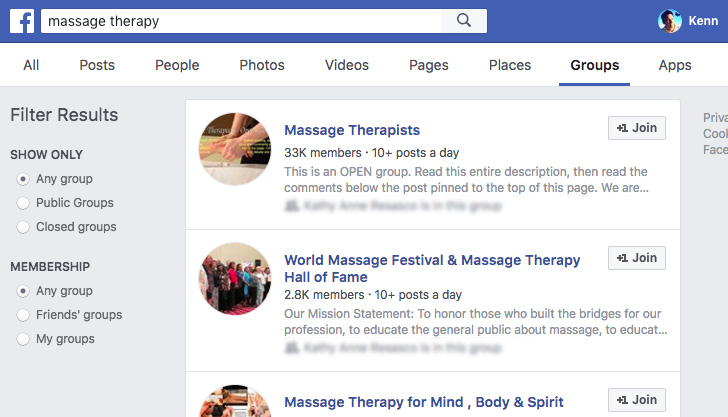 I like to brainstorm and search for ways to reach them where they are hanging out in mass.
Hang out in those groups (public ones are great for direct access to your market) and be helpful.
Write articles to teach and educate and you'll quickly become a voice people listen to.
Be coachy and inspire, question, cheer, and challenge them to do great things.
If you're submitting an article or an ad to a publication, they likely have a blog or online community where you can show up as well.
Step 3. Make some noise to get visible.
Now that you've found out where they hang out online, or rather where they pay attention, your job is to put a message (ad, article, post, etc) that will get their attention.
You've probably seen all kinds of ads on Facebook, when you scroll down just a bit on your news feed.
Those are ads from the marketers who chose you from the information in your profile.
Those marketers "made noise" in your news. They targeted you knowing that you were "hanging out" on Facebook.
Your job is to do the same in the hangouts of your target client.
If you were providing business coaching to massage therapists, you could join those groups in the previous step, and start discussions, or share blogs, or even run an ad in those groups. You would check out the group rules and speak to the group leader to see about how to go about it.
Step 4. Drive them to your website.
However you "make noise" in your various "hangouts" is up to you.
You'll need to direct the attention from those hangouts to your website where people can learn about what you do and be invited to talk to you about coaching.
Here are a few examples:
If you shared a link to your blog post titled, 3 Mistakes Massage Therapists Make that Stop Them from Getting New Clients in a group of massage therapists, then the link would drive traffic to that blog post. That blog post would then lead them into a call with you.
If you ran an advertisement on Facebook and chose people in that group to receive the ad, then your ad would drive traffic to a specific page you want them to see – perhaps your Strategy Session offer (a call to both help them and then invite them to sign up for coaching).
If you've posted a profile on Noomii.com (career and life coach directory), then your profile will have a link to your website. However, different coach directories handle the client-coach interaction differently.
Your website is your selling system. Be intentional about directing folks to it.
Yes, basically chuck them in your car and drive them to your website. 😉
Step 5. Engage them.
When they get to your website, via ad, article, link or other, you want your website to instantly engage them, build a case for your services, and get them excited to talk to you on the phone.
A simple, static brochure-like website might direct them to get a strategy session with you. There's no list or blog. Just great copy and  a single, visible, compelling call to action.
A single page with an email list sign-up box would enable you to follow up, develop the relationship and invite them to a call.
A blog website would have articles they can read, and then invite them to a call or get on your list for following up. This is a big-time expert move.
I've seen them all work.
The expert website, the approach I use with clients, is a combination of all three. It builds credibility, engages potential clients, gets them on your list, and all along the way invites them to have a call with you.
I wrote about this in The Coaching Website Guide.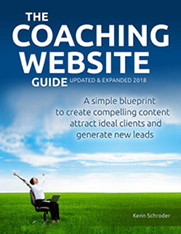 Step 6. Grow the relationship.
While some people will contact you right away for coaching, many will not. It's a good move to invite them to your email list for following up.
Over time, as you grow your list and share handy info with them, you'll have a pool of people who know, like and trust you.
And at any time, you can send an invitation for a free session with you where you can invite them to become your client.
It's like having a waiting list of clients to keep your practice full.
The Money Move – If you do write articles and post them to your blog, you can also post those blogs in hangouts online and can send those articles to your list as a way of serving them. One article does three great things. That's good leverage!
Step 7. Call them to action.
As your list grows, it will provide you with future clients, keeping you happily busy.
All you have to do is send an email to your list with a juicy invitation to get on the phone with you.
The selling process is faster and easier too since your list subscribers already know and like you.
Here's a neat article to get more action: 5 Ways to Get More Free Session Requests from Your Website.
Step 8. Wow them in the call.
At this point, you've got a potential client on the phone with you.
It's time to impress them and show them that working with you would be the thing to do.
What I've found most valuable in getting clients to sign up are two things:
Firstly, being fully present and closely listening to their situation deeply, including their struggles, their goals and everything in between is a huge trust and relationship builder.
They will feel things start to happen, momentum will build, and YOU will be seen as the catalyst.
Secondly, if your discussion takes them to both their desired future state AND their unwanted  future state (if they continue on their current path) then it's clear what's stake.
I call the difference between the two states, the investable difference. 
The potential client can easily see and feel WHY they should hire you right now.
In The Coaching Website Guide, I've written a chapter about the strategy session and the investable difference and how to get potential clients to eagerly to sign up with you.
In conclusion, if you want a steady supply of coaching clients, you'll need to set up an exciting, engaging path that leads them to saying YES to working with you.
There are plenty of clients out there and they are stuck, struggling and frustrated.
They are waiting for you to show up in their lives.
You just need to get out there, tell them what you do and lead them into a call with you.
Here are those steps again:
Step 1. Sharpen the blade (focus on a specific person and pain)
Step 2. Find hangouts (where this person places their attention)
Step 3. Make some noise (in those places so they discover you)
Step 4. Drive them to your website (to be wowed)
Step 5. Engage them (when they arrive and get them into your content)
Step 6. Grow the relationship (to win trust)
Step 7. Call them to action (to get on the phone with you, or a meeting)
Step 8. Wow them in the call (by becoming their confidant to success)
I can hear those stones tumbling around in your head? What are you thinking? Share your thoughts below.