This is going to be a very short post sharing with you some key tips for making this happen: How to get a steady supply of clients, using the Web as your main vehicle.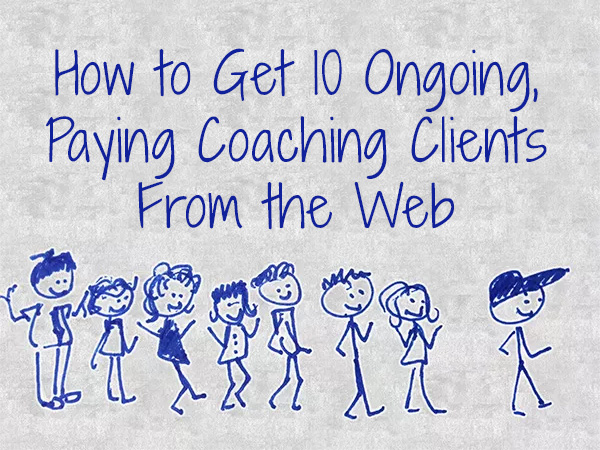 I know many coaches wish to have an international, mobile (live wherever or travel more) business. The dream of living in other countries, traveling for a few months, retiring sooner and doing more work they love, while still serving clients by phone or Skype is just awesome. All the while, getting paid as well and celebrating with clients as they make great progress in their work/life/career/health etc.
Here are the 8 steps …
1. Find places online for which a good portion of the people would make a good fit for you.
You've got ideal types of clients and if they have a heartbeat, they are online in some way shape or form. Your job is to find out where.
For example, if you're working with massage therapists and/or new age body worker types, a quick look at LinkedIn Groups easily found one group of 14,000+ members. There are also licensing and associations for massage therapists.
If you're working with new managers who suck at leading, seek places where they go for help on this subject. Maybe leadership discussion groups or they follow a leadership guru out there who writes about managing others. That guru's blog might be a place to find such new managers you could coach.
2. Create a helping, coachy, supportive presence.
Hang out in those groups (public ones are great for direct access to your market) and be helpful.
Write articles to teach and educate and you'll quickly become a voice to be heard.
Be coachy and inspire, question, cheer, and challenge them to do great things.
3. Invite people to your website for more helpful wholesome goodness.
While being seen in those groups, mention handy articles, free giveaways or any other resources that are available at your site.
This gets people back to your site. Be tactful when you do share stuff like mentioning your articles as "additional info". Avoid blatant self promoting as it's unattractive.
This is what I call the expert website and I wrote about it in The Coaching Site Guide. It's a website that engages visitors, builds you up, and inspires them to contacting you for help.
4. Get them your list for more treasures to serve them.
When people come to your site, invite them to stay in touch on your email list and promise continued value for being on that list. Simply "tips for helping you accomplish X" works great – as long as X isn't something intangible, out there or vague (again, a focus on a market/ideal client gets rid of the vagueness).
5. Grow a positive relationship as their coach.
While on your list, send helpful stuff to them.
Ask questions and interact. Get to know them as a coach would and share wisdom bits.
One simple way is to write short articles to your blog and share them with your list. Invite them to talk to you. As time goes on, they grow to love you.
Be their coach by email.
6. Invite people from your list to talk.
Intentionally send those who are in your close network (your list being the closest without being on a first name basis) an offer to talk about their situation.
Offer a short call to help them with their challenges -like a Find New Work You'll Love or a Health and Energy Boost Call or even something simple as a Success Strategy Session.
7. Talk to those people and invite them to coaching your client.
Make a good offer to get people who get on the phone with you.
Those massage therapists may not be able to afford $600/month for 3 one-hour sessions, but they might do well with 1 call, a group call, and email support at $200/month.
And you aim to help them row their small business to an additional $1000 per month while working fewer hours, the investment is obviously worthwhile. It becomes an easy yes to hire you.
Be intentional and make the time to send offers to your list or network or group to have a talk with you.
8. Sign up new clients.
For many coaches, 10 ongoing clients, paying full rate means YOU'VE DONE IT!!! You've reached that first mountain of success and can grow from there.
So, make sure that after explaining how you work with clients, you ask, Would you like to sign up for coaching with me?
As a quick recap …
Your job is to get out there and lead people through steps to getting to know you, to a call, to an offer to formally work together. Really that's all there is to it.
Yes, there's work to do, but make sure you're implementing all of the steps above in your process.
Simple right? So what's stopping you?!?!?!
I'd love to hear your thoughts. Just post a comment.