The Coaching Website Guide: A simple blueprint to create compelling content, attract great clients, and generate new leads.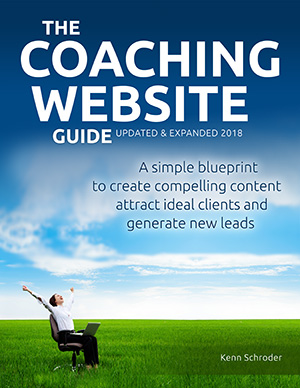 Learn how to confidently and authentically sell your coaching services with your website.
Write content that appeals to your ideal client.
Build your credibility high, even if you're a new coach.
Get the structure and underlying strategy to generate leads.
Launch your website quickly without pulling your hair out.
Get 3 bonus infographics to attract clients with your website.
I want the guide!
I did a study. I found that 90% of coaching websites never bring a single client. And here's why …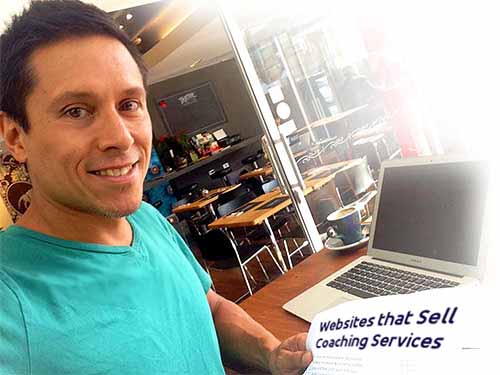 Basic marketing courses will ask you to study your market in order position your services to sell. Back in 2012, I did exactly that.
I hopped on the phone with 45 coaches from my email list to find out everything I could about their thoughts, behaviors, and worries about websites.
Three weeks later, from lots of discussions, I was surprised to find …
To my surprise, I found that 1/3 of websites never made it online. And of the ones that did, 90% never generated a single lead. Yipes!
When you do the math, this means that only 7% of all coaching websites ever succeed. That's scary.
Imagine spending months developing your website, perhaps thousands of dollars, and then nothing comes from it. And then you have to start all over again?! Or, like many, just give up on your dreams. Argh!
Sadly, I was once in the 7%.
In my early days of business, I must have redone my website over 20 times before I figured out how to get it to consistently bring me new client leads.
From trial and error, devouring marketing books, and pure stubbornness (persistence?), I finally cracked the code which enabled both me and my clients to generate dozens of leads each month – from our websites.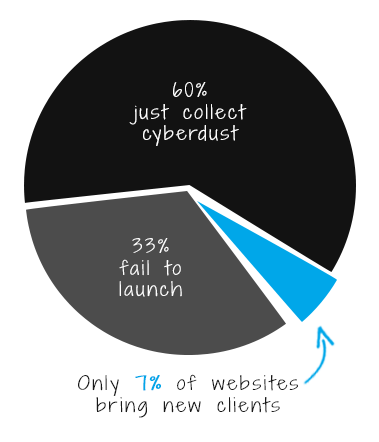 The Big Discovery was that everything in your website (content, visuals, pages, links, calls-to-action, forms, etc) must speak to the visitor's deepest needs (authentically and genuinely) and lead them (swiftly and inspirationally) to contact you for help. Everything!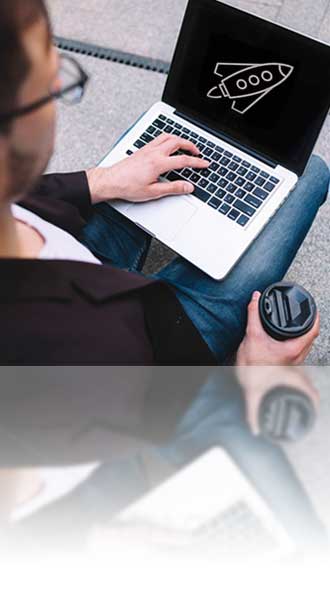 Yes, your website is NOT FOR YOU, but FOR YOUR CLIENTS. It must speak to them and their needs.
After that big discovery, I went on a bit of a rampage, and offered FREE websites reviews for a few years to coach friends on LinkedIn.
From over 1000 websites, here were the top problems I found:
1. They were boring. They spoke too much about coaching (process, techniques, approaches) and too little about the value.
2. They were confusing. They were disorganized, difficult to navigate and hard to read.
3. They didn't invite people to take action. The calls-to-action were missing or weak.
Their websites didn't bring in leads. But once we addressed those issues things improved, namely new leads started coming in.
Don't fret too much if your website isn't working. It's easy to fail because …
technology makes it easy to "jump in blind" and create a useless website.
there's a lot to learn to get things to work from content, to visuals, to technology, to strategy.
there's too much advice out there that can confuse, overwhelm, and derail you.
It's easy to make a mess and so many do.
For this reason, I wrote The Coaching Website Guide.
Whether you're just planning your website, currently building it, or already have one that's not working, you'll find the advice to be priceless.
I believe strongly in coaching as a catalyst for and growth. I also believe in the web as an amazing tool for connecting with new clients.
Get your copy of the guide now, skip past common website mistakes, and put technology to work in your business so people can get the coaching they need.
Kenn
Buy the guide, get the bonus infographics, and my 30-day guarantee now and start getting new clients with your website.

What's inside the guide?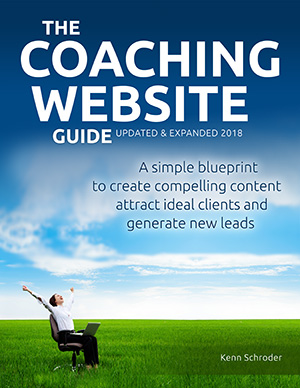 Inside the 320 page pdf, you'll learn …
How to focus your website on your client instead of you.
How to avoid the top 7 mistakes most coaches make.
How to make an enticing opt-in box that gets sign-ups.
How to craft the key pages coaches should have on their site.
How to make your menu simple, easy, and intuitive for visitors.
How to write great articles like the seasoned pros.
How to choose an ideal WordPress theme.
How to start getting traffic from search engines.
How to choose great images and avoid cheesy ones.
How and where to find a good web designer.
How the web design process works to get things done timely.
How to quickly create a free giveaway that people just gotta have.
How to get raving testimonials (I call success stories).
How to get a bio photo that makes you look like a pro.
How to write enticingly from recipes, formulas, and examples.
Links to blogs for detailed information.
And much, much more …
Inside: Three Strategy Diagrams for a Website that Attracts Clients
The Homepage Elements
Learn how to elevate your credibility and instantly engage visitors.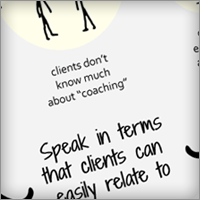 The Language Clients "Get"
Learn how to create content that excites your potential clients.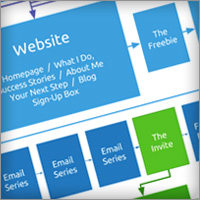 The Conversion Website Map
See how your website, pages, and emails lead visitors to contacting you.
Check out chapter 1 for free …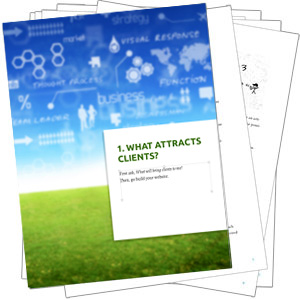 Preview chapter 1 to see if the content is any good.
Don't spend the next 6 months creating another boring, fugly website that you're afraid to show anyone.
Instead, get the guide, create compelling content, and get out there with a website that will impress your ideal clients.
Here's the key to writing authentic, exciting content for your website.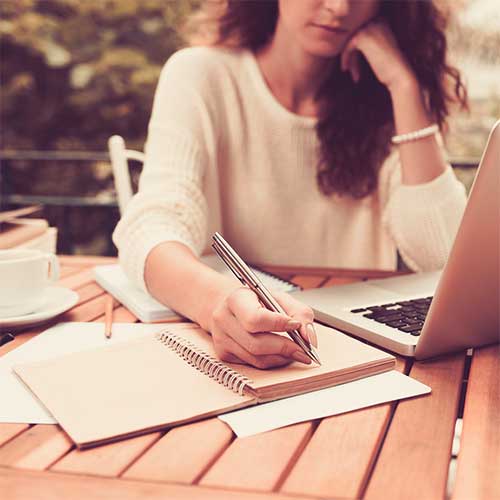 Ever notice how people's eyes glaze over when you try to explain how coaching works? And if they do "sorta get it", it doesn't really get them wanting to hire you, does it?
But this is exactly what most coaches do on their websites. They try to explain how coaching works, the processes and techniques. And clients just don't get excited about that stuff.
The key to good content is to speak directly to the needs of your visitors and then position yourself as a great option.
If you can do this while remaining real, human and approachable, then your visitors will be itching to get on the phone with you.
In The Coaching Website Guide, you'll learn to write compelling copy using the techniques, formulas and examples that have worked for me, my clients and students.
Learn how to write exciting content that gets people to contact you – without being salesy or fake I might add.
Buy The Coaching Website Guide, $97, 100% Happiness Guarantee.
If you're overwhelmed with technology and the whole website creation process, here's how to stay focused and get it done timely.
Don't fret. It's quite common to pull your hair out over your website. There's a lot to do. A lot to think about. And too much info (mostly irrelevant) out there to keep you forever researching.
And while hiring a designer can help, it often adds more stress because you have to manage them and explain coaching to them – which leads to a lot of back and forth.
The biggest reason for feeling overwhelmed is lack of focus. Without a clear vision for your website (pages, colors, feel, content, technology, and calls to action) you'll never launch.
You'll just chase the latest shiny object, overthink your copy, and fall prey to perfectionism. Like a broken record, you'll tell people that "you're still working on your website". Bleh!
In The Coaching Website Guide, you'll learn how to keep from getting stressed, to stay on track and launch your website in a timely manner.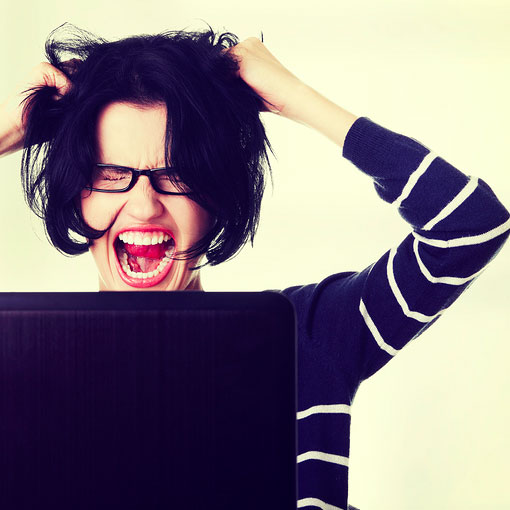 Get a grip on your content and use my secret weapons to make sure you get your site done timely.
The guide is just $97 with my 100% Happiness Guarantee and the bonus infographics.
What coaches are saying about the guide …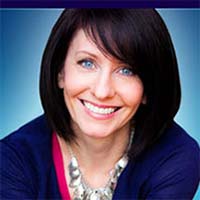 Your guide was extremely helpful and really gave me a blueprint I could follow in structuring my own coaching website and content. 
The site is doing its job by attracting a regular stream of consultation requests and clients. Thanks so much for sharing your insights and wisdom.
~ Chiara Pietrogiovanna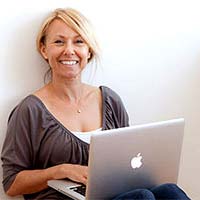 You described how to make my website about the benefits to the client. I honestly thought I already had, but when I read your guide I could see I was totally fixed on my own perspective and was explaining the processes.
I changed the text, get new photos taken and wrote my free ebook in about 4 weeks. My website has already generated 13 new clients. The guide has been invaluable and I'm really excited about the next phase of my business.
~ Hannah Hempenstall

Kenn, the section on the giveaway and opt-in box are absolutely priceless. If coaches followed that advice, they'd be well their way to really understanding client attraction. PS – Thanks for helping the members at LinkedIn!
~ EG Sebastian, Client-Attraction

Web development can make even the brightest person's brain feel like pudding. You lighten the heaviness with your approachable style, and then feed lots of substance in "little bites" so readers don't get overwhelmed.
~ Lisa Manyoky, Branding Strategist

Not everyone can write. Not everyone can hold an audience. Your Guide is very well written. I have the sitemap and hub model pages pinned on my wall. The way you built up to the content writing section was done so nicely that even a novice can understand it.
~ Gary Henson, Business Coach

"What made it easy for me were the models, layouts, templates, formulas and examples – and your subtle humor along the way. I like that. Makes it real and it makes me smile. Doesn't get much better than that.
~ Carol Leek, Business Coach

Kenn is providing what coaches and consultants need to effectively market their business on the Internet. Read and use this step-by-step guide to develop your expert website and your customized online marketing system to attract and engage more clients.
~ Mike Rafati, Incredible Coach

Kenn, I think you're brilliant! The whole idea of the "expert website" resonates with me. This guide is going to keep lots of coaches from floundering for a couple of years, wondering why their site isn't attracting clients.
~ Gayle Scroggs, Mentor Coach

It's easy to comprehend and really simple to work with. I've finally narrowed my niche – a huge step after 2½ years in business. Thank you so much for making that available to coaches like me!
~ Anne Fischer, Success Coach


It's really hard for coaches to see their service from the benefit to the customer/client's perspective. I thought you did one of the best jobs of explaining that I've seen. Plus, the step-by-step approach was exceptional.
~ Barb Zeigler, Set and Get Your Fees

I like that the site is intentional and purposeful about getting you clients. The message comes across to me loud and clear, "It's not about you stupid but what your clients want" – but you say that nicely.
~ Dr Tim Conrad, Resilience Coach.
Your coaching business dreams are worth it!
Put your best foot forward create a website
that attracts ideal clients.
3 Bonus Tools When You Buy the Guide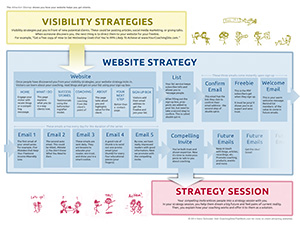 Bonus 1 : The Client-Attraction Website Map
Print it out and stick it on your wall. This infographic shows you how the various website components work together to attract ideal clients, build instant credibility, and lead visitors to contact you.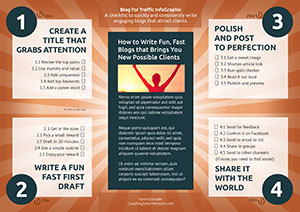 Bonus 2 : Blog for Traffic Infographic & The Private Notes
Publishing is the new advertising. View blogging as a simple way to both (1) build your credibility as a coach and (2) share information to get your name in front of potential clients. Use this infographic to consistently write great articles that people will love.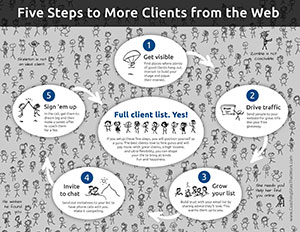 Bonus 3 : Clients From the Web Infographic
If you want a website that brings in clients while you sleep, you need to have a few things in place. When the coaches I work with aren't getting enough leads, I whip this out and troubleshoot. It works like magic.
Yes, I want the guide!
Choose GUIDE or KIT below:
Option 1: The Guide Only $97

Design your website to attract new clients. You won't regret it.
Get 193 pages of my best advice for one low price
Bonus Tool: Blog for Traffic Infographic and My Secrets Notes
Bonus Tool: Client-Attraction Sitemap and My Secrets Notes
Bonus Tool: Clients from the Web Infographic
100% Total Happiness Promise
Option 2: The QuickStart Kit $297
The Guide + 4 Videos + Premium Theme + Launch Plan + Secret Website
Build a better website with the tools I use with my most successful clients.
Use them yourself or with your designer.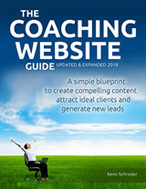 The Coaching Website Guide
For a site that sells coaching (so you don't have to), get these 193 pages of my best advice.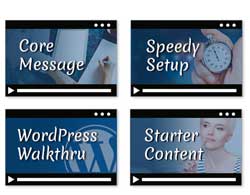 WordPress Videos
Grab a cup of coffee, quickly learn WordPress, and setup your first webpage. Build exciting momentum with vital first steps.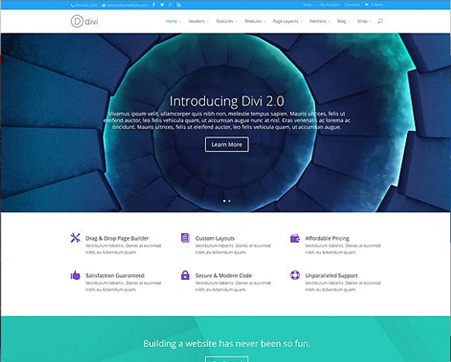 The Divi Theme
Great for content layout. Easily express your brand. Looks great on mobiles. The perfect cutting edge theme.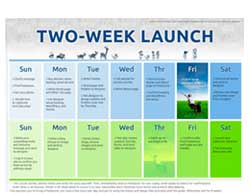 2-Week Launch Plan
If you want to "eat the frog" and get your website done in a focused, timely manner, this infographic shows you how.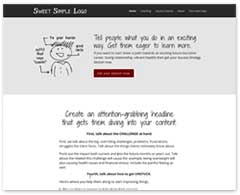 The Secret Website
Access a private, working website that details the content strategy, page-by-page.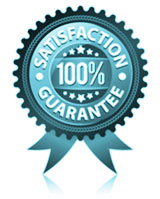 100% Total Happiness Promise
Your happiness is my priority. I want you to get a lot from the guide. If you find that it's not for you, you have a full 30 days to let me know and I'll be happy to refund you in full. To get a refund, just reply to the email receipt and it will be issued right away. Easy.
Kenn Schroder, Web Designer for Coaches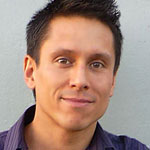 "Creating on computers" has been a passion of mine since I was 8 years old. I left corporate America in 2000 to do my own thing as a web developer. In 2006, I decided to focus solely on coaching websites to deliver more value, run a better business, and have more fun with cool people like you 😉
I took my best advice and put it into this handy manual called The Coaching Website Guide. Take advantage of my experience to help you attract clients. People really do need you and it's your duty to get out there find them.
I love long walks on the beach and grass-fed burgers on salads.
Common Questions
Who is this guide for? It's for the coach who wants more clients, especially via the web. It's you if you want an authentic website that speaks to your ideal client and gives you confidence to get out there and market.
What if I'm not very technical? This guide is focused on content and structure that brings you clients. It's not a point-and-click guide technical manual as one would quickly go dated. It does a lot of give advice on how to do-it-yourself or hire someone.
Will I learn WordPress? WordPress is outside the scope of this guide, but I do give you some of the basics. This guide is for use with any website creation tool.
What about SEO? Is it in the guide? No. It's too big of a topic. However, I do give you some of the basics which have helped many coaches start getting new clients from the Web.
How is your guide different from all the free stuff out there? The free advice out there is general, overwhelming, and loosely relevant for coaches. This guide has the stuff I've found that works for coaches.
I'm a techie. Should I buy the guide? Yes, for the content advice, design tips and website strategy which are important if you want your website to generate leads.
Can I get a refund if I don't like it? Yes. Instantly.
Should I get the guide if I'm not using WordPress? Yes, because the guide is all about the strategy for generating leads. It matters less what website creation technology you use.
Got a question? No sweat. My doors are always open. Just email me at email hidden; JavaScript is required and I'll respond within a business day.