My Story

8 Odd, fun, and painful moments in life that lead me to you.
Hey, I'm Kenn Schroder. I'm many things but on this website I play a web designer, techie and teacher helping coaches create client-attracting websites. My cool title (seems you can't get by online without one anymore these days) is coaching website success strategist.
Well, how can I tell you the story of how I went from a twinkle in my dad's eye and a sparkle in my mom's to a full-fledged, ten-toed, humanoid who can't get enough of his laptop?
Great question. Let me share 7 special moments in my life that I think created the situation you and I are in right now -> Me writing this page and you reading it 😉
Special Moment 1 of 8: I got a licken for not coming to dinner and my dad destroyed my C64.
I hope my dad isn't reading this 😉 But I don't blame him one bit for losing his temper after my mom called me for dinner over and over and I wouldn't budge.
I can see the same thing now as I act as a parent to a 6-year-old little flower of a girl, who is just soaking up life like a curious little sponge and going after what she wants with unstoppable force.
For all the kids out there, our parents might think we are being rebellious or poorly behaved, but to our defense, we weren't all that villainous or evil. We were just engaged in life. That's what kids do. 
And actually I don't recall getting a hiding then, but he certainly did "aggressively dismantling the computer" which I'm sure would have been more painful anyhows. I also can remember snapping back on most of the keys and it actually worked again.
Wait a sec. What's the point of all of this? Oh! I loved programming games and spending endless hours on  my Commodore 64.
And that's where my love of computers (later internet) all began. This is insanely powerful stuff.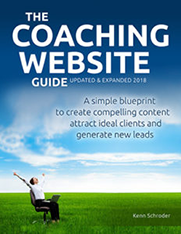 Along the journey journey as a web designer for coaches, I put my best tips and tricks for creating a website that generates new client leads in a juicy package called The Coaching Site Guide.
Check out the guide
Special Moment 2 of 8: When I met my first coach, my head was spinning.
Actually, her title was business counselor. But titles smiles, they are convenient for reference, but don't really tell the full story – often tell the wrong story ;D
I remember distinctly, having a coaching session with my new coach, spending about 2 hours with some great questions, that got my mouth motoring, my mind swirling, and all sorts of crazy sensations.
Looking back, I was just stuck in my head too much, and the eagle need to fly from the cage. And my coach helped me do that.
But all my life, up until that point when I met my coach, I had done the same things with other people – coaching them with questions, opening them up with words, helping them be powerfully responsible with challenges.
I knew that I was in the right place working with my coach. With coaches. With coaching.
Special Moment 3 of 8: Being open to learning from this old-looking library book on selling.
I was living in a cute village of Huntington after jumping ship from the 9-5. Scary as it was.
I needed to boost sales. Get more clients. Earn more. And well the things I was doing wasn't working, so to the books I went. And since I was watching my budgets, I hit the library.
(Which is actually awesome. Library's are great because not only are books free, but a deadline of returning them forced you to read them or forget them. You are forced to take action. That is awesome. Also, thirdly, you don't have to stockpile books and kill more trees ;P)
Well I ran into this one sales book that taught me two important things that shifted my marketing mind and helped me grow my business as a web designer.
1. Don't compete on price as a service professional.
Don't try to be the low-cost provider or in any way try to make "price" a reason people should work with you.
People (I should really say, the best-behaved, willing-to-work clients who thrive on direct, personal 1-on-1 help) don't hire pros (designers, coaches, experts of all sorts) because of a low fee.
People seek you, and are drawn to you because they think they will be best to work with. Nice if your fee can work with their budget. (I could go all day about this, but then you wouldn't hear about my fun life, hehe).
2. Instead, highlight and deliver value (what you find will help clients out the best, considering your talents), and set your fees based on that. 
And for me, as a web designer, there were many ways I could go about doing that … one way was to specialize in working with an industry (also called vertical or market) for which I chose to work with coaches. (I did do some research, mind you.)
That old book on selling did me some good when I applied it.
It got me to run a better business, do more for my clients, and reach more fun, loving, brave coaches like yourself 😉
Special Moment 4 of 8: Jumping the 9-to-5 corporate ship. Sprinting off the plank 😉
I felt this dark, deathly piece of granite or charcoal like sensation in the center of my chest the last days I went to my office job in New York city.
Really. My body was starting to stop me from going. I think it was because if you're not growing you're dying. There really is no neutral or cruise control mode in life (maybe down time, relaxation and fun, but even then, those events are to support growth.)
And so after about 8 years in corporate America, as an actuary, I simply quit my job (it was a good job, paid well, with nice people) to return to my first love – creating on computers.
Yes, it wasn't easy to tell people who thought I was crazy for having put all my work (college, exams, etc) into this career. But if they felt what I felt, they would have understood.
Now, 16 years later, what I'm most grateful for from my dive are:
(1) the strength that comes from making and owning decisions
(2) the personal development from having to create "a business" that survives
(3) a sense of what's really important in life: serving, growing
Splash! Here I am over 16 years later, writing to help you succeed in your business.
Have you made the shift yet? Here are some initial (but important) tips as you make the shift and start living the dream.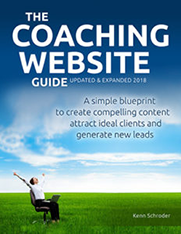 Special Moment 5 of 8: Paris France, 10k in one week, wtb (what the bleep)?
I'll start by saying I'm no overnight super-success millionaire like you read about online everywhere. (It's getting a little too silly these days, no?)
But I will say that it is certainly doable to get a good income coaching because:
(1) People are struggling out there and need help and
(2) If you've every helped anyone with some coaching techniques, you can certainly help more.
All you need to do is setup your business to present you in a good light and get out in front of those people so that the two of you (coach and client) can end up in a conversation. Then, just offer them coaching for a fee and voila!
But back to Paris. It was 2006 and my first go at taking my laptop abroad to see if I could work my business anywhere in the world.
Paris was the place, for 6 weeks, with my girlfriend, a perfect chance to see the world in the day and geek out on my computer late at night.
The crazy thing was, even though I was nervous about trying to work my business abroad, I actually had the best week ever, bringing in 3 new clients for over 10k in income.
Go figure.
Was it the universe working its magic? They say so. I guess so. It seemed so. Wow.
But as I sat quietly happy against the tiny apartment's wall, I wondered, how did this all happen in one week? And all I could point to was (1) people out there need help and (2) I found a way to reach them.
And now I use much of that deep wisdom to help coaches do similarly -> create client-attracting websites.
Special Moment 6 of 8  – Extreme gratitude and those powerful calling moments. Thank you.
I'm sure you've had them.
Those moments in your day or week or months (I'd like more months please) …
when the planets are in alignment.
when you're in the zone.
when you're in tune with your deeper self.
when your gifts pour out, especially in work.
when time stops, halts, or actually just disappears.
when you're engaged, interested, lost in your work and it's heavenly.
when there is nothing else but the simple joy of doing.
when, even though things are tough, it still feels right.
It happened to me a few times as I grew this business. Particularly when …
1. When I wrote a book about coaching websites.
2. When I launched an online website creation course.
3. When ran a mastermind program with some super coaches.
4. When I get to help others by using my best abilities.
I noticed that when I made a move to help others (serve), especially when I was in close contact with them, magic happened.
Special Moment 7 of 8 – The fun places I've had the special opportunity to work while traveling.
One thing I've always been is an adventurer. I suspect that back in the day, I'd probably be on Christopher Columbus's ship, The Santa María.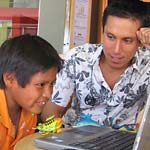 In the sunset-blessed beach town of Puerto Vallarta, Mexico, I failed to convince this young-preneur to sell his springy animals online. Huh. Looks like he could be my kid.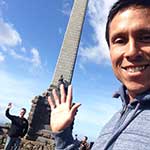 Straight from the airport, high on excitement, Greg and I headed to One Tree Hill for a "sweet as" view of Auckland, New Zealand.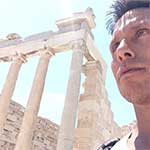 Overdue down time, beach, pools, fresh air and Greek family fun. Here is the Acropolis in Athens, Greece. How's my Greek god pose?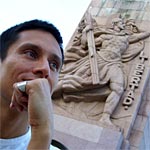 In Buenos Aires, days were filled with co-working, meat, and Tango. This was my first three-in-a-row summer experience. Wild.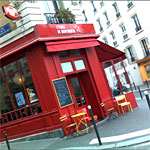 L'Etoile de Montmartre, The Star, is a cute little café and the Parisian branch office for my first work-abroad stint of six weeks. I was hooked.
A huge takeaway from getting around the planet is that the world is quite small even though it's huge. People are quite similar even though they are so different. And in the end, we're all just a click away online.
Special Moment 8 of 8  – Was gonna buy a sweet house, but …
As I took the 15 minute walk to the train station out in Wantagh, Long Island, which would take for a 50-minute lazy train ride to Penn Station, New York City,  which would in turn awake me to a 20-minute noisy walk to my secure insurance office job, I saw block of houses.
Really nice, big-ish, modern-ish, recently built houses. Really, nice.
I dreamed about buying one. I dreamed about what life would be like in it. Having a puppy. Having a nice car. Eventually having a family. Living in a nice house on a nice clean street in a real nice town where I grew up.
Then one day, I realized that if I bought this house, I'd have to stick with the job I had for 20+ years. And while it was a superb job with good pay and a brag-worthy title I could identify with, I was getting more tired and less excited about doing it.
Then I stopped thinking about this nice house. And started thinking about a nicer career. Luck you ;P
It wasn't long after when I left to pursue web design and working with coaches.
So what led you to me? Huh?
Well, thanks for reading about my story. I'd love to hear more about yours. Where are you in your coaching business journey?
Love to hear from you, just post below.
Kenn