I'm on my way to one of my new favorite work locations, the new Coffee Club by the Ramada Inn, over here in Albany, Auckland, New Zealand.
I just stopped by the Paper Moon Cafe, the locals' fave cafe in the mall. I've been here before, but it's not great for laptopping because …
the mall is highly noisy with people, varied sounds and music that gets drowned out by the mall – it's a mess. I like working under low-medium noise level.

It's also highly trafficked from random people. These movements around me, bustle and shopping bags, create visual noise and probably a subliminal/energy/feng-shui kind of unsafe feeling from being accessible from all angles.

It's also unsafe for my laptop, if I need to go wee wee. I don't know the staff. There's too many people around. The toilet is far away.
But hey, this delicious looking beetroot carrot cake looks super lonely ;). I'm also recovering from a long battle of hoops on the courts last night, and I walked about 40 minutes this morning, so I'll take some extra sugar today.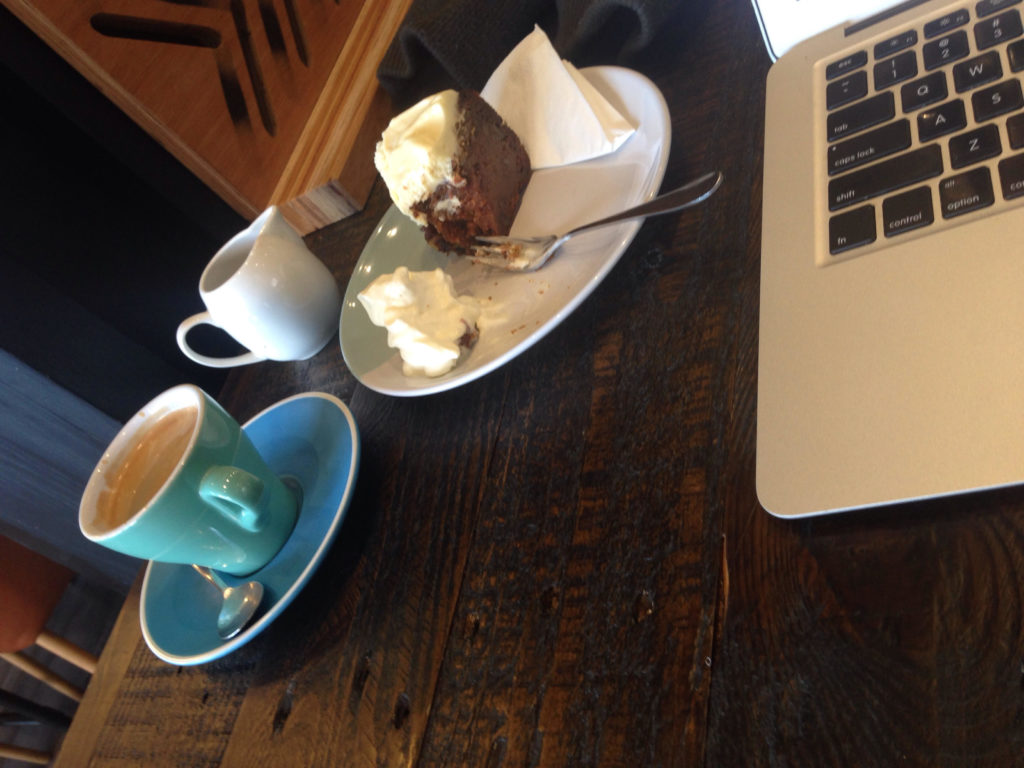 I'm not big on talking about myself, and while I think you'll appreciate the lifestyle benefits (work your own hours from wherever, do work that resonates deeply with you), you'll gain more from these things I'll share with you as you grow your biz and develop your website into a marketing and sales machine.
The Secret  -> Reward Your Efforts
It can be a long lonely trek when working on your website with many hours of writing content, traffic building and all sorts of computer tasks.
It's often grunt work that needs to get done.
So to mix in a dose of positivity with your efforts, take the time to look back to what you've done and enjoy a good reward.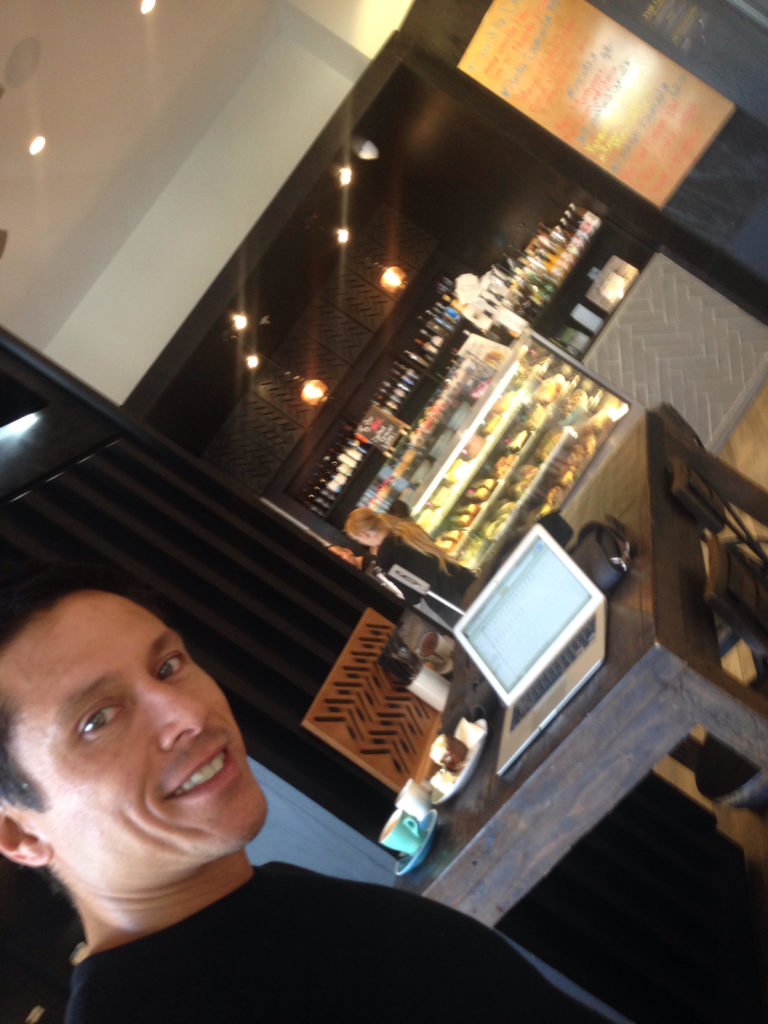 Here, I'm wolfing down that beetroot carrot cake after having organized and launched an automated email sequence to sell a course. That was a bit of a pain in the ass.
Rewards or positive feedback is also great for reinforcing change as my friend Rachel Hill – career coach and mentor who helps people leave a job they hate and find work they love – explained to me recently.
She taught me the later phase in developing skills or making change is solidifying the new learning with positive feedback and a healthy dose of cheering 😉
So, as a tip for you, as you develop your website, and maximize it to sell your coaching and land new clients, be sure to add positive reinforcement.
Those long lonely work slogs really need it.
Curious on how I started? You can read my story here.
Four simple ways to nurture a positive, productive vibe that can become habitual energizing force.
1. Take 5 minutes at the end of the work day to look back and acknowledge anything good even if the day was a productivity desert. There's always something good in there and recognizing will breed more of it. If you journal, that'd be a good place to put it.
2. Talk with your partner or spouse about the good in the day. What were 3 things that went well? Sharing the discussion multiplies the good energy even more. And 5 minutes is all you need to fuel it.
3. If a project is on your plate that may take days or weeks, plan for a reward at the end and tell someone about the reward so you do it! That beetroot carrot cake, while a far cry from my healthy eating habits, is perfectly in line with enjoying my business and creating that supportive, positive feedback loop.
4. If you work with others, coworkers, colleagues or a coach, be sure that a part of your interaction (call or emails or text, etc) are dedicated to a win. Identify any win or anything positive as part of your time spent together.
If you've got no one and are a bit of alone in your work and biz, find a coach friend or seek someone from one of your networks or online groups to support each other with positive words. It can even be as simple as a daily email. Maybe make it a trio or foursome to rise the tide and ships even higher.
How can you infuse positive recognition or rewards into your work day, week or projects?