Wondering what modern website design means for your coaching website?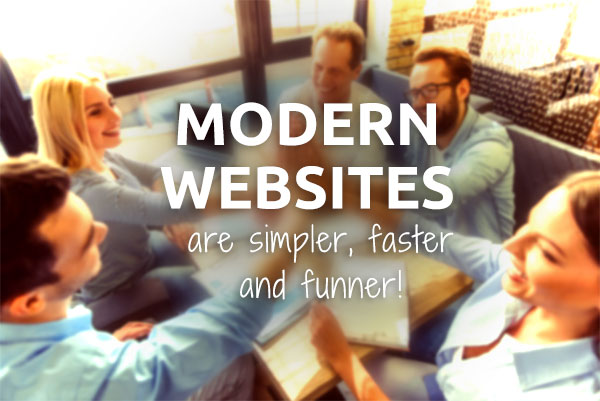 Are you about to build a new site and want to make sure you're building with the best ideas to date?
Or, perhaps you already have a website that's been around a while and it's either time for some Spring cleaning to make sure you're operating at your best?
If so, then I'll add you to my "smart people I know list" because attending to your website and thus, visitors, is a good move because both:
(1) people's online behavior change over time and
(2) technology to serve them evolves to accomodate.
And you don't want to fall prey to website rot that eats away at your marketing.
5 modern website design trends to keep your client-attraction machine well oiled 😉
Let's dig in …
1. Modern websites are simpler
They have less clutter and are commonly you'll find content in a 1 or 2 column format.
Here's a screenshot from one of my favorite bloggers, Mark Sisson, who writes about great health inspired by primal living.
His blogs have moved to a one-column format. Nice on my laptop. Fabulous on my mobile.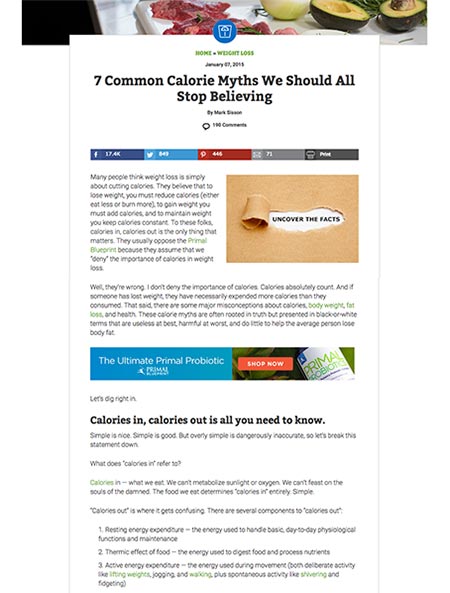 In a crazy busy modern world, we all need to eliminate junk. We need to stay focused, do less, and stick to the important.
And a simple layout helps your potential clients read your site and see what a great coach you are.
2. They are responsive – mobile ready
Mobile ready means your site looks great and functions properly on mobile devices like smart phones.
Similarly, your website (or WordPress theme) is called "responsive" if it can respond to the medium in which it's used – very similar to mobile ready.
And as you know, we're all on pads and mobile devices – so it goes without saying that your site needs to look stellar there as well.
Here's an example of how Microsoft's website is mobile ready with a fun, flashback look at how it was back in 2002.
The odds are high that if you are using a current, well-supported theme on WordPress or one of the popular quick-site building services out there, your website will be responsive and look good everywhere.
But, you should always check the pages you create because what you do as the content writer may not come out so hot. Test your fresh content to ensure it looks good.
In the future, you can expect other ways of viewing your website to become more common like on watches (iWatch), the inside of your contact lenses, or projected on a table from your hi-tech web pen ;P
Your site needs to look good everywhere so clients can find you on their commute to work (which is exactly where they ponder their life challenging mysteries and realize they need a kick-butt coach like you).
A cool, relatively recent update to WordPress is the ability to check out how your site would look on a pad or phone is shown in this video:
Cool huh?
3. Modern website design means big fonts
You'll find page headings with big fonts as well as body content (the bulk of what you read) to be in a bigger font as well.
Screen/device resolutions are higher in definition today than in days past, and so the fonts need to be bigger.
Not only do we need big fonts to keep current, but going a few sizes bigger is dramatic, brave, and fun.
Plus big font add a nice dose of contrast with the smaller body text. We like contrast.
Here's a screenshot from Mitzi's website, a life coach for women in New York.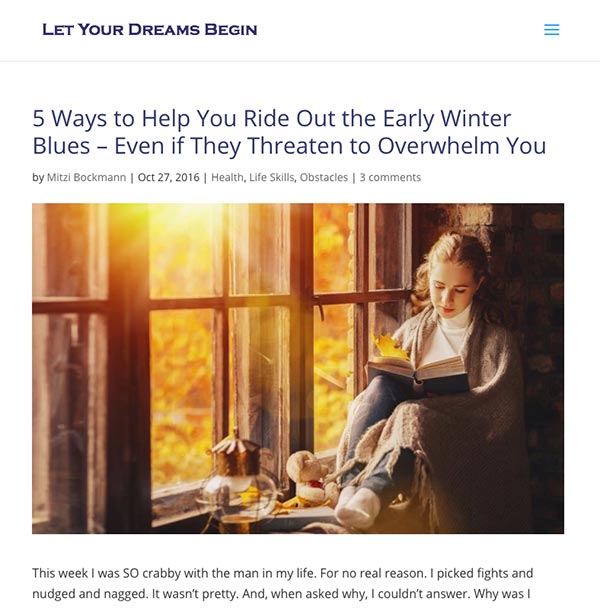 As you can see the blog article font is the biggest on the page.
It's bigger than her logo and rightfully so as this page is meant to engage and serve the reader.
4. Modern sites have big images
There's the concept of a "hero image" which is simply big image that fills the screen.
They can have text overlaying the image or be stand alone for dramatics.
You'll even see videos with light movement serve as a backgrounds to give life to a page.
Here's a screenshot from a student of the course Client-Attracting Websites where she's got a fun massive hero image used on her homepage.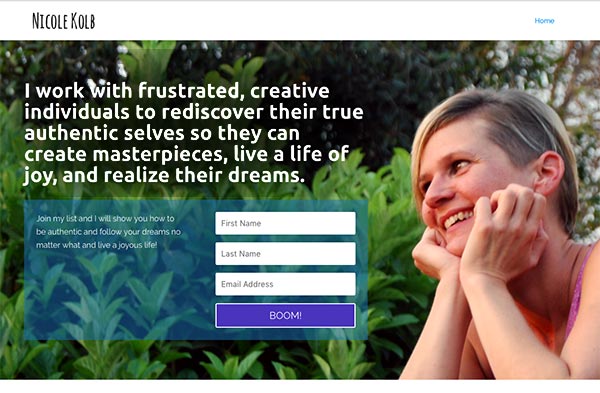 It's very dramatic and she gets her message across right away. Nice!
She's a life and career coach for creative people.
5. Modern sites are social butterflies
A modern coaching website, especially if you're blogging, has just got to integrate with the top social sites like Facebook and Twitter.
Building a network or tribe of people who like what you publish is such an amazing way to attract people, stay connected, and secure new clients.
The great part is that much of the functionality can be automated, making it easy for your content to get out there for people to read and talk about.
Below are social icons making it easy for folks to spread the word about your pages.
The above functionality is provided by the Monarch plugin from Elegant Themes – one of the WordPress theme companies I like.
Sooo … what do you think of modern design? Got some ideas of your own? Is your coaching website modern? Does it need some updating?
Remember, people are out there searching for articles on how to make their careers, lives, and relationships better, and when they stumble onto your modern, a modern, hip design will make it fun and easy for them to get at your content.
Then, they'll see you're a super duper coach they just gotta like, follow and subscribe to. Sooner or later, they'll reach out to you for help – buying an ebook, signing up for a program, or calling for one-on-one help. Very nice.