SEO means search engine optimization which means "doing stuff" to make your website rank high on search engines.
In the end, you get people to your website who are actively seeking information that's related to what you do.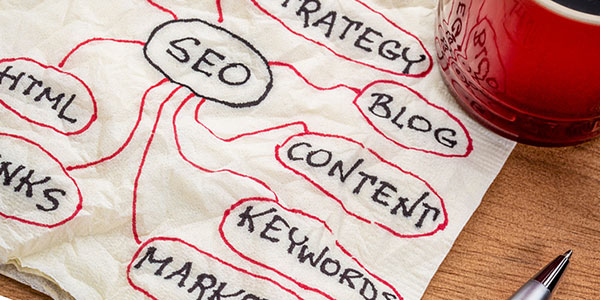 Below is a great article a friend sent me on the latest best tips for improving your rankings for 2015.
It's a bit heavy on the industry terms, so after you take a peek, I'll give you my key takeaways and action steps for the everyday coach on the hunt for clients.
The article is …
SEO 2015 Most Important SEO Ranking Factors of 2015
http://stratabeat.com/the-most-important-seo-ranking-factors-of-2015/
And here three key points I think you could benefit most from and begin to apply …
1. Links are huge ranking boosters 
A link to your website FROM another site is a vote of confidence about your website.
(Remember, links are one-way pointers, and while you can put links on your site TO other sites, the ones that come FROM other sites to yours are most helpful for rankings, and are called inbound links or back links)
It's like being in high school again, where the more students who say you're "cool" the cooler you become.
But also, an already-established cool kid who says you're cool, boosts your coolness faster and higher than uncool kids.
Thus, not only do other sites that link to you boost your rankings but if the OTHER SITES have high rankings, you'll benefit even more.
So, for actionable steps, get links from relevant, popular, bigger websites like your coaching school or coaching friend's website, ICF (if you're a member) or SelfGrowth.com (if you write for them).
2. Content is still King
Having plenty of good quality content, organized well, with your keywords in it.
And this is very obvious, right?
The better your content, the easier it is to access, and the more relevant it is to visitors, the more your site SHOULD have high rankings.
To get this into action, pick out your coaching topics and think of the keywords people will use that could lead them to your website. Then write and organize your content around that.
For example, if you're a money coach, you could have topics like "get out of debt" "personal budgeting" "how to save money" "how to manage money" "money mindset" and, over time, create blogs or article around those topics.
3. Pages that are functionally "good"
In the article there are terms that even I have to start guessing as to their meaning, when it comes to functionality.
But, but you won't be surprised to see that a websites that run fast, are easy to access (mobile devices, remote locations like being on a plane), and aren't confusing will get better rankings.
Simply put, the better the experience of the end-user, the better your site will rank.
Some doable steps:
Test your website speeds. I like using pingdom.com. Make sure your site runs fast all around the world.
Make sure your site looks good on various browsers (Chrome, Safari, etc) and on mobile devices. Test it on your own phone.
Avoid putting links on your site that don't relate to your content.
When people share and tweet your website or pages, you get pluses for your rankings, so as you build up much more content, consider going social with likes and shares.
Call your friend in another country and ask them to have a look at your site.
And there you have some key SEO takeaways for the savvy coach who wants to learn from others instead of process years of materials about search engines.