About Coaching Sites That Work
Do you want a coaching website that reflects you but also attracts new clients? Great! Let's create that and get you on your way to that first level of success – proving you can do it steady clients and income.
Here you'll find plenty of tips, tutorials, and strategic advice for building an expert web presence – the kind clients flock to. If you're researching, then get on my email list for freebies and learn more over time (sign up on the right). If you want fast growth and help now, then take the next step.
Why am I a web designer for coaches?
Coaches love what they do and want to 'make it' in business. They want to serve others and earn enough to live their own desired lifestyle. They struggle with marketing, especially in presenting what they do online at their websites. It's overwhelming, scary, and daunting. They want it to be beautiful, attractive, and engaging but worry about doing it wrong, wasting time, and throwing away money.
I know, first hand, what it's like to build a site that doesn't work. I've done over 20 times for my own business. Well, it's not that they didn't work, it's that they "worked" to some degree or other – mostly a lesser degree. It was years before I arrived at the secret formula for creating a website that really helped me get new clients.
And so, I build websites for coaches for many reasons: (1) to help others who need it, (2) to  enjoy the work I'm good at, (3) to be able to travel the world, (4) to be challenged by being in business, and (5) to be around some really awesome people (Yes, you!).
World Wide Web Design Gallivanting
I love the flexibility of being a web designer. Design in cafes, see new cities, meet cool people, and experience new cultures. Live.
En Zed – Straight from the airport, high on the excitement of new places, Greg and I head to One Tree Hill for a view of it all. Hello Auckland, New Zealand. Woahhhh!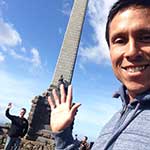 Greece – Much needed down time, beach, pools, fresh air, and Greek family fun. Pic is atop the Acropolis in Athens. I had a bout with email at the museum cafe. Ahhhh!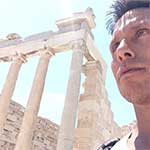 Buenos Aires – Co-working, asado (bbq with meats), and Tango. It traded winter in NY for summer in Argentina, effectively have three summers in a row. Sweeeet!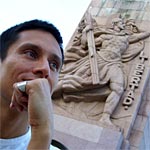 L'Etoile de Montmartre - The Star is a cute little café and office#2 for my trial work-abroad stint of six weeks in Paris. Baguettes, espressos, wine, cheese! Cooool!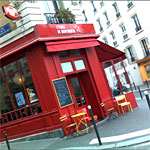 Puerto Vallarta – Though web-wise I am, in this sunset-blessed beach town in Mexico, I failed to convince this young-preneur to sell his springy animals online. Dohhhh!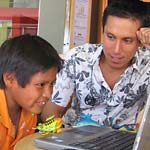 How I Design A Coach's Website
The key lies in this question, How do coaches get clients?
by getting seen by prospects
by growing relationships
by gaining people's trust
by looking like a pro
by being likeable
by learning clients' challenges
by making it easy to enroll
by helping people take action
by sharing success stories
by having a success process
by communicating clearly
by being present, authentic
And here's how websites help you do that:
by not being flashy
by getting you visible
by showing you understand
by highlighting benefits
by showcasing testimonials
by getting visitors to act
by motivating visitors
by boosting your credibility
by growing relationships
by educating visitors
by keeping in touch positively
 The challenge as a coach is that you're selling the invisible. As such, you'll need to apply the techniques above to get people to want it.
Education / Experience
Trial & Error (2000-now) – Marketing, selling, content creation, SEO
Author / Publisher (2010,2014) – Two ebooks on websites and marketing
Hendricks Institute (2002) – Web design, graphic design, e-commerce
SUNY Binghamton (1994) – Math, computers, art
Actuary (1994-2001) – Insurance mathematics, New York City
That kid (way back) – I scooped ice cream and delivered papers
Thanks for taking the time to learn about me.
If you are a coach looking to fill your practice with clients in the next six months and you want a professional website with the marketing tools to grow your business, learn more about who I work with: Is this you?
NEXT: Is this you?