About
Hey, I'm Kenn Schroder, web developer, teacher and author who helps professional coaches build client-attracting websites.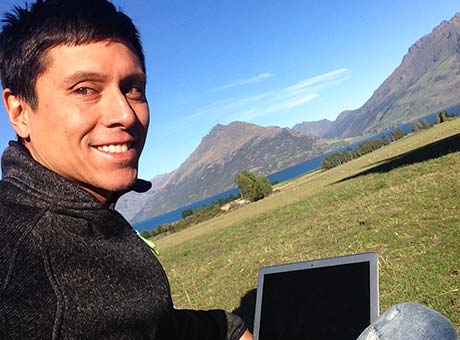 In this photo, I'm on the way to Queenstown in the South Island of New Zealand, a very magical place.
This website is where I blog about websites for coaches and offer support in various ways. Topics include website design, content writing, technology, search engines, blogging, WordPress and more. I'm especially excited about strategy for getting clients with your website.
The coaches I work with help people succeed in various areas like business, careers, relationships, and health. They are all around the world, mostly in English speaking countries. If lucky, I may run into 1% of them in the physical realm. Maybe you'll be one of them. 😉
I rekindled my childhood passion of creating on computers when I left my comfy corporate job back in 2001. With much trial, toil and tinkering, I've been fortunate enough to keep myself fed while doing the work I love. The work I do lets me travel the world and meet awesome folks like you.
Want to know more, huh? Then read about the 8 Odd, Fun and Painful Moments that Lead Me to You.
What I hold near and dear to my heart about coaching websites.
There are an endless number of clients out there.
They are waiting for you.
Your job is get good marketing in place so the two of you can connect up.
Your website needs to be a tool to help you make that happen.
It needs to be designed for client-attraction.
Here are 5 ways I can help you:
1. With heaps of free articles on this website – all about how to create a great coaching website.
2. With even more content I send to my email list. Sign up to the right and get free copy of the Coaching Website Checklist.
3. I teach an online course called Client-Attracting Websites. It's a great way to get your site and have lots of fun 😉
4. Get my best tips and tricks for building what I call the expert coach website in The Coaching Site Guide.
5. I can work with you one-on-one as your web designer or strategic consultant to speed up success. Just fill out this form to start the conversation.
Some of the best articles from this blog …
A few of the best … 
On content and strategy (as the two are quite intimate) …
On traffic building …
On WordPress and visual design …
On blogging for coaches …
On getting the job done and launching
My doors are open, except when they are closed.
Being human is a busy job that requires me to eat food, get exercise, sleep 8 hours and hang with people.
Somewhere in between, I make sure I do meaningful work or else I go bonkers and start thinking too much 😉
The best way to reach me is by email at email hidden; JavaScript is required.
But just be patient as I often let email pile up during the week so I can be a happy, healthy human being.