Handy Backup Buddy Tips for Coaches on WordPress
Here's a write-up of the video with a few more details …
The nightmare is that you've spent a lot of time developing your website and spent thousands of dollars, only to have your website get wiped off the face of the planet.
It's very unlikely it will be that bad because hosts often run backups, and web designers often have files saved on their computers.
But there's that small chance.
I'd say, in handling over 200 websites, 2-3 times I've seen some very close calls.
Luckily I've had backups saved or was able to dig up files and content to quickly recover from a lost websites.
But, I've had others come to me hoping I can save the day. But their websites were lost.
Common reasons websites go bye bye:
Websites owners don't pay the hosting or domain bill, which is often buried in email.
Hackers get in (or viruses) and do their dirty deeds – often due to lack of doing updates.
The wrong click of a button – more likely from a coder like me than a simple user (like you) who handles content only.
The first two are most common.
Reasons to back up your website regularly, even though your host offers back up services:
If your host company fails (fire, tech issue, hacker), you won't lose your website.
Backing up your website uses up resources which can slow your website down, so it's best to save it elsewhere.
Often hosts don't back often enough or far back enough.
The back up service they offer is often clunky to use.
Suggestions for Proper Backing Up
Set up "full backups" to run weekly.
Check that your backups have run properly on monthly or quarterly basis.
If you've got a techie, have them email you a screenshot of the successful back up showing location, date and time of the backup.
Keep backups for up to 6 months in case you have to go back.
If you're creating content aggressively, 2-3 blogs a week, or have lots of interaction like comments daily, then have the database only backed up daily.
If your website is teeny tiny with very few updates, then weekly or monthly is fine.
Have a remote location for your backup or at least download the backup file to your computer.
I use the Backup Buddy Plugin for WordPress
Here's the Backup Buddy Plugin by iThemes.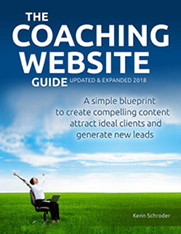 Get more tips on how to maintain, protect, and keep your site running smoothly with minimal fuss (and how to write content that attracts clients) in The Coaching Site Guide.