How to Get More Leads With Your Core Message
I've been running a fun group program for helping coaches get online and attract clients over the last two months.
The first step we do is to make the website's core message super compelling.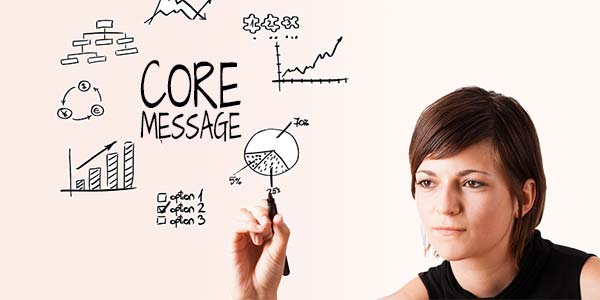 One thing participants love and find super helpful is the work we do on their core message.
Your core message is like your elevator speech or your 30 second introduction or big value proposition.
The core message explains what you do in terms that attract clients to you.
You want it crisp, easy and most importantly, attention grabbing.
And you need to clarify this core message before building your site.
Once it's figured out, you can build your site from it.
Every aspect of your site follows sweetly including your free giveaway, your strategy session, your email list messages as well as non-content things like your images, font choices and colors.
With a strong core message, you'll build your site faster and more smoothly and it will wow your ideal clients.
For example, here's Emily Archer's first draft of her core message ….
I help people living with diabetes who are frustrated and ashamed of their inconsistent lifestyle choices to reclaim control, health and self-respect. My passionate curiosity will help you create a powerful vision, a culmination of your now deep-rooted healthy lifestyle habits. In partnership we will develop a personal lifestyle management strategy that empowers you to master new habits and focus your energy to achieve and sustain lifestyle improvements you are proud of, for longer, stronger living.
After some work with the group, here's what it became.
I help people living with diabetes who are struggling, frustrated and overwhelmed. I will partner with you to create lasting strategies that increase your energy, build your confidence and return your zest for life!
As you can see, it's much crisper, stronger.
Her market will easily relate and get what she does instantly. They won't be able to resist her coaching website.
Here are two helpful links to get the idea of how your cores message makes your site great.
1. The Life Coach Website Project is a group program I'm running to build great coaching websites.
Check out Jenny's, Ania's and Pam's websites from the first group, here:
http://www.lifecoachwebsiteproject.com
2. See Jenny Rawling's website specifically as an example of a short but strong core message.
I love how her site turned out, here:
http://www.jennyrawlingscoaching.com
(She even snagged two new leads before we even finished her site and one became a paying client)
So, make sure your core message is fleshed out, razer sharp and incredibly compelling and you'll get more clients from your coaching website.