How to Get Traffic, Expert Status, and New Clients – The Glorious Freebie
The freebie. I want to sell you on why this is such a magnificent piece of your website. There are three tremendously valuable reasons.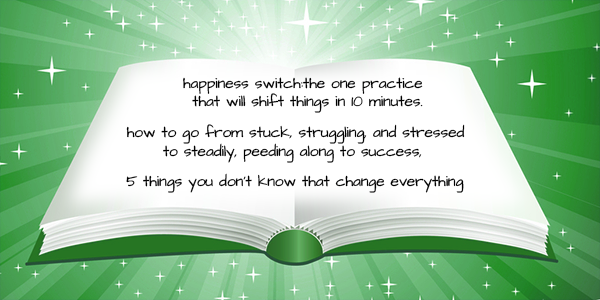 Here are the three reasons:
Get more traffic – Instead of just publishing an article with a link to your site, you publish and article with a link to your site AND a big, "Get your copy of Gotta-Have-This-Freebie-to-Save Your-Life instantly at my site." It motivates people to visit. Hence, traffic.
Grow your list – Requiring someone to enter their email address at your website in order to access the freebie may seem a little sneaky, but if it's that good of a freebie and if being on your list means more great material, it's not a biggie. It's actually good to start getting your potential client to invest/to give/to jump through a hoop.
Build expert status – When your freebie is properly created, and they read it, they will walk away seeing you as the guru they NEED to follow. If they have pressing needs, they'll contact you. "You created this sweet give-away, you must know something I don't know, AND you can help me – you're an expert" is what you want them to think.
There's actually a fourth reason, but I don't make a big stink about it as it's more passive and I consider it an extra bonus – and that's in referring you. Your freebie is very easy for people to forward on to friends – they can forward the pdf by email or verbally say, "Hey, go to www.thatgreatsite.com and get the freebie on X".
Make it a rock-solid freebie … a must-have!
So, here are some quick links to other articles on this subject:
Uniqueness: How to Turn a Ho-Hum Freebie Into a Must-Have-Now
How to Create a Free Download that Clients Gotta Have – Trick 2 – Time Base It
How to Create a Free Download that Clients Gotta Have – Trick 1 – Kill the Limiting Belief
How to Get People on Your List – A Before and After Example
How to Drive Traffic to Your Coaching Website with This Facebook Page Tweak
Use my guide to create a great freebie and a coaching website clients will love (It's $97 bucks, but as of today, you can use promo: guide25a to save 25% and get version2 coming out next month), here.
Tell me. What's going on with your freebie? Have one? Don't have one? Don't like the idea? Need one? Other insights? Love to hear where your heads at – comment below.