A Great Plugin for Success Stories – WP Testimonials
I love WP-Testimonials as my website plugin for handling testimonials. It's great because:
1. It's very easy to use for managing testimonials – just pop in the information.
2. It has a handy widget for the sidebar. It's fast to get going on your site.
3. It's easy for any VA to use for updating testimonials – saving you time.
Here's what the testimonial looks like on my website: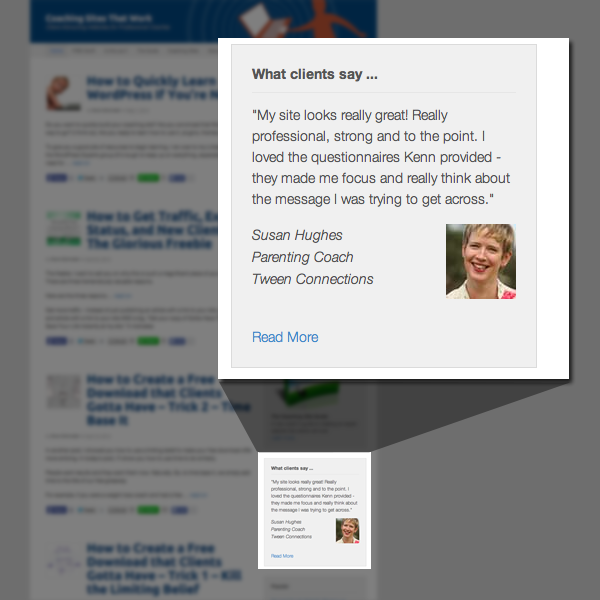 It's very easy to access in the Dashboard (the administration area):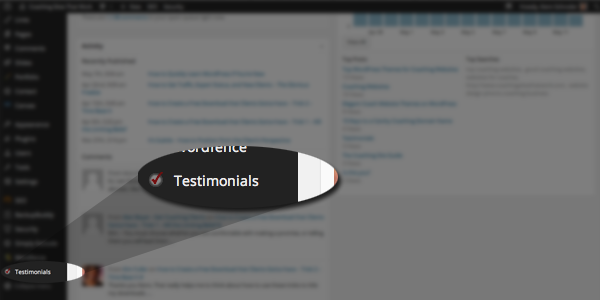 Here's what it looks like when you add or edit a testimonial: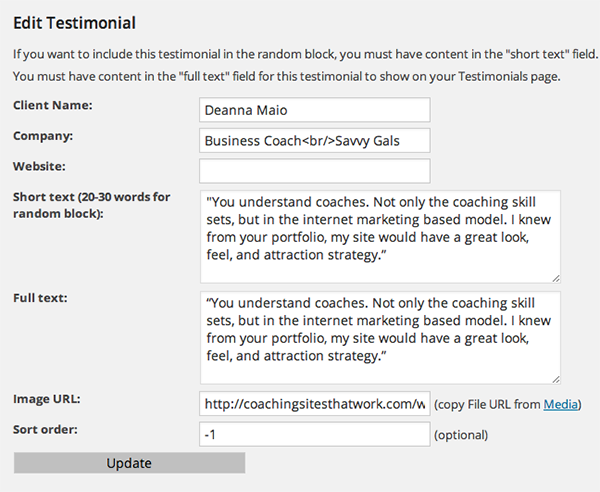 One big down side is that it won't be supported in the future.
The author has recently closed up shop and won't be expected to support the plugin. Thus, the plugin is likely to become dysfunctional as WordPress evolves. You want your plugins to be updated on some basis (often weekly if it's a heavy duty plugin like a security plugin) but typically every few months.
To highlight an important learning, it's a good idea to consider whether or not the author of any digital software will be around in the future.
BUT, there's good news!
I've recently played around with the Testimonials Plugin offered by WooThemes (my theme company of choice) and will be using it. It works very well, nearly the same as WP-Testimonial. And yes, it will be supported well into the future by  WooThemes.
So, if you're going to get a testimonials plugin, grab the Woothemes one, here (it's free):
http://wordpress.org/plugins/testimonials-by-woothemes/
How do you handle your testimonials? Got any favorite techniques for making them great? Getting them onto your site? I'd love to hear from you.
[box]On a related note, one key to a coaching site that works is using good software (themes, plugins, apps, etc). By good, I mean easy to use, fast to implement (minimal learning curve), easy to update, well supported, low maintenance and useful. This saves you from wasting time so you can put your energy on growth. In The Coaching Site Guide, I've put the best website tricks for building your site quickly, using WordPress – coupled with a website strategy for attracting clients.  Learn more here:  I'm currently updating it and it's due later this month. So, if you use the code: guide25a, you'll save 25% get the new version as a free upgrade when it releases.[/box]