1/3 of websites launch fast, 1/3 take many months, and 1/3 never finish. Sadly, 90% fail to bring in new clients. Yipes!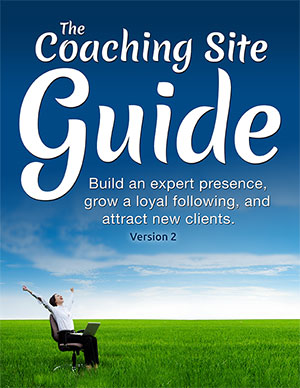 I wrote this guide to remove the overwhelm and stress of website creation. I wrote it to give you the strategies for generating new clients with your website.
This guide is for the coach who wants a professional website to fill their practice with clients. It's for the coach who web visitors to say, Wow! This is the coach I want to work with!
You get simple steps, writing formulas, design tips, and technical advice to get your website done fast – and get it done right.
If I would have had this information 10 to 12 years ago, it would have saved me tens of thousands. I would have reached my market in a much clearer way. ~ Coach Gary Henson
I want this!
"… my site is attracting consultation requests …"

Your guide was extremely helpful and really gave me a blueprint I could follow
in structuring my own coaching site and content. 
The site is doing its job by attracting a regular stream
of consultation requests and clients. 
Thanks so much for sharing your insights and wisdom.
~ Chiara Pietrogiovanna
Are you struggling to write content on your website?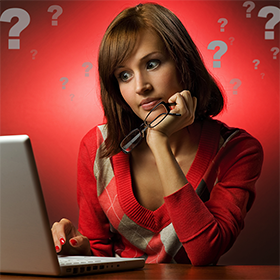 Have you ever noticed how people's eyes glaze over when you try and explain coaching? When you try to explain how and why it works? Yet that's what many coaches do and it doesn't work.
You also don't want sound salesy, fake or over-the-top in your copy. It's inauthentic and it turns people off.
The key is to great content is to speak deeply to the client's interests, challenges and desires.
In the guide, you get the formulas, tutorials and examples that I use with clients. You get stuff that has worked for others.
"It's already generated 13 new clients."

I downloaded your free PDF and could tell that you knew your stuff
so it was really easy for me to buy your Coaching Site Guide.
You described how to make my website about the benefits to the client.
I honestly thought I already had, but when I read your guide I could see
I was totally fixed on my own perspective and was explaining the processes.
You prompted me to change the text on my site, get some new photos taken
and write my own free ebook within about 4 weeks.
It's already generated 13 new clients. 
THANK YOU for your amazing coaching website strategy.  It has been invaluable
and I'm really excited about the next phase in growing my business.
~ Hannah Hempenstall
So, back to that 90%. Why do most sites fail?
I've built over 50 coaching websites. I've advised on hundreds more. One of the coaches I worked with got five new clients from a single email to his list. Many more have filled their practices with clients with websites I've helped them create.
From over 14 years of web work, my answer to Why most websites fail? is because they weren't designed (content, visuals, structure, calls-to-action) to appeal to the client.
Instead, they talked too much about coaching, were difficult to navigate, and hard to read. They were boring and confusing.
Remember, it's the client who deciding whether to hire you or not. Your website needs to engage and excite them.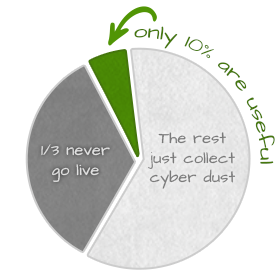 What's new in version 2?
I kept much of version 1 intact including:
1. How to use your website for client-attraction.
2. Learning, building, and using WordPress.
3. Tips your blog, email list, freebie, and sign-up.
4. Writing tips, formulas and samples.
5. Creating great visuals and easy navigation.
The new stuff in version 2:
1. It's organized in a step-by-step manner.
2. I added more examples and visuals.
3. I updated the software list to my current faves.
4. I added a section on resolving tech issues faster.
5. I cut out material that wasn't immediately useful.
6. I updated strategies for getting clients from your list.
7. I made the search engines section easier to follow.
8. I added links to my best blogs for more detail.
The Coaching Site Guide speeds up the building process and
keeps your content focused on the client.
I want the guide!
What others are saying …

Kenn, the section on the giveaway and opt-in box are absolutely priceless. If coaches followed that advice, they'd be well their way to really understanding client attraction. PS – Thanks for helping the members at LinkedIn! ~ EG Sebastian, Client-Attraction

Web development can make even the brightest person's brain feel like pudding. You lighten the heaviness with your approachable style, and then feed lots of substance in "little bites" so readers don't get overwhelmed. ~ Lisa Manyoky, Branding Strategist

Not everyone can write. Not everyone can hold an audience. Your Guide is very well written. I have the sitemap and hub model pages pinned on my wall. The way you built up to the content writing section was done so nicely that even a novice can understand it. ~ Gary Henson, Business Coach


"What made it easy for me were the models, layouts, templates, formulas and examples – and your subtle humor along the way. I like that. Makes it real and it makes me smile. Doesn't get much better than that. ~ Carol Leek, Business Coach

Kenn is providing what coaches and consultants need to effectively market their business on the Internet. Read and use this step-by-step guide to develop your expert website and your customized online marketing system to attract and engage more clients. ~ Mike Rafati, Incredible Coach


Kenn, I think you're brilliant! The whole idea of the "expert website" resonates with me. This guide is going to keep lots of coaches from floundering for a couple of years, wondering why their site isn't attracting clients. ~ Gayle Scroggs, Mentor Coach

It's easy to comprehend and really simple to work with. I've finally narrowed my niche – a huge step after 2½ years in business. Thank you so much for making that available to coaches like me! ~ Anne Fischer, Success Coach


It's really hard for coaches to see their service from the benefit to the customer/client's perspective. I thought you did one of the best jobs of explaining that I've seen. Plus, the step-by-step approach was exceptional. ~ Barb Zeigler, Set and Get Your Fees


Your guide was extremely helpful and really gave me a blueprint I could follow in structuring my own coaching site and content. ~ Chiara Pietrogiovanna, Life Coach
Get your website up quickly so that people can so find you and work with you.

Here's Chapter 1 for FREE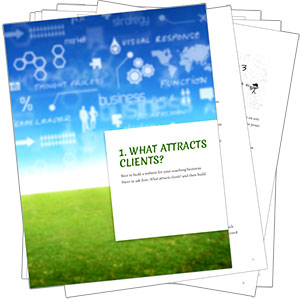 Sure. Preview chapter 1 to see if the content is any good.
I like that the site is intentional and purposeful about getting you clients. The message comes across to me loud and clear, "It's not about you stupid but what your clients want" – but you say that nicely. ~ Dr Tim Conrad, Resilience Coach.
Two Bonus Tools
Kenn, I want the guide!
Choose the GUIDE or the KIT

Option 1: The Guide Only $97
Get 193 pages of my best advice for one low price.
Bonus Tool: Clients from the Web Infographic.
Bonus Tool: Blog for Traffic Infographic and My Secrets Notes.
My 200% Total Happiness Promise
Build a website that attracts new clients.
Option 2: The Kit $297
Learn faster and build better with the tools I use with my most successful clients.
Use them yourself or with your designer.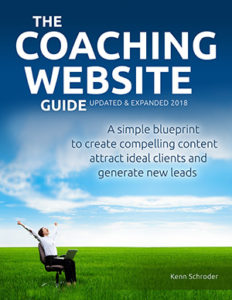 The Coaching Site Guide
If you want a professional website that sells your coaching (so you don't have to!), then get these 193 pages of my best advice.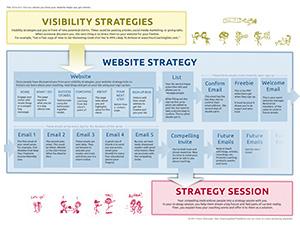 The Attraction Sitemap
This infographic shows how all the website parts work together to attract, engage and lead visitors to contact you.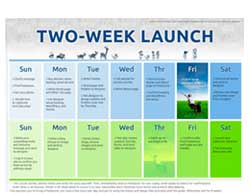 Two-Week Launch Plan
If you want to "eat the frog" and get your website done in a focused, timely manner, this infographic shows you how.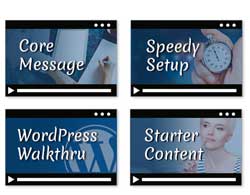 WordPress Videos
Grab a cup of coffee, learn the basics of WordPress, and set up a juicy 1-pager. Build exciting momentum.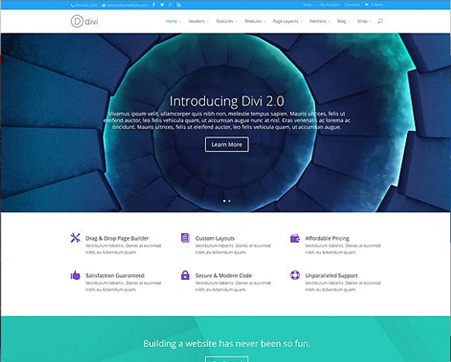 The Divi Theme
Great for content layout. Easily express your brand. Looks great on mobiles. The perfect cutting edge theme.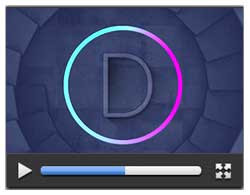 New!  Divi Walk-Thru Video
Discover the power of this slick modern theme. Quickly learn how to use it. Steal my favorite tricks for your website.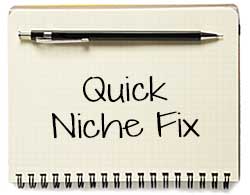 New! Quick Niche Fix – My Notes

These are the 3 best questions to get unstuck and choose your niche with calm confidence. Three client stories too.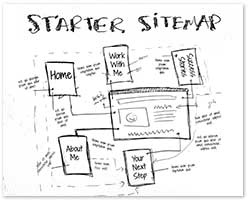 New! Starter Sitemap
If you're overwhelmed, start with this minimal but essential 5-page layout with tips to appeal to your ideal client.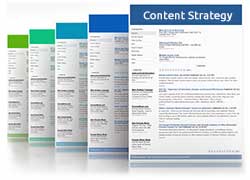 New! Starter Content
Access a private text-only website that explains page-by-page content. Just copy and paste it to your pages for easy writing.
My 100% 200% Total Happiness Promise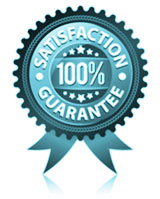 Everyone loves the guide and I know you will too.
If you are unhappy with it, I will instantly refund you AND to give you 200%, you can have a 45-minute Website Success Session to get your toughest questions answered and plan for a great website. I won't sell you on anything nor take any offense. Just pure help.
Buy it now and love it OR you get free personal help. Either way you win.
Kenn Schroder, Web Designer for Coaches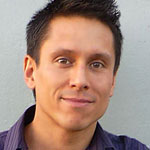 "Creating on computers" has been a passion of mine since I was 8 years old. I left corporate America in 2000 to do my own thing as a web developer. In 2006, I decided to focus solely on coaching websites to deliver more value, run a better business, and have more fun with cool people like you 😉
I took my best advice and put it into this handy manual called The Coaching Site Guide. Take advantage of my experience to help you attract clients. People really do need you and it's your duty to get out there find them.
I love long walks on the beach and grass-fed burgers on salads.
Common Questions
Who is this guide for? If you want a credible, professional, website that reflects you authentically and engages visitors so you can attract new clients, then this guide is perfect for you. Jump up and buy now.
What if I don't have tech skills? Then hire someone to handle website construction. But don't go in blind – and use this guide for help with content, visuals and strategy.
Will I learn WordPress? WordPress is outside the scope of this guide, but I do give you some basics. This guide is for use alongside any website creation tool.
What about SEO? Is it in the guide? No. It's too big of a topic and might no be what you need now. However, I do give you the basics which have helped many build traffic and get new clients from the Web.
How is your guide different from the free stuff out there? The free advice out there is general and overwhelming. This guide is all about what works for a coach.
I'm a techie. Should I buy the guide? Yes, for the content advice and website strategy which are more important if your main goals is to attract clients.
Can I get a refund if I don't like it? Yes. Instantly. But, I think you'll love it. I've had one refund in over 500 sales.
Should I get the guide if I'm not using WordPress? Yes, because 95% of the material is about creating a website to attract new clients. That is the goal, right?
Got a question? No sweat. My doors are always open and I'm happy to answer. The best way to reach me is by email at email hidden; JavaScript is required.