Do you put cookies under the tree for Santa? Well, you'd better because he's delivering a special gift just for you this Christmas!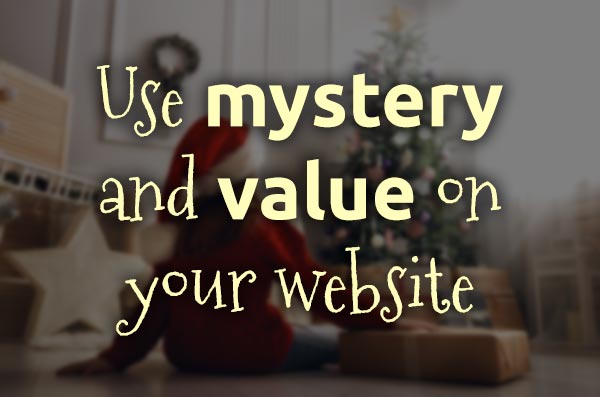 What is this special gift, you ask? It's a technique that has served him well for ages: the mv technique, or the mystery and value technique.
It's a winning move for writing email marketing subject lines that get all holly-jolly to read your emails.
Before I explain, let me back up a second and tell you WHY you are going to absolutely love this gift.
You see, you face a challenge when seeking new coaching clients.
For people to want to work with you, they need to like you, trust you and feel positively connected to you.
To accomplish this, many successful coaches (ones who are regularly signing up new clients) will keep an email list (ezine, newsletter, mailing list) of people who have agreed to receive content.
And so these successful coaches will send content (emails) with valuable, helpful, educational and inspirational information to their subscribers.
This, in turn, builds that deep, trusting positive bond.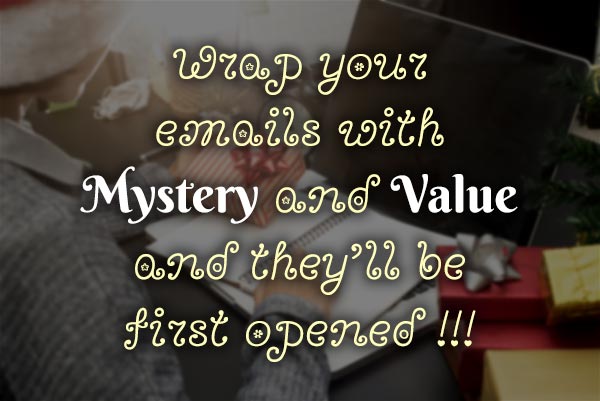 The challenge comes in when you attempt to distribute your emails to your subscribers.
Your email will sit in your subscriber's inbox drowned by 50 or more other emails.
And it's your subject line that will have to do the job of winning attention enough for them to click and open it.
If they aren't drawn to your subject line, they don't open it and your bond doesn't get the chance to deepen.
It's gotta be as exciting as a fresh Xmas present under the tree.
Thus, the challenge is to how to write good email subject lines that people will want to click.
And this is where good old Saint Nick, master of the mystery value technique, comes in!
---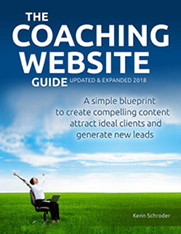 Use The Coaching Website Guide to create a website that attracts visitors, builds your professional image, and generates new leads.
Check out the guide
---
Part One: The Mystery
Remember when you were a kid and it was the night before Christmas?
You couldn't sleep. You were anxiously awaiting the wonderful gift you were about to receive.
A big part of that excitement was due to the fact that you did not know what was in the tightly wrapped, decorative box.
It was a big mystery!
There was this box, which you knew held something inside, but you didn't know what. It was a box.
This box made your imagination run wild.
This box is the mystery.
Part Two: The Value
With our night-before-Christmas example, not only were the contents of this box unknown to you, but you knew the contents were incredibly valuable.
They were valuable because they were specially chosen for you.
It was a few weeks ago that you sat upon Santa's lap told him everything you wanted for Xmas.
And while your mom's box is still a mystery to you, it isn't as exciting or valuable to you because the contents are for her.
It probably has lipstick or a piece of jewelry, something she would like – not you.
And so, your gift is just driving you bonkers because it has both mystery and value.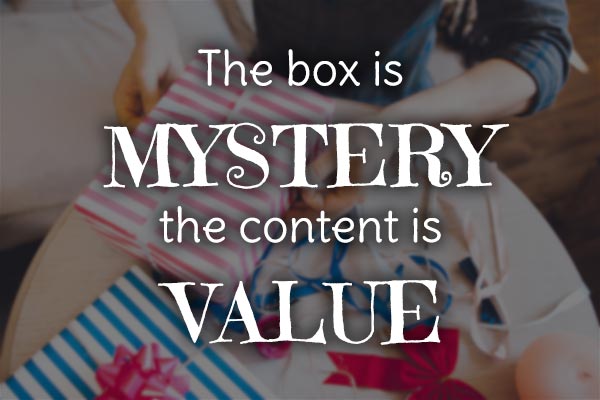 Let's take a closer look at each piece: mystery and value
M = The mystery element (the box)
Make sure that in your email subject line (blog title or any heading for that matter) there's something mysterious or unknown to be discovered.
Make your box – so to speak – with shape, size, dimension, wrapping, ribbon, and weight – but without revealing what's inside.
Here are some ways to do that …
Three Things that…
How to …
The Secret to …
The Weird Thing I Found on the Way Home from the Beach that …
Do you see how the mystery element (the structure or framework so to speak) puts a shape around your gift of content?
V = The value element
What do your readers find valuable?
They want solutions to challenges. They want help to reach their goals. They want tips for success. They want to grow, be inspired, feel at peace, be energized and more.
If needed, take some time and ask yourself (or better, ask them) what they want from you when it comes to content in your emails.
Here are some examples of value:
Reaching goals of all kinds
Quitting smoking
Doubling productivity in half the time
Feeling energized, healthy and strong
Finding more clients in a coaching business (I bet this is something you want to know more about and can you see how just reading these words starts to stir something in you?)
Increasing sales in business
Can you see the importance of value has to be specific to the receiver?
Now, put Mystery together with Value and you get an email subject line like these:
Three Things to Double Productivity
How to Quit Smoking
The Secret to Reaching Goals
The Weird Thing I Learned about Attracting New Coaching Clients on My Way Home from the Beach
Now those are subject lines that will get people tearing open your emails and digging into your newsletters and emails.
In each of the examples above, can you see the mystery element (the box or structure of what's inside)?
Can you identify the value part? The big benefit that the content can bring to the recipient?
Can you see how putting both together makes a pretty, intriguing, tempting content present?
Kenn's action challenge, if you want to be on the brave coach list …
Remember to put mystery and value to work in your email subject lines, blog titles and just about any content.
It will encourage more people to open your emails, read your articles, and in turn, build stronger relationships and deepen levels of trust with your readers – your soon-to-be clients.
Step 1. Go ahead and think of an idea mystery or just use one from the mystery step above.
Step 2. Then think about any one thing you or your clients want to know more about, want to accomplish, or want to overcome.
Step 3. Mix them together into an enticing title or subject line and post it below.
If you do, I'll add you to my brave coaches list. 😉