The First Key to a Client-Attracting Website
This is the first of a three-article series called, Three Keys to a Client-Attracting Website, it's about HOW and WHY you've got to launch your website fast.
The second one is all about creating engaging content.
The third one is about calling people to action.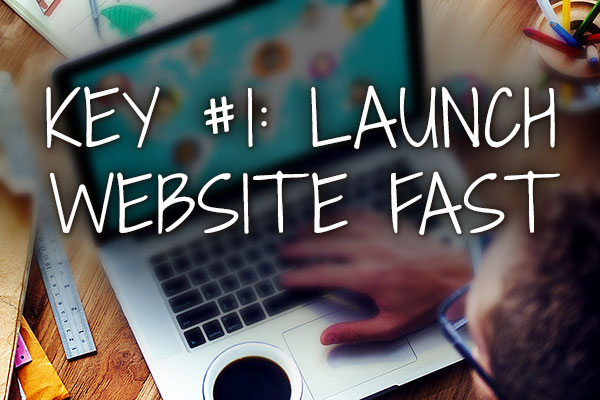 This first key to create your coaching website FAST
It may seem odd that I suggest you go quickly.
You might think that the more time you spend on it, the better it will be. After all, your business depends on it and you want to put your best foot forward.
But in 17 years of building websites, I've found that the sites that went online quickly were more successful than the slowly built ones.
A while back I called up 40 coaches to see what they were doing about their websites. I found out that …
1/3 of websites never went live
1/3 took forever – many months to over a year
1/3 launched fast
And the websites that launched fast were among the more successful ones.
Launch it fast and launch it right with content, strategy and design tips in The Coaching Website Guide.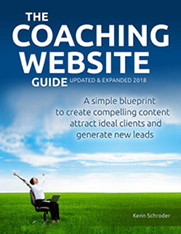 ---
Why FAST is the only way to build
Getting online quickly is vital because …
You build exciting momentum that fuels even more action to get out there.
You get precious feedback as people respond to you and your website – and then improve it.
You avoid the dream-stealing gremlins (more below) that creep in when there's too much time or unfocused efforts.
Going fast doesn't guarantee success. But a slow, long, painful slog rarely works.
Two BIG reasons you MUST be speedy
Reason 1. You have dreams. 
I bet that working with great clients, earning a good income and having control over your time would do you well.
Perhaps more time with family?
Or maybe travel and see the world?
Or revive fun projects you've put on the back burner?
Or maybe you just need some good old rest and relaxation?
Your happiness is important, and the sooner you launch, the sooner your dreams come true.
Reason 2. Other people struggle because you haven't launched it. Shame on you!
Every day that goes by that you haven't launched, is another day someone else doesn't get the chance to work with you.
They suffer because you didn't get it up yet!
Say hello to 10 gremlins itching to invade your website project. Any of these familiar?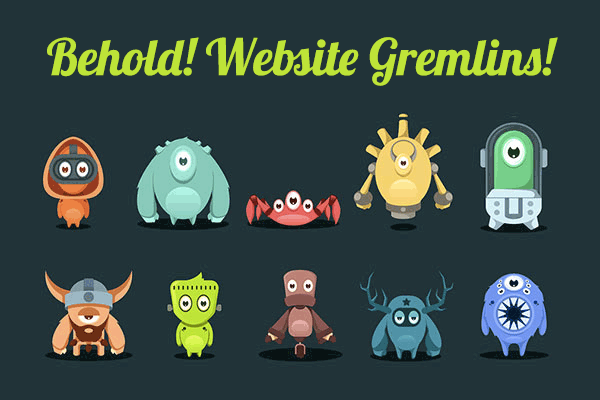 Here are the top gremlins that stop your project or cause massive delays and needless stress.
Gremlin #1 – Shiny-object Syndrome. 
This is where you're busy chasing the latest neat app, plugin, tool or software, thinking it's the best thing since sliced bread. ;P
Gremlin #2: Perfectionism. 
You'll know this beast at work when you just can't seem to get things right. You second guess and guess and guess and … months go by 😉
Gremlin #3: Tech Issues. 
If you're going grey or see fistfuls of hair in on the floor, you're probably wasting days trying to fix tech stuff, calling support and getting nowhere.
Website Gremlin #4: Over-Researching (Over-Thinking). 
If your brain is in pain and you can't seem to ignore all the great articles, ideas, newsletters and templates out there, you're probably taking in more info than you need – and getting nothing done.
Website Gremlin #5: Writer's Block
You try to write and either can't get started, don't like what you wrote, are rewriting all the time or you've got too many ideas and can't pull it together. You hit the wall.
Website Gremlin #6. The Fear of Being Judged
Putting your website, yourself out there, to the public, especially if you're more of a private person or introvert is certainly uncomfy. People will check you out. It's safe to just never go live.
Website Gremlin #7. Sheer Overwhelm
If you haven't started, all the information out there can bury you before lifting a finger. If you're midway, it can be even worse with more info and ideas piling up. You're overwhelmed.
Website Gremlin #8: The Disappearing Designer
This is when your web person spontaneously disappears. It's the oddest thing but it does happen. And you're left with a half-finished mess.
Website Gremlin #9: Stuck on Your Niche
The whole idea of choosing a niche is a confusing zoo of its own. And the fears that surround niches make it all the more "fun". I mean paralyzing.
Website Gremlin #10: Endless Design
There's an unlimited number of things to add, edit, or tweak when it comes to websites. And each day, you'll find even more. Better skip sleep for a few weeks. ;P
But fear not, hope is here …
My Three Secret Weapons To Launch Swiftly
I may be doing myself a disservice to give away my trade secrets. You may say, Kenn, you ding dong, don't tell people how you work your magic, they should pay for it!
Yes, I may be shooting myself in the foot, but I'm going to trust that the universe will do its magic and return it many times over.
My three best ways to prevent failure to launch are …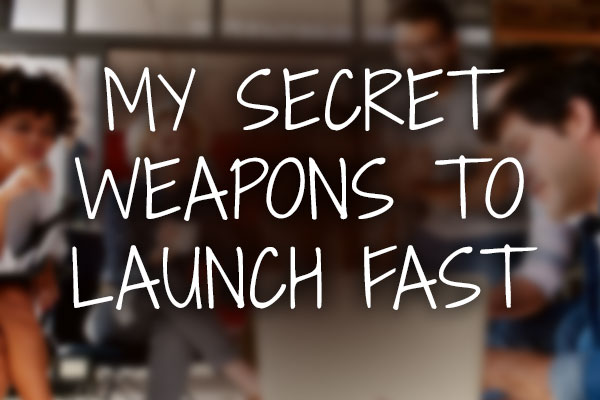 Secret Weapon #1: Set a Deadly Deadline
Whether you build your site yourself or hire a designer, you should set a launch date. Be sure to take a good look at your schedule, skills, and resources (people) and estimate time.
Basically, if you're a full-time employee with some family responsibilities, you plan to do your own site, and you're going to use WordPress, start with a one-month timeline and add two weeks for each of these:
You have 2 or more kids at home
You don't love writing
You're so-so with technology
You struggle to complete projects (make it 4 weeks)
You don't have any goals set ~shame on you! 😉
Make your deadline "deadly", add a painful risk if you do not finish.
One that works is to post to all your Facebook friends that your site is going live on such-and-such a date. That'll set a fire beneath your bum and get you in action.
You can further beef that up to a guaranteed launch, by telling every friend, you'll give them $5 if you don't launch. 😉
Sure you can set a positive reward if you like, such as a massage, or indulge in your favorite dessert. Sure. But also set a punishment as well and watch how fast you jump into action.
Secret Weapon #2: Create a Vision of Your Website
Define the pages, functionality, and content needed for your site. Also, ask yourself how this website will strategically support your goals for your biz and plans to reach them.
With that in mind, you'll know what "DONE" looks like when it comes to your site and you'll start to see the major milestones to get it done.
One type of website, which I call the expert website, I detail in the guide I wrote, The Coaching Site Guide. If you can't figure out a vision for your site, this approach can help.
I would not build a website without a clear vision unless you just want to play around with technology and don't care to take on new clients.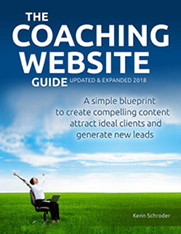 In The Coaching Website Guide, you'll get the sitemap I've used many coaches to fill their practices with clients.
---
Secret Weapon 3: Take Massive Action
Setting a deadline and creating a site map will probably fire you into action mode.
To keep things moving along, I often ask clients and students, When in the day can I find 30 minutes to get started on my website? 
Another good move is to set aside time before a fun event like dinner or tennis to work on your website. It forces you to focus and rewards you right after.
A few first steps you can take …
Outline what you do in a short paragraph. I call this your core message.
Outline the pages and functionality on paper in a diagram.
Draft your About Me page.
If you are going to build your own website on WordPress, seek a developer to sit with to quickly learn how it works. Try asking your Facebook friends for a referral.
The courses and manuals I've seen about learning WordPress are too big. You just need to know enough to get your site up and manage content – not become a coder.
The Second Key is all About Engagement
If you want people to see why they should hire you as their coach, your website must get people to read. It must engage and excite them about a better future.
Here's The Second Key to a Client-Attracting Website.
Have you struggled to get your website done? What thoughts, ideas, or questions do you have related to launching? Post below.