The Second Key to a Client-Attracting Website
A few days ago, I posted the first key to building a client-attracting website, which was all about getting the work involved done – that is, getting launched. It was about the project saboteurs that kill one-third of website creation attempts.
Today, we'll dig into the second key to a client-attracting website which is vital if you want visitors to engage right away, read your content, and come to realize that you'd be a great coach to work with.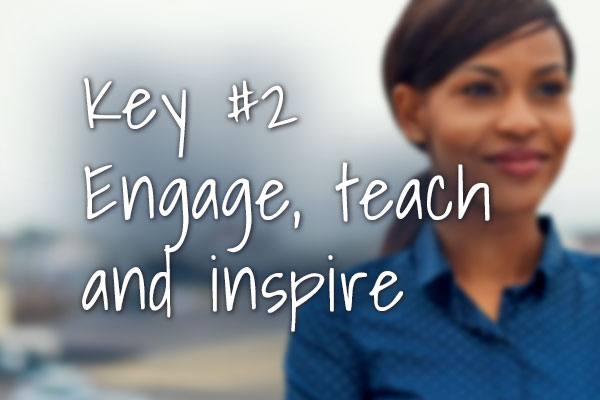 In reviewing hundreds of coaching websites, in building over one hundred myself, in work with clients and interviews with coaches over the last 10 years, I've found that the sites that did the best, always had great content.
Content is the biggest thing you need to pay attention to on your site.
Writers, marketers and successful coaches would agree that it's more important than pretty graphics or slick functionality because it's what builds dreams in the minds of potential clients.
Just think about the bloggers, the authors, and the wise gurus that you follow. They all put out great content. And while many will have fresh, functional websites, what makes them your personal hero lies in their words.
In today's article, we're going to talk about content. Specifically …
Five things clients are drawn to
The top three homepage mistakes that turn off visitors
My top tips for creating great content
When you do your content right, clients show up
At the heart of great website content that helps you get client, you have this principle at work:
People out there are struggling with challenges. Many of those people want to hire a human to help them, a coach (or expert, guru, consultant, etc). And the faster and easier (and more fun) your content gets to them and relates to their challenges, the more likely they'll pursue you as their coach.
Match up your content with their challenges and they (clients) won't be able to ignore you. Actually, they'll be attracted to you. And that's ideal because:
The client is coming towards you for help. You're no longer chasing after them.
The client will behave well, be open, and will act bravely as you work together.
You don't have to sell or be clumsy about offering coaching – just tell them how to get started.
I remember work with one of my clients, Graeme
And I remember how we took his website, content and essentially his marketing tasks and applied some good content practices, and clients flowed in. Much of what I discuss in today's article (so read it fully!)
I love Graeme's story because he became my client via my content in the same way he gets his new clients with his website. Simply create content to speak to existing needs and then people respond by contacting you.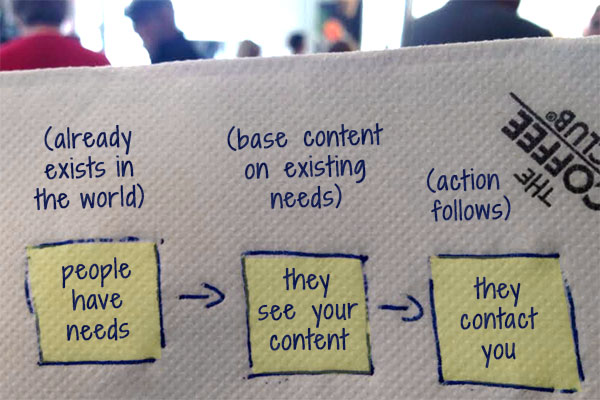 I've seen it over and over, and I'd love to see it for you. And, your first steps could be (self-advertising drum-roll please …) in the course coming up next week called, Client-Attracting Websites where you'll write engaging content, launch your site fast, and have a website you'll be proud to share with the world.
Ok, let's dig in …
Here are five very important things that clients love in the coach they hire and tips on getting those things into your site
1. Clients are attracted to (so-called) experts.
Experts, or people who have shown knowledge or skills we don't have or have realized results we want are obviously attractive for those reasons. We want what they've got 😉
And since there are no official criteria for becoming an expert – all we need to do is create that appearance.
Also, I don't advocate to be fake or false. Simply think of this as simply highlighting the best aspects of you and your coaching – the stuff clients love.
Here are a bunch of things that build a credible, professional, expert image on your website:
Add well-written, educational blogs that showcase your ability.
Outline your own beliefs and methodologies for achieving success.
Have a great, professional photo, with a warm smile (this is big).
Make sure your website is current, crisp, clean and works smoothly.
Show expertise indicators like media attention, author status, or leadership roles.
Tell stories of the success of your clients or others.
Get on video and share a speech, training, an interview or other (those who stand up and speak have cojones).
2. Clients are attracted to a proven record
If we want to carry out something, it's hard to take advice from someone who hasn't gone before, even if they seem smart.
But someone who has had success or helped others realize goals (succeed in business, lose 50 lbs of fat, have a great marriage) will be immensely attractive to us.
So, in your content, be sure to include things like:
Client success stories
Your own stories of accomplishment.
Process to succeed
Stories and insights into what doesn't work
Stories of others who have applied similar methods
Clients will feel you're a catalyst for success if you share winning stories on your site.
3. Clients are attracted to people they trust
Who are the people who gain our trust in this world? That's a great question.
And here are common themes you'll find when gurus try to teach trust:
People who do what they say they will do.
People who are honest.
People who admit to mistakes.
People who speak from the heart.
People who share similar beliefs as ours.
People who take responsibility.
People who stand up and lead.
Here are some things to do on your website content to gain trust:
Keep an email list and regularly interact with it to grow trusting relationships.
Make and keep promises to deliver helpful content to your list, groups, and clients.
In your digital content, speak from the heart, be honest, and be responsible.
4. Clients are attracted to people they like
People love to work with those they like. It's plain and simple.
(Ever notice how I throw in a few random jokes to get you to like me and my content? It helps you like me 😉
Here are some ways to "build likeability" on your website:
Post smiling photos of you.
Interject some real-life stories.
Be a human in your content, blogs, and emails.
If you're using social media, share relevant stuff in your life.
Be positive of course. No one likes a downer.
Tell jokes, lighten things up, and have fun with your content.
Add your special sauce: maybe you're good at sketching, or great on video, or are poetic. Use those talents to communicate your message.
5. Clients are attracted to people who inspire them
Who doesn't like being around motivating, inspiring people? Especially when we're struggling and the outlook seems bleak.
Some ways to do that on your website:
Share the success stories of your clients.
Let people know you believe in them.
Share your beliefs about what's possible.
Challenge people to take action.
Invite people to share their dreams and their challenges.
Tie your content to the big picture: their dreams.
As an example, if you run a live group coaching program once per month in your locality, you could videotape your sessions and share them on your website.
Here's are my top 3 home-page failures that prevent people from digging into your content
There's a term called the bounce rate. It's the percent of people who arrive at your site and leave without clicking further. Yes, they simply bounce off your site.
And when your home page doesn't grab attention right away, that's exactly what happens, they bounce off and never return.
And people bounce for two reasons:
Your website is not relevant, so they leave. This is ok.
Your website is confusing, so they leave. This is bad. Doubly bad if your website was actually relevant but didn't engage them on the home page.
Here are the three common things I see on home pages that just do nothing to engage visitors …
Using the words, WELCOME TO MY SITE. This is nice to do, but doesn't engage people nor tell them why they should be at your website.
Using big images or worse, a series of images that slide by, one after the other as in a slideshow. Again, nice, but dreams are built in words (or audio/video) that visitors care about.
Some quotation or saying of wisdom. These are also nice to have, but they don't get people excited to dig deeper into your coaching website.
Instead of big images, or other niceties, it's better to dig in with some juicy benefit-rich content that relates to the visitor's interests – which is all about their dreams and challenges.
Here are a handful before-and-after website reviews I've done to illustrate this. (I've set these links to open in a new tab so you can take a quick peak and come back)
---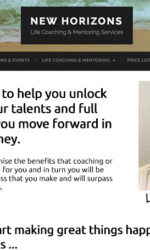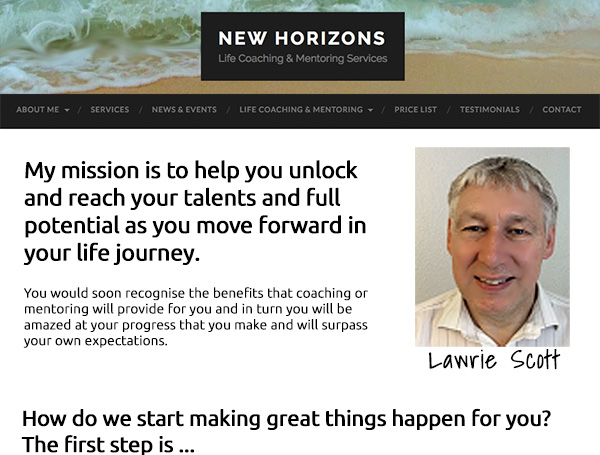 ---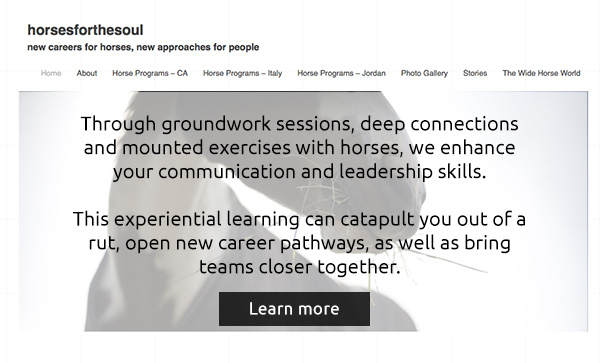 Website before-and-after for Joyce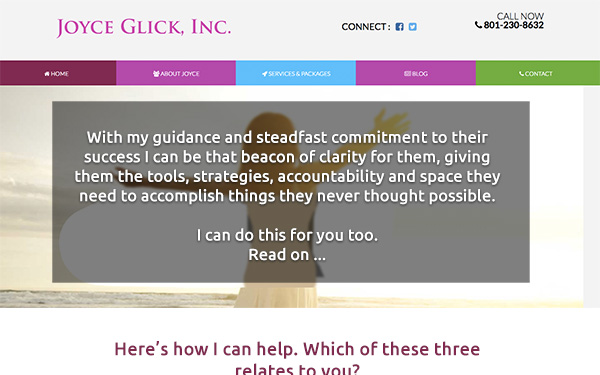 ---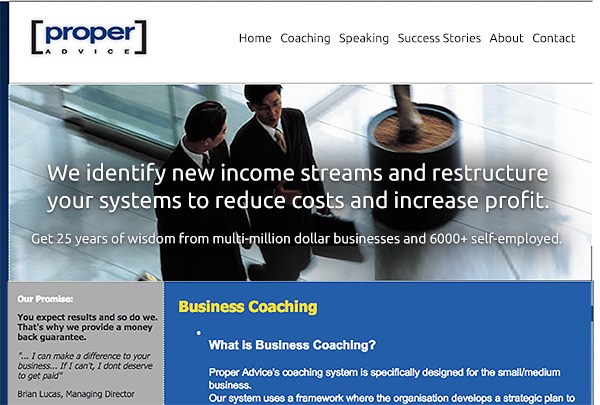 ---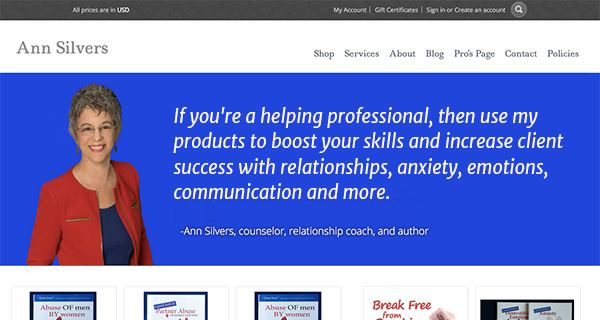 ---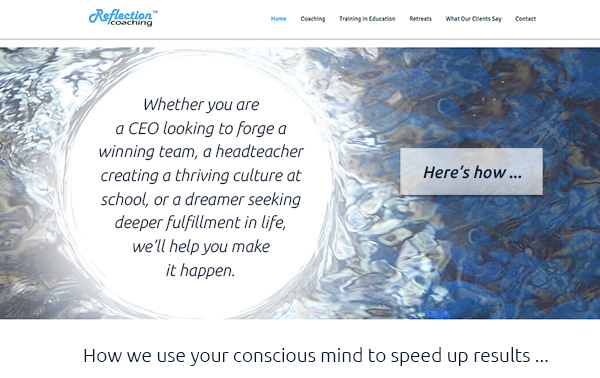 ---
Here's how I recommend you get a handle on your content, get it created timely, and get it done well.
Not only do you need to know what to write, you also need to get the writing done. 
I've written extensively about the actual content in a sweet little guide I wrote called The Coaching Website Guide. It'll help you figure out the target copy to write.
Let me give you my 5 best tips along with useful links…
Tip 1. Start with a core message.
It's easier to base your content on a central theme. If you're a relationship coach working with couples and families, then craft a few sentences that encompass the essence of what you do including pains you help people with, results you aim to achieve, and some basics on how you do that with clients.
Craft a concise core message that all your other content comes from.
Tip 2. If you have no niche, then focus on challenges.
If you have no niche, or one you're not sure of, or are afraid to commit to one, that's understandable. There's much fuss, worry, and confusion about coaching niches, and I won't go into that here.
What I will say, is that it's a good idea to narrow the focus of your coaching, and to concentrate on vital challenges people want help with and will invest in like career, work, business, relationships, family, children, health, healthy eating, and illnesses.
And so, for your website, think about how you can talk about what you do in terms of the pains and desires your ideal client's face.
Tip 3. Aim for less content to start.
As you identify key pages to write like your bio and your coaching services page, then simply make a few notes about what would be great for those pages. Aim for the 5 most important things.
Tip 4. Set a deadline.
Make sure your entire website project has a deadline for its completion. This will keep you from dilly-dallying, wasting time and over-thinking.
When writing content, I like to use a timer. If I'm about to write a bio page, I'll set a time for 20 minutes, choose 3-5 points I want to make, and simply write a paragraph or two for each of those points, and then stop.
Tip 5. Keep a conversational tone.
When writing content, write like you're talking to a friend.
Conversations are much easier to read than some formal, stuffy style of intellectual speak often found in textbooks and corporate manuals. Yuk!
Write like you were emailing your bestie or texting a homey. Real. Enjoyable. Human.
Here are a bunch more articles to help …
And that wraps it up for today on the second key to a client-attracting coaching website – compelling content.
Have new ideas come to mind? What are some ahas for you? Post them below.