My Story and Making Magical Websites
I've just drafted a new section to add to the Coaching Website Guide's front, which I'm now updating for January 2018.
Just this morning, I added in a short My Story section to the beginning to connect with readers, entertain them, inspire and educate.
It's a fun little read.
Enjoy …
---
My Little Secret
In 2001, when I left the corporate world, I wanted to pursue my childhood passion for "creating on computers."
I was tired of the office life, commuting, soul-less work and all that jazz.
But, being in business for myself (with some basic skills training) was a bit scary.
I knew I'd work hard for my clients, deliver great results, and make customers happy.
But, finding and getting those clients was foreign to me.
I was scared to get out there and tell people what I did for worry of being judged, doing bad work, and fear of failure – I'd have to tell family and friends I left my high-paying corporate job and now earn peanuts – Yipes!
And so, to get work, I want a website that would make me look credible, professional. I wanted a website that showcased my talents in the highest light so that when a potential client arrived, they'd be impressed and contact me, eager to hire me.
But it didn't go that way for many years – about seven.
I earned a very low income and had to use up my savings to pay for the basics: rent, food, and clothing. I started accruing credit card debt too.
It did get messy.
At one low, stressful point, I ran into a curious little book on sales and marketing and made a few gutsy moves.
With that book in hand and upon revisiting all of the business advice I've been given (which I pridefully ignored with the idea that I'm smart enough to figure things out), I restructured my marketing from the perspective of the client.
I tailored everything to speak to the client's interests, desires and needs.
This was mostly centered on my website – my main marketing tool.
And then magic happened …
Then, magic happened, and new client leads were rolling in the door.
After the brave move of restructuring my business from the client's perspective, I generated 10,000 dollars from 3 new clients in a single week while abroad visiting my girlfriend in Paris.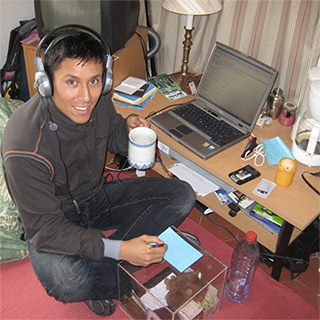 I traveled because my father worked for a major airline, making tickets cheap, my girlfriend had a place, so no accommodation costs, and I could save on rent in New York City. This trip actually saved me money.
But having that week of success provided extra cash to make the trip amazing.
From then on, I averaged a dozen new leads each month.
The success was due to getting my website to convert. It was all about "designing it for the client. "
It sounds stupidly simple, but from my own experience and from reviewing over 1000 coach websites, it's difficult to do.
But, I applied the learnings from this aha moment to the websites I built for my coaches, just like you. And it was no surprise that it worked for them as well. These coaches were getting more and more clients, especially via the Web.
In fact, I think the design for the client approach is even more vital for coaches than web designers because "coaching" is this invisible, amorphous thing.
There's a lot more to the story. For now, let's take this wisdom and design a website for your clients so you can confidently get out and start generating new client leads.
So you can go live in your dream location, run your coaching business online and earn an income as a paid coach! Or maybe just work from a cafe, have time flexibility and enjoy being a coach?
Perhaps the day will come when I get to hear more about your dreams.
If you want to read a longer version, visit the full page here, My Story.
What's your story? Post below.