5 Modern Website Design Trends for Coaching Websites
It's a savvy move to pay attention to modern website design trends and make sure you're looking great online and smoothly delivering content to your visitors.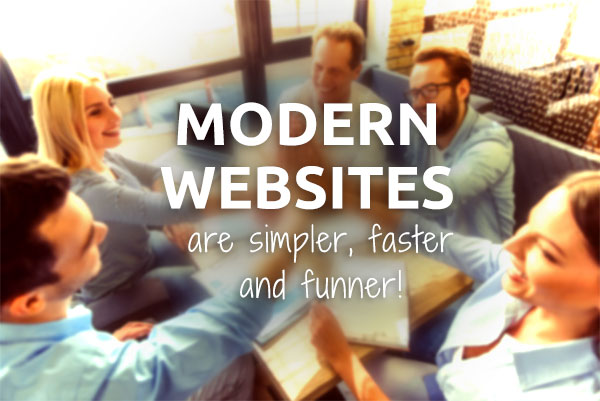 Whether about to launch the next most awesome coaching website or your seasoned-vet website needs a Spring cleaning, paying attention to current best practices is smart because:
(1) The way people use websites changes over time and your website needs to keep pace.
(2) Technology evolves to better serve people and the old stuff gets slower and starts to break. Your website needs the latest tools and updates that are essential for its purpose.
I call this "website rot" and it can tarnish your professional image and break your website – both which will hinder your efforts to find clients.
Here are 5 Modern Website Design Trends to Keep Your Website Well-oiled and Your Online Marketing Efforts Zipping Along
Let's dig in …
Trend #1. Modern Websites are Simpler
As designers, marketers and business owners learn and implement the best stuff that works, it's no surprise that SIMPLER is what users need and want.
For coaches who use blogging as a marketing strategy (I highly recommend), you'll find a common current trend (2016/2017) of articles in a 1-column format.
Below is a screenshot from one of my favorite bloggers, Mark Sisson, who writes about great health inspired by primal living.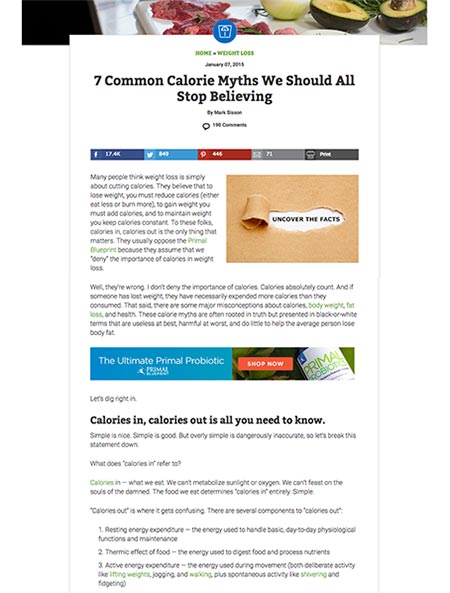 His articles have recently moved from a common 2-column format (with ads and offers on the right column) to simply one-column format.
It looks great on my laptop and views perfectly on my phone.
In a crazy busy modern world, we all need to eliminate junk. We need to stay focused, do less, and stick to the important.
And a simpler website will keep your visitors reading your content and seeing how great a coach you are – ultimately clicking their way into a phone call about hiring you as their coach.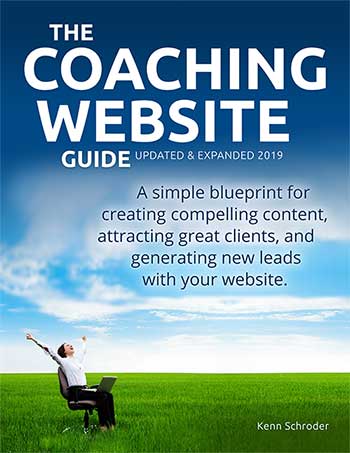 Create a simple, powerful, modern website that both looks great and impresses potential clients with the tips and tricks I wrote about in The Coaching Website Guide.
Trend #2. Modern Websites are "Mobile Ready"
Mobile ready means your website looks great and functions properly on mobile devices like smartphones and tablets.
A little more all-encompassing and nerdy is term "responsive" – which means your website looks good on any shape or size of viewing shape (phone, pad, screen-size) and also controlled by browser resizing.
And stating the obvious, your website needs to look good everywhere so clients can find you on their miserable commute to work (which is exactly where they ponder life challenges and realize they need a kick-butt coach like you).
Here's a fun little flashback video to see how Microsoft's website is responsive.
Two quick tips …
1. If you're using WordPress be sure to buy a premium, current, and well-supported theme. They're 99.999% likely to be responsive. Just confirm it when you make the purchase.
2. Always test the pages you create on a mobile device because while the layout (the design) might look good, the content (words, images, formatting) you've added to the page may not come out right.
Three handy ways to test your website for mobile readiness:
1. Here's a neat little trick for testing your website, if you're on WordPress.
2. Use Google's Mobile-Friendly Test to both check out your pages.
3. Whip out your phone or pad and go to your website.
Soon are the days when people will read your articles on their watches, inside their contact lenses, or projected on a table from hi-tech pens ;P
Trend #3. Modern Websites use Big Fonts
You'll often find page headings with big fonts to help separate sections of content.
You'll also see bigger body text which better matches the increasing resolution of screens.
Here's a screenshot from Mitzi's website (she's a life coach in New York) showing a big heading font that stands out along with a "mostly" 1-column layout.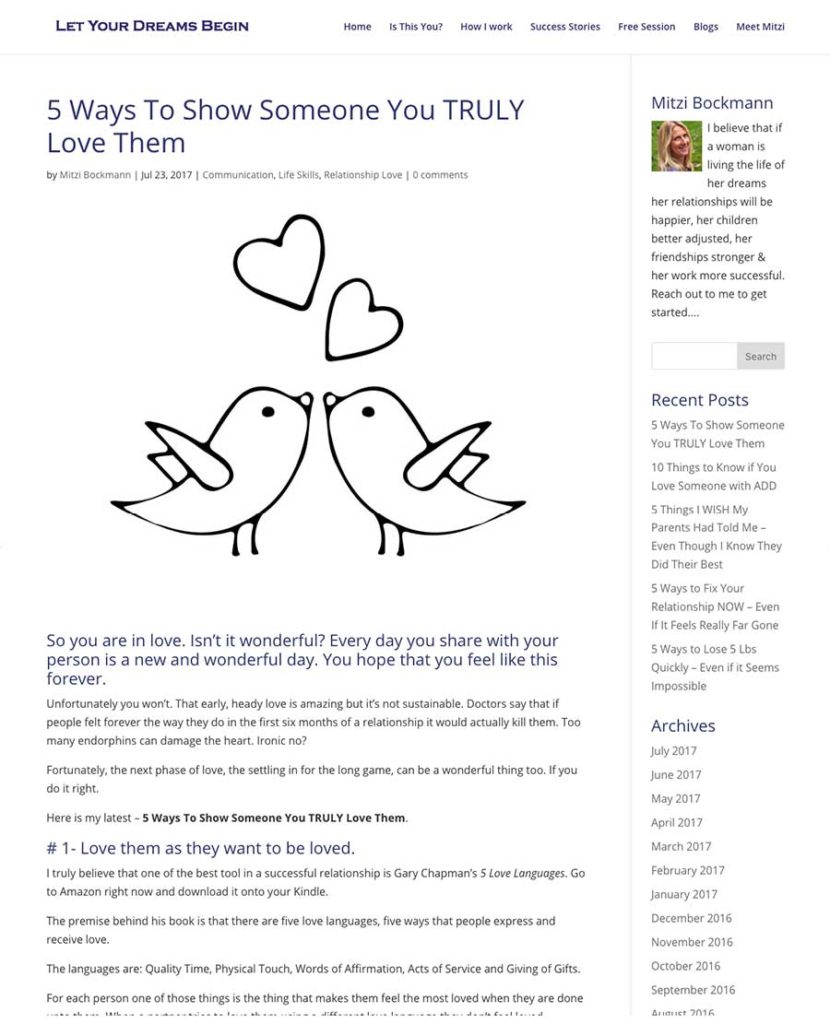 As you can see the blog article font is the biggest on the page.
It's bigger than her logo and rightfully so because it's more important to the reader.
Trend #4. Modern Websites have Big Images
There's the concept of a "hero image" which is simply a big image that fills the screen.
They can have text overlaying the image or be stand-alone.
Here's a screenshot from a student of the course Client-Attracting Websites.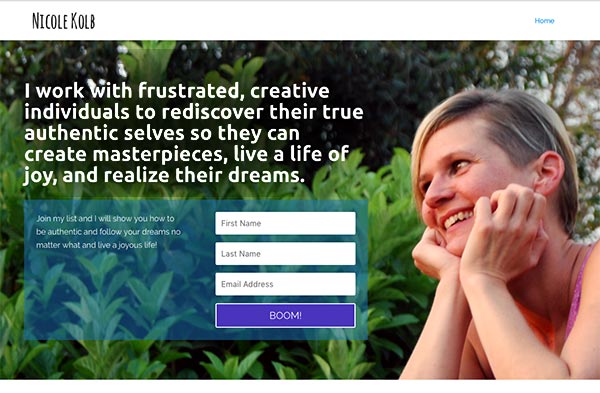 Nicole has a fun massive hero image used on her homepage to give a fun, relaxed feel to her website.
She's a life and career coach for creative people and she wants to give off a feeling of "being yourself".
While big images are the trend, don't forget to include engaging, benefit-rich copy to go with it. Remember, your website needs to engage and excite your visitors. This happens in the words.
Trend #5. Modern Websites are Social Butterflies
A coach's website has just gotta integrate with social sites like Facebook.
The benefits are numerous and growing, including:
People discover coaches via social media
You gain credibility as a great coach when people "like" your stuff
Your content gets spread about as others share, like, and comment
And one reason I go bonkers for social media is that you can automate much of it.
Below is an example of simple social media sharing buttons that show up on the left of a website page making it easy for folks to spread the word.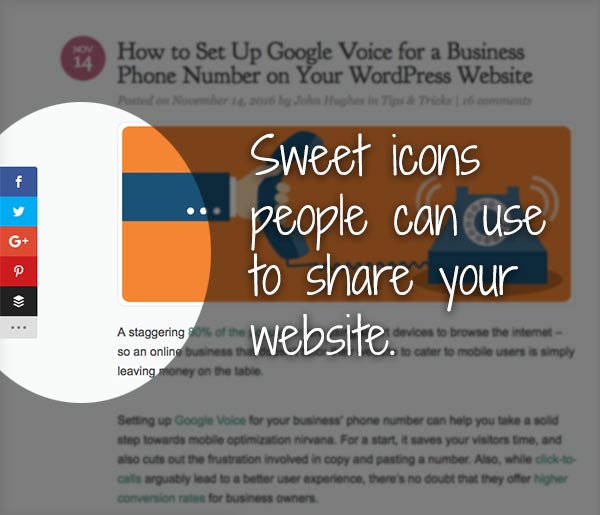 The above functionality is provided by the Monarch plugin from Elegant Themes – one of the WordPress theme companies I like.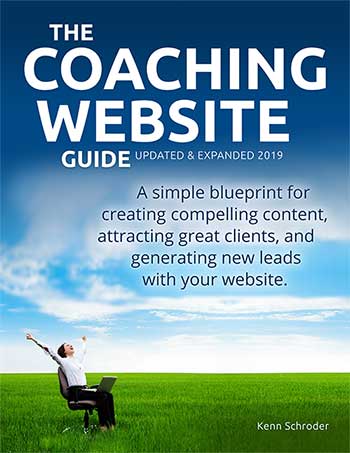 What's more fun than a modern coaching website?
A strategically smart coaching website that regularly sends you emails from people who want coaching! I wrote about that in The Coaching Website Guide. Have a looksee, you might likesy.
Remember, people are out there searching for ideas to make their careers, lives, and relationships better.
If you apply modern website design trends to your online presence, you'll look great everywhere, visitors will easily read your content, and your name will get spread further around the web.
This adds up to new client leads for you 😉
I'd love to hear from you. Comment below.