I'm happy and eager to announce that The Coaching Site Guide is getting a long, overdue update.
(By the way, if you get the current version of the guide now, you'll save 25% and the new update will arrive automatically by email in Jan, 2018. Basically, it's pre-ordering with a discount and you can start nibbling on it now. Just use code: advanced25 on this page.)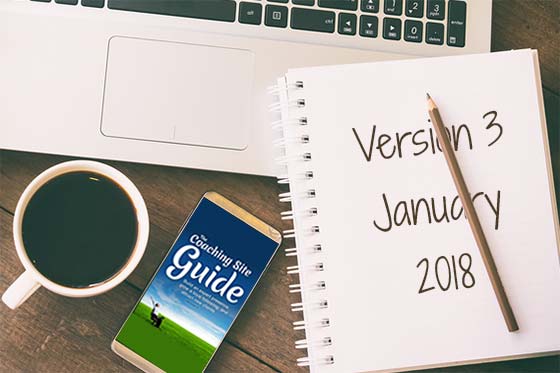 The mission of The Coaching Site Guide is to powerfully equip you with a stellar website so you can confidently get out there and tell everyone about your coaching services with unshakable confidence.
If you're like many coaches, your first goal in business is to make money while working one-on-one with clients. And then grow your business from there. That's the first mountain to climb.
That's be great because you can say You've done it!
And then start to shape your lifestyle to be more flexible, doing more enjoyable work, and earning an income to boot.
For this next update of the guide, here are the main intentions:
To build websites faster, simpler with less overwhelm and confusion.

To write better content while both (1) being authentic to you and (2) exciting to the visitor.

To generate more leads (conversions) from your website.

To sign up more clients in your intro/free session call. 
The bulk of the updates.
1.  I'm outlining a Phase One Website for those who need a simple start, who are struggling to launch, and for those who need to clean up their messy websites.
2. I'm adding in detail about The Strategy Session – that special free consultation phone call for signing up new clients. You'll learn how to improve your closing rate, increase your income, and keep clients around longer.
3. I'm adding in the concept of The Persona to get you past niche fears, create better content, and make writing much easier. 
4. I'm changing the Search Engines chapter to Traffic Building to build your confidence and help you find your own way to get visible online – one that make it fun and plays to your strengths.
5. I'm adding a section called Troubleshooting a Website That Isn't Working – one that is not bringing in new leads.
6. I'm updating the approach to Getting the Job Done with the latest productivity for finding a talented, diligent, low-cost web designer, and keeping yourself accountable to going live. 
7. I'm expanding the content on Creating a Must-Have Freebie with new tips for attention-grabbing titles, boosting credibility, bringing more traffic, and generating more leads.
8. I'm adding a bunch of treasures (website tools, writing formulas, traffic sources) that I've come across over the last few years to both get higher quality visitors and get more new-client contacts from your website.
9. I'm adding in a section which I may title, Web Marketing Deep Inner Game Mindset Belief System Reworking. Which is a sad attempt to oversell it 😉 Really, I'm going to share some simple ways to think about the Web so you will feel good about sharing your message online.
Use this code now to get version 2 now, save 25%, and essentially pre-order version 3 due in January.
If you buy the current version (a great way to get a head start on your website education), then enjoy 25% off with this code: advanced25 on this page: The Coaching Site Guide.
You'll automatically get the new version emailed to you in January. The price will stay the same at $97.
And yes, if you already bought the guide earlier this year, you'll get the new one at no cost.