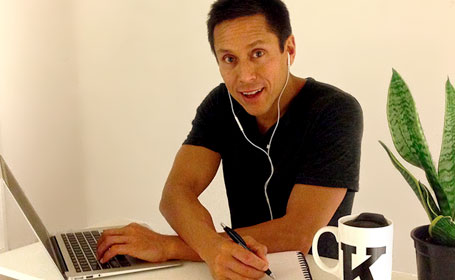 From the stand-up desk of Kenn Schroder
Albany, New Zealand Office
I'm happy and excited to announce that I'm running another group website creation program for coaches who are stuck and frustrated on their websites and want to create one they can happily, excitedly, eagerly and confidently use for promoting their coaching businesses. 
If this might be right for you, jump into this special Facebook Group: Client-Attracting Websites Facebook Group where I'm discussing the details and inviting folks to join. 
Below are the basic details …
---
Have you been itching to build a simple but powerful website? One that reflects you authentically, but also speaks to your ideal kind of client?
And then, ultimately, with a great site in hand, you can confidently get out there, attract new clients, earn an income and realize some neat lifestyle output like:
Leaving or going part time in a job you've "outgrown"?
Be able to travel or move around and live in other places?
Have control over your time to pursue fun things in life?
Do more rewarding work, coaching, with great clients?
If so, and you've been stuck on your website for whatever reasons (like technology, writing, niche, or just no time), then this email is probably going to hit home.
How the group will work …
I'm taking 5 coaches who do not have websites up (or need to redo or trash the one they've got) on a fun, challenging, creative journey to get online – greatly.
This program is based on similar groups I've run in the past – with a bit of "next level" action.
I will provide a base set of tutorials to follow, with support along the way and a Facebook group to provide feedback.
I will also implement a LAUNCH CHALLENGE to inspire you to get the job done in a doable timeframe.
I will personally be right there with you along the way to help with tech issues, challenge you to get it done, and live office hours to call in if needed.
There will be a fee which will be similar to other training programs or courses out there, BUT you'll actually have access to me as you go. So there's real human support.
Over the next week, I will talk to you about it, share more details, take names and get people signed up.
What do you need to do join this?
While most of the steps are well laid out, I'm talking to folks now to get some feedback so I can fine tune it.
If this already sounds like it might be perfect for you, then all you need to do is jump into this Facebook group called Client-Attracting Websites.
See you in the group.
Kenn Schroder