New Website Goes Live – Coach Vilena
Today, we declare CoachVilena.com live. Congrats Vilena!
Vilena Sungatova is a wellness coach for women who are struggling with eating disorders and body image issues.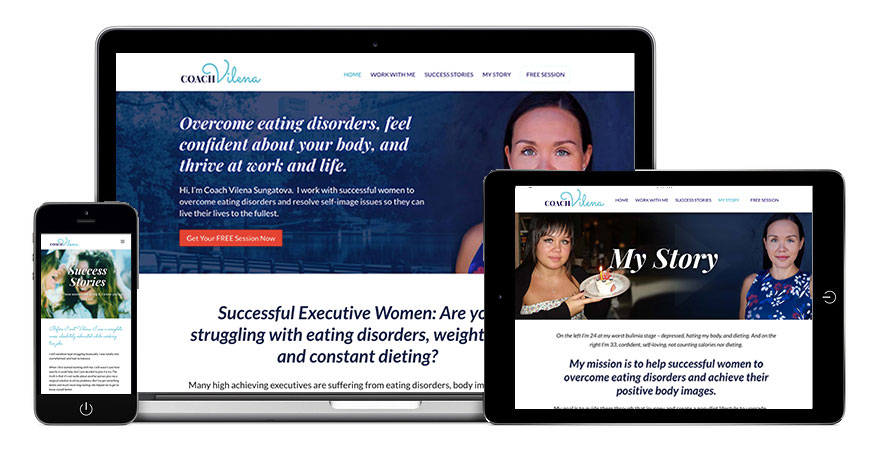 Every website that I help a coach put up is better than the last.
Here are a handful of things that I'm especially excited about on her website.
1. The write up at the top of the home page.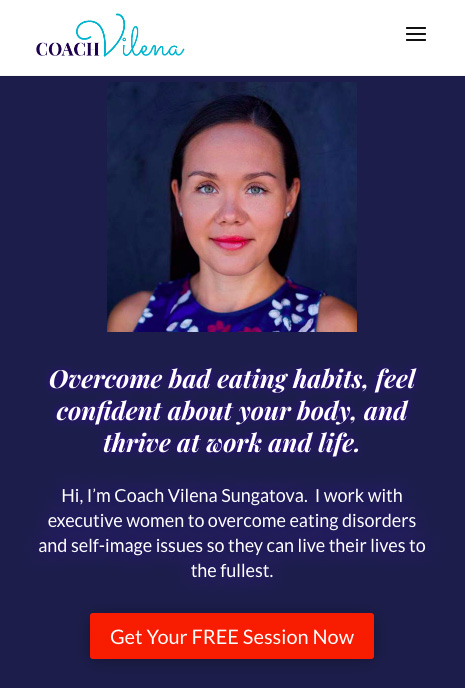 It's short enough to read quickly. It's long enough to tell a lot what she does. And most importantly, it's all about her clients' interests.
In the past, I've tried to condense these core messages into a shorter statement. But, I think this size and length is phenomenal.
2. The colors work very well together.
I've worked on many websites, and it can be a royal pain-in-the-ass to make the colors work. When the logo, the client's photo, and the brand are of different color schemes, designers cry.
More often these days, I'm creating the logo for clients. It's great to have me do it so that the whole brand glues together well while avoiding the troublesome overdoing of a logo.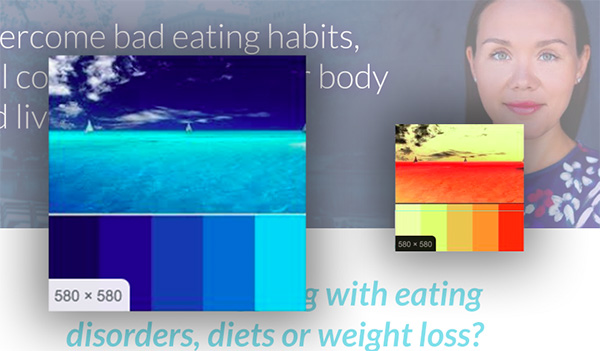 The color scheme for her website is simply the blues at the beach. The main button call-to-action is the opposite color, a red-orange color to stand out.
3. My proprietary Business Questionnaire proves ultra-handy yet again.
I've had this series of questions for nearly 10 years. It's evolved over time. But, as I have coaches work through it to sort out their content, it's been a god-send.
Coaches are always so grateful for having done the work on these questions and are surprised at how well the website content comes out. The coaches also start to learn better how to speak about their coaching services from the client's point of view.
It's better for sales.
If you're DIYing your website, you can get step-by-step writing help and a lot more to make an engaging, exciting website in The Coaching Website Guide.
4. The Divi theme is a solid tool for site creation – highly recommended.
I use the Divi Theme from Elegant Themes to build websites for the coaches who I help. It's great for me, a techie with an eye for design, and a pursuer of good content.
I've been using it for a few years, and the theme creators have improved it with a few significant updates. Each time they release it, it gets better. Specifically, for this project, I love how I can easily I can make page layouts and style consistent across the site.
Not recommended for technophobes. No tech is recommended for digital-fearing folk. 🙂 But yeah, this will be a wee bit hairier than Wix or Weebly to grasp.
5. Venturing into three fonts when I'd normally use one or two.

Using more than one style of font in design is risky. It's VERY easy to make a mess which turns off visitors.
But you'll often see in modern designs, especially infographics and social media posts, a mix of many fonts. Such eye candy that'll give you diabetes in one look but send you into a euphoric "cool!" when you see them.
For Vilena's website, I mixed two fonts into the logo and a third simple font for the body. I think it works well, and the feedback has been very positive.
The word COACH is in Playfair Display font which feels traditional and strong. It's all caps. This is perfect for a coach who holds a support role for others.
The font for the word VILENA, Sacramento font, has a feminine, cosmopolitan feel. Her clients will likely be in New York City, where she lives. That works well too.
It's great for a coach to feel good about her brand. She'll be looking at it all the time and sharing with others as she markets. Like an outfit you look good in, it builds confidence.
Both are Google fonts that are free for business use.
Again, congrats!
Vilena is already making contacts for referral sources and starting to generate new leads. On the horizon are plans to reach out to immediate networks and grow her Instagram profile.
That often leads to an initial batch of new clients.