How to Speed Up Your WordPress Website – Video
So what's at stake if your website is slow as molasses? New, fun, paying, clients. That's what!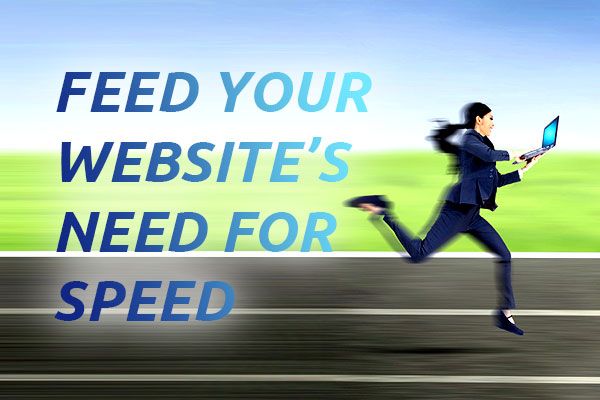 If your website is crawling along at tortoise speeds then people won't stick around to read your content. And if you've heard, it takes a bunch of positive interactions with you before people are willing to take action – like get on your list, or call you or buy an ebook.
There are two things that make a coaching website kick butt
1. Ease of use
If a website is hard to use, then people won't use it. And one big, common contributing factor is a site that is slow. Five seconds or more for a page to open up really tries peoples' patience.
2. It serves a purpose
If your website is easy to use and is actually useful (good articles, assessments, teachings and essentially content that wins their trust to contacting you) then it will do well.
In this blog post, we'll get our hands dirty with some tips and tricks for speeding up your WordPress website and I'll begin with a video of me poking about my website.
Let's talk about website speed
Join me in this fun little video as I talk about website speeds, share some tips, and take a look at ways to increase the speed of your WordPress website.
Do a website speed test now
An easy way to test out how fast your site is going is to use the free tool at Pingdom.
Give it a try. How fast is your site right now?
Post it in the comments below.
Five fast and furious ways to speed up your WordPress website
There are more ways than the ones below, but these are quick-n-easy moves likely to cut down on your page loading times.
1. Delete old / unused plugins
Just like too many projects at work clog your brain, stress you out, and hurt productivity, extra plugins on your website stuff things up and slow them down.
Cleaning out old/unused plugins is a good move.
You should consider deactivating some that you can do without.
2. Use the W3 Total Cache plugin
Caching means saving information (content, images) from your website for re-use.
This plugin improves speed using caching and a few other tech tricks.
Check out W3 Total Cache.
3. Clean your database if you've got a lot of blogs, comments, and pages.
Every WordPress website has a database that holds the written content and website settings.
And over time it can get big and slow down.
There are a few plugins out there to clean the database, and one I've used is WP Optimize.
This will be a little scary for non-techies, but the default clean-up operations are safe to apply.
Perhaps, do this step last if your site's speed is still suffering.
4. Watch out for big images.
There's this concept of a "hero image" which is a big ass image on your website.
I use one for Jan's website, shown here: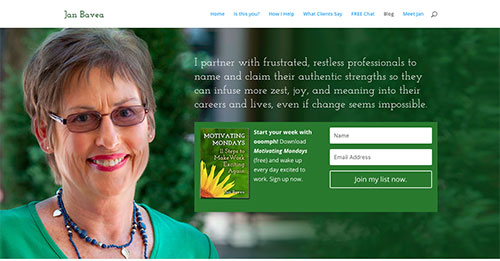 They aren't bad per se, but it's easy for a newbie designer or unknowing coach to use an non-optimized image, thus adding unnecessary seconds to waiting time.
These hero images must be compressed or optimized.
5. Watch out for clunky themes or plugins.
If you've done much of the above and still need to reduce site speed time, check your theme and plugins to see if they are time hogs.
Simply switch your theme to the basic default one that you got when you first set up WordPress. At current it's called Twenty Seventeen theme. Then do another quick speed test using Pingdom.
Did the speed improve?
Try it a few times from different places around the world to get a quick average and see if it's significant. An obvious 2 second reduction is a big gain if you're going from 4 seconds down to 2.
Likewise, if you're struggling to reduce speed, try deactivating one, some or all of your plugins to see if there's a lot of improvement. If so, you may have plugins that gotta go.
If those don't work, the problem might be your web host
If you've done quite a bit to speed up your website and you're not getting anywhere, it's time to talk to your web host.
There may be tech issues, virus issues, or other bad software goings-ons that are causing slowdowns.
Also, the cheap-o plan (likely a shared environment which puts your site at risk from the happenings of other sites – think kid's getting sick from others at school) may no longer suit.
They may have a faster server you could upgrade to.
In the end, you may need to switch to a better host provider. One I like, which I use now, is BlueHost.
So, feed the need for speed
Get your WordPress website running super fast so your visitors can dive into your content and swim around – and eventually end up hiring you as their coach.