19 Ways Write Your Blog Consistently
It's Monday morning. I'm in New York City getting my passport renewed for another trip to New Zealand in November, passing through Australia first.
Cool.
Starbucks is my easy go-to spot to knock off a work task or two. At this one, it's this week's blog about being consistent.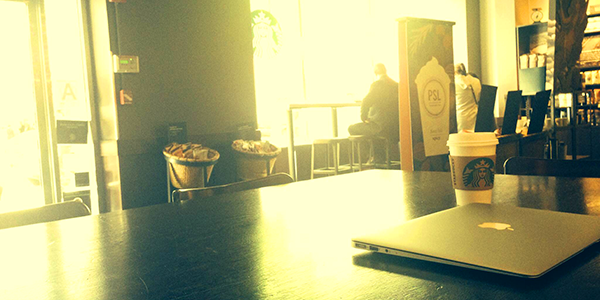 I wish I had the answer to "How do you write blogs consistently?" and as usual, there is no one trick for everyone.
We've all our strengths and weaknesses and it's our duty to find what works.
It's Super Tricky to Keep Regular
For many, posting their blog on a regular basis is tough.
This can be for many reasons:
not knowing who you are writing to
not knowing what to write about
fear of being judged
many other reasons
I've tried and done many things to be consistent, but I can't say one specific thing works best at all times.
Below are 19 Ways to Get Your Blogs Done Regularly
Some approaches have proven useless to me while others are godsends.
You've got to find your own way (or get the help of a coach to help you find it).
1. That may mean to just relax. I've done breathing and muscle relaxing. It helped.
2. That may mean to bash through it. I've done this with lots of stress. I prefer fun instead of stress.
3. That may mean doing your little routine to get in the creative state.
4. That may mean sticking to your schedule.
5. That may mean telling yourself it's ok to be imperfect.
6. That may mean giving yourself the time to work on it.
7. That may mean to put it down for later.
8. That may mean to allow yourself to do your worst.
9. That may mean that you need to take a break.
10. That may mean blogging every day, first thing, to stop you from overthinking it.
11. That may mean getting an accountability partner. I've done this and it's great. To row with another in the same boat is very helpful.
12. That may mean joining a group or getting another kind of support.
13. That may mean reflecting on past clients and their struggle spots for ideas.
14. That may mean setting a timer to speed up your efforts.
15. That may mean doing a video.
16. That may mean doing scratch diagrams to teach.
17. That may mean writing 52 blogs for the next 52 weeks in a short period and call it done.
18. That may mean writing a super short blog of 200 words or a massive one of 2000 words that you'll break up into pieces.
19. That may mean giving your VA the task of finding an image, editing, and publishing to save you time (you may be resisting blogging because it's a time sink).
Please Comment Below
What gets you consistently writing? What gets your creative juices flowing when you need it? What makes blogging fun for you? What's worked and what hasn't? I'd love to hear from you.