A Snack in My Office and How it Fits Into Marketing
I'm in the middle of enhancing my Autoresponder Series component of my website program and I'm due for some eats.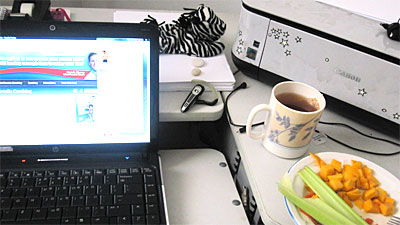 (you may need to enable images if you're getting this by email)
Noteworthy:
That is rose hips tea. I'm exploring its benefits and enjoyment.
You see mango, papaya and celery. Papaya is tasting better and better to me. At first, it was a bit bland.
Those little rocks are from the beach – Jones Beach. I'm a beach-lover.
That ear piece was working well with Skype. Something is amiss with the connection recently. Technology – heh!
On my screen you'll see I'm working with one of my developer's Mike (in the Philippines) using Skype.
Also on my screen, you'll see a recent website I'm polishing up of a client who, interestingly, recently ran his second 100-mile ultra marathon.
Where does this kind of stuff fit into marketing?
The hands-down most powerful motivator that signs clients up is when clients feel you can help them reach their goals. Thus, content like this should not be on the frontline of your communications with your clients. It's better left to be discovered on the background in case someone is digging. Many heavy duty marketers avoid this kind of stuff altogether.
What's one personal type thing that you have on your site that may seem cool, but perhaps it shouldn't be on the forefront?
What kind of stuff should you be putting on the forefront?
I'd love to hear. Please comment below.