Creating coaching websites that you (and your clients) will love.
Hi, I'm Kenn Schroder, a web designer for coaches who want to build high credibility, attract the right clients, and enjoy this amazing, soul-satisfying work of impacting lives called coaching.
The modern world sooo needs what you do.
Join my list for website tips to build high credibility and attract ideal clients.
Also, get my free 16-Point Website Checklist now, a discount on my book, and first-access to fun biz-building adventures I offer from time to time.
Hop on!
No junk mail ever. Easily unsubscribe any time.
Just powerful tips for websites.
Blog Posts on Coaching Websites
---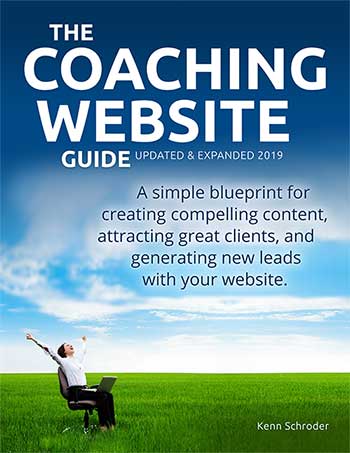 Make your website attractive, engaging, and exciting "for your clients."
Hundreds of coaches found The Coaching Website Guide invaluable for crafting content, design ideas, and business strategy.
What coaches, book buyers, and students are saying …