An AWeber Must-Do to Ensure Your Emails Reach Your Subscribers
If your emails don't reach your subscribers, then your marketing won't work.
You'll not build your reputation as a great coach and your invitations to work with you will not reach your list (your prize source of clients.
Your client-attraction efforts will be much hindered.
You NEED your emails to get through.
Here's one quick task you'll need to do at AWeber to make sure things are working properly.
As you know, over the last year, Gmail has added the Social and Promotions folders to filter email as it comes in.
Here's how it looks: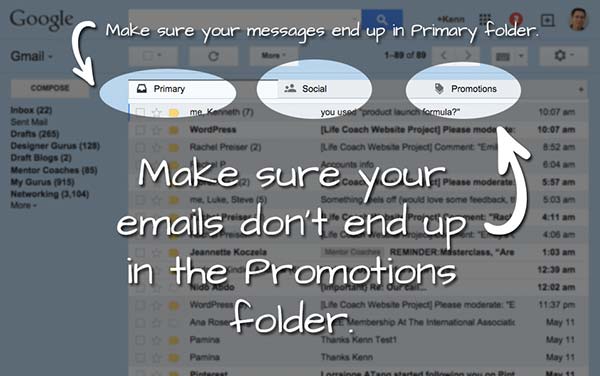 This filtering is great for users like me because I don't want to see social or promotional stuff litter my more important emails.
I don't want my attention sucked away for hours on nonsense.
However, this filtering is bad for your marketing because if you don't pay attention, your non-promotional email won't reach your subscriber's inbox.
(You are sending useful emails that aren't promotion heavy right? You are relationship building, aye?)
And, essentially, your emails get much less attention.
So, yes, if you're properly nurturing your email list with good content, your subscribers won't want your digital treasures to end up in their promotions folder.
Here's how to fix it …
Setup a Gmail account if you don't have one.
Make sure your Gmail address is not on your subscriber list. If it is, remove it. (In AWeber, you can easily just go to the subscribers section and do a search.)
Then, sign-up for your email list with Gmail address (or use the add subscriber tool in AWeber).
When the confirmation email comes to your Gmail account, did it go into the Primary inbox or the Promotions folder?
If it ended up int he promo folder, you've got a problem and you need to tweak that opt-in message.
Some things to do to fix it so that your messages go to Primary inbox instead of Promotions folder:
Reduce or get rid of images.  The fewer the better as many spammers use fancy images to try to sell. They are common with promotions.
Add personalization to the subject line and body copy.
Avoid spam words. Just search online for common ones and remove them from your email content. Here are a bunch.
Be sure to include a text-only version of your email message. It's not hard to do.
Minimize links. Your emails should really only have one call to action (maybe repeated a few times), but one good link would often do the trick.
You should also test any autoresponders. If you are using AWeber, test your follow-up message and your blog broadcast messages as well.
Test your emails and make sure they don't end up in the Promotions folder or your subscribers will miss out on your great emails.