The Big Aha for a Website That Attracts Clients
I was blown away because, in a single week, I signed up 3 new high-end clients and added over 10k to my income.
It happened in Paris in March 2008, when I test-ran my business abroad.
Here are some visuals of the neighborhood where I stayed, Montmartre.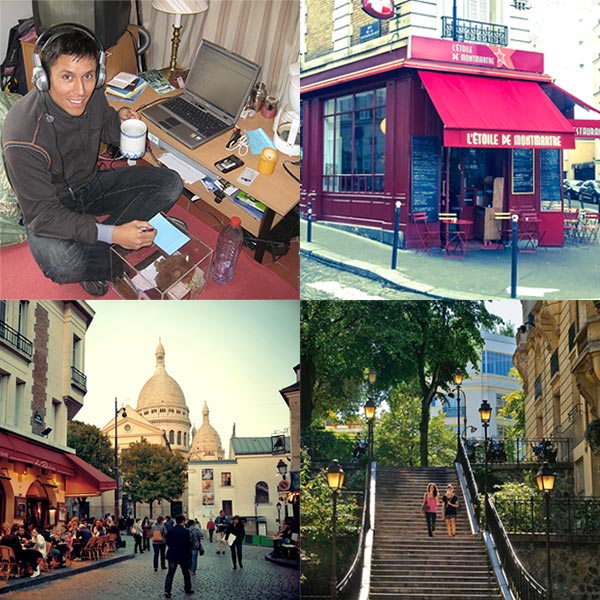 At the top left, you are looking at me in my travel-ready office setup with a pen, paper, cheap laptop, and a geeky gamer headset I got off Craig's List one week earlier in Manhattan.
The other three images are just outside the little maid's apartment I was staying in. It's Montmartre, in the northern section of Paris and this neighborhood will charm the pants off Leonardo DiCaprio.
I was visiting my French girlfriend at that time. Adventure, travel, wine, romance, and a pile of cash all rolled into one amazing trip.
It was great.
Actually, it was GREAT!!!
Yes, this is one of those stories of struggle and eventual success. And I hope you have a breakthrough as you read this.
In this article, you'll learn about …
my painful failed website efforts
the game-changing discovery about what works for websites
what I did to apply the new wisdom to get more clients
tips for coaches to bring in more leads with your website

A small ask: When you're done, please share a little about you and your coaching journey in the comments below.
Hearing from interesting people doing interesting things brings joy to my day. And who knows, maybe we'll get coffee in real-life one day. Thanks! 
In 2001, I left my corporate life, super excited about my career change. But things got challenging quite fast …
It was a tremendous relief when I ditched the 9-to-5 and dove deep into web design.
I'd spend 15+ hour days coding, designing, learning, and simply going nuts about all things related to the Web.
And I loved it!
While I did manage to scrape up a handful of small clients along the way, I was sadly earning under 10k per year – which might be ok if I lived in low-cost Thailand. But this is pricey New York.
After a few years living on Long Island and then a few more in Manhattan, my savings depleted, credit card debt mounted, and I was feeling the pinch.
It's not easy to downshift from a sizable, steady paycheck to not knowing where money was going to come from to pay the bills.
But I kept the faith and held on to the idea that "if you do great work, then the money will follow."
Hoping to attract clients online, I redesigned my website over 13 times. But that didn't work.
When I first started out, I was hoping the "next version" of my website, boasting my latest design skills, would result in more leads.
But none of them worked.
In hindsight, I can tell you that "learning more technical skills" is NOT the way to attract more clients.
Similarly, I see coaches accumulate more training and certifications, hoping that their big list of credentials will do the trick. But sadly, many remain low on clients.
A better looking, slicker functioning website, while nice to have, is not sufficient to bring in clients, and you'll learn why down below.
Additionally, I tried a bunch of other things with so-so results …
I tried "Cold Calling" …
While it was a nice challenge and taught me to think differently about selling, it just never jived with me. I'm not so sure it's a good move for selling technology (a very confusing purchase just like coaching) – which requires trust.
I tried networking / BNI / leads groups …
These groups have meetings with people from a variety of industries in order to pass new customer leads to each other.
The long drives to early meetings and mingling with people I didn't know (many unlikable too) felt a little too much like the old office world I left.
It wasn't a good fit for me, my goals, and my skills. I needed to make things work online.
I tried Toastmasters …
As I write this, 2018, being in Toastmasters actually could have worked. I did get a few clients leads from that, which is oddly NOT why I joined. I think there's a tremendous amount of trust built among the people there because learning to speak takes a lot of respectable guts.
I didn't continue with it after a year because, again, it was not online – where I needed to excel.
I tried Google Ads …
This was a good idea because it would mean I was getting clients from the Web. It seemed like it wouldn't take much effort — just chuck up some ads, right? And hopefully not pay much?
But, I couldn't get this to work.
My guess is that selling a professional service requires trust, which is why a good referral, connection is priceless. Or very high credibility in your market. Some mix of that. Or perhaps my ads sucked.
I tried Search Engine Optimization (SEO) …
This means doing magical things with keywords both on your website and outside of it so that your website appears at the top of search engine listings, mainly Google.
Visitors from search engines are fantabulous because these people are actively searching for help. They are motivated buyers.
While SEO worked best for me, it wasn't enough — at that time. Leads did trickle in.
There were few other things I tried which had near-zero success.
But then …
Lucky for me, in 2008, the magic happened. I pulled in over 10k in one week.
I was bouncing off the walls with excitement as I signed up 3 new clients for my high-end package. Two of them paid in full before we started working together. 
I was blown away. I felt joy. I felt humbled. I felt relief. I felt confused. I felt curious.
I remember, vividly, sitting in the hallway of that 11th floor walk-up in the maid's quarter pondering how it all happened.
Brain buzzing for an hour, I pondered, How the *bleep* did that happen?
How and why did these 3 clients, complete strangers to me, say yes in a 1-hour call?
What were the deep truths at work here?
How can I repeat and multiply that?
After a week of waiting for the answers to arrive from infinite intelligence, the wisdom was that my website (and marketing, and services, and process – all of it) had to be all about the client, and not so much about me, my skills, my ideas, and my wants.
As time went on, the more I structured my website (and business) around the client's needs, the more they would show up.
As you can guess, I also applied this learning to the websites of the coaches I worked with – helping them get results too. A few years later, I would it all into the big book, The Coaching Website Guide. 
Remember, it's all about the client.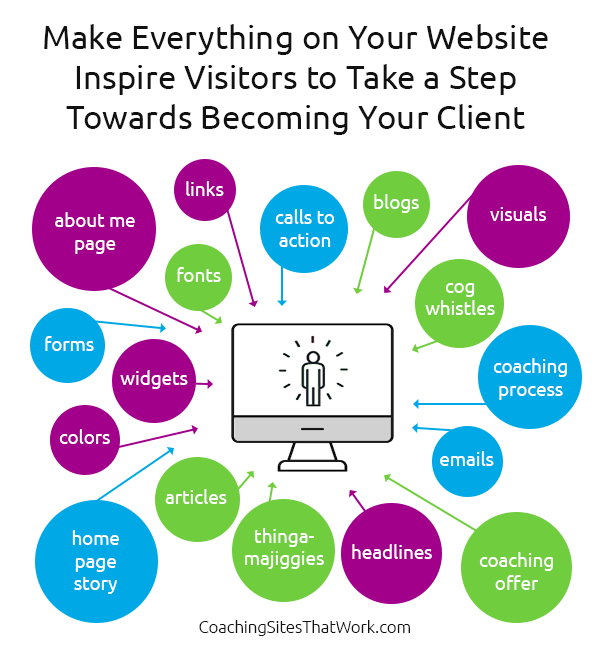 Here are a few specific things I did to apply the Big Aha wisdom
Now wiser, I began asking this question in all areas of my business, How should I design this to best serve my clients?
Here are a few things I did …
1. I restructured my main offer.
I reviewed some of my old notes which had answers to questions like
Why have a website?
What do you hate about websites?
What do you love about websites?
Then, I made some tweaks to my service offerings to boost the value in the eyes of my clients.
For example, many web designers are not good at managing their time. And so, I included a clear schedule, key milestones and regular phone calls to give clients confidence that things go smoothly.
2. I created a big-ass form.
I lengthened my contact form to 10 questions that required some thinking.
At first, I was a little worried that people would be put off by it. But, after doing it, I found better clients started showing up.
Why? I believe that …
The work to answer questions got them to invest their time – which started to grow the relationship.
My questions showed that I cared about the client's success.
It showed that I only work with serious, hard-working clients, thus it attracted them.
It's nice when things work.
3. I began writing fresh blogs on topics my clients cared about deeply.
Below are a few articles I sent to my email list around the time in Paris when things took off.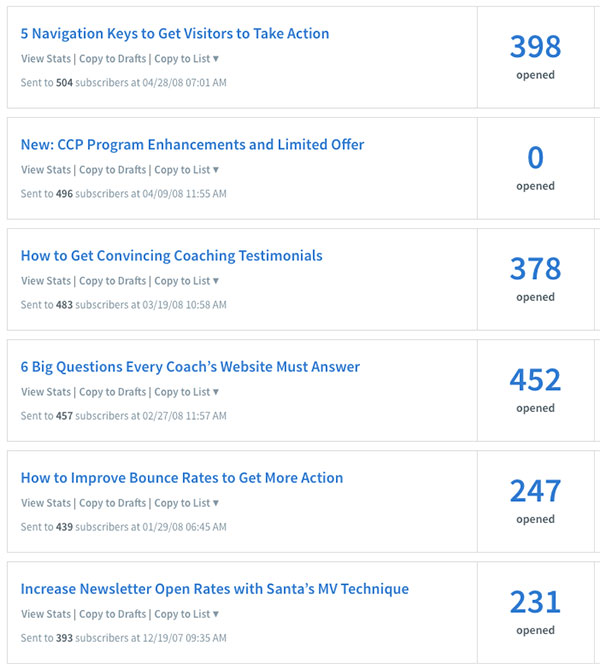 As you can see, the article, 6 Big Questions Every Coach's Website Must Answer, did well with 452 opens. It obviously is something my clients would be interested in.
The article, New: CCP Program Enhancements and Limited Offer, failed miserably. It makes you think, What the bleep?
As I chose better topics, more leads came.
Again, it's all about the client.
In applying the Big Aha to the coaching websites that I built, I noticed that something interesting that made me confident that you too can quickly get a handful of new clients right away.
It goes like this …
One – People are struggling out there. Plenty of them. It's because we are human and to grow, we must struggle.
Two – Interestingly, there a good number of those people who already know you OR they know someone who knows you (1 or 2 connections away from you). So those folks are familiar with you and that means they have some trust in you. And that trust is a big plus for getting clients.
Three – You just need to get out there and make it easy for them to find you, engage with you, and sign up for coaching with you. Make your website and all that goes into it (traffic, blogs, visuals, and email, etc) all about the client and they will feel an angel was sent from heaven when they discover you (kinda like when you stumbled upon my work 😉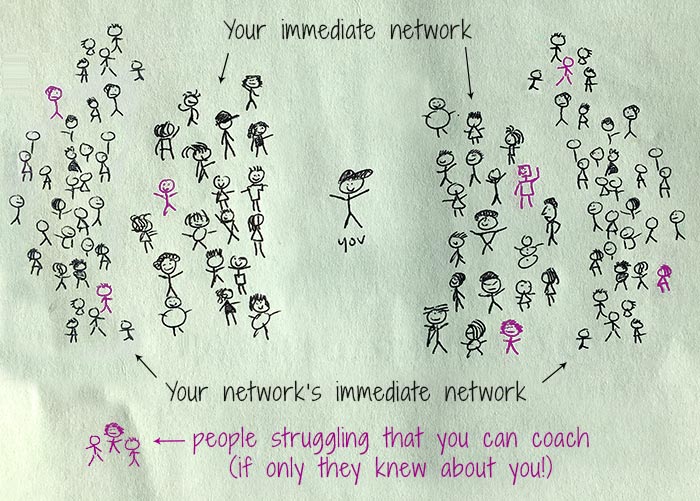 When I reflected at the romance capital of the world, I figured out that I put enough pieces in place to make that happen. And steadily, week after week, more and more leads and clients came in.
And when I help coaches launch new websites, and start to get the word out, an initial burst of clients showed up.
If you can rinse, repeat, and scale-up, you'll fill your practice and keep it full.
A W E S O M E !!!
It was from this success that the notion of Attraction Design was born.
Attraction Design (or Client-Attraction Design) means to strategically build your website to bring you new clients.
In a noisy, distracting online space where information and options are limitless, I've found that a loud, annoying, in-your-face approach fails compared to a helping, inviting, friendly approach. This works for getting clients and this is central to the way I build websites for professional coaches.
While there's a lot more to it (see The Coaching Website Guide) here are five foundational elements:
1. Craft a Compelling Core Message, a short exciting write-up about what you do, usually a long sentence or two, so that the rest of your website can grow from that.
2. Create a Must-Have Freebie (a giveaway, download, or resource) that your ideal client will find very valuable. And then, use it to get attention and drive people to your website.
3. Start a Simple Blog Strategy that's fun and easy to do and plays to your strengths. Base the content on your client's interests, struggles, and desires. This will position you as an expert in their eyes. It's very attractive.
4. Provide an Enticing Invitation on your website that will compel visitors to either get on a phone with you or take some steps towards becoming your client.
5. Design your Client-Attraction System – all the moving parts that get your name in front of potential clients and that lead them to sign up with you.
When your website, traffic, marketing, and sales processes are all about the client then you're applying client-attraction design.
Here's today's Big Aha in a nutshell …
I've gone through quite a bit of heartache and pain in my quest to build a website that helps me get clients. The biggest lesson was realizing that your website must really be all about the client.
Just remember, plenty of people are out there struggling with work, health, and relationships. And, they will feel like an angel was sent from heaven when then discover what you can do for them.
I hope you've learned a lot from this Big Aha.
So, let me ask …
What are you finding most helpful? I love to hear from you below.