Chicken Scratch Testimonial Model for Selling Coaching
You want clients right? They want coaches! They want a coach who they believe will help them change their situation for the better.
Clients want to know that YOU can deliver. Yes, I know I know, you aren't the one delivering – you empower THEM to deliver results. But clients don't see it that way (until later)!
When you are working with them, yes, use your coaching techniques. But before then, use tried and true marketing techniques to get them to sign up with you.
One time tested move to make in your marketing is to get testimonials. Raving ones!
In this article I will get never before seen access to my stick figure artwork and learn the Before-During-After Model for making your testimonials boast about how good you are.
Here's the diagram.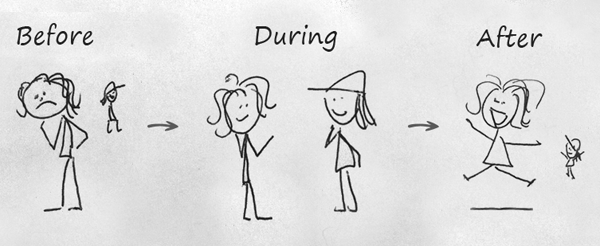 Proprietary, copyrighted, do-not-steal-or-I'll-hunt-you-down, art from Kenn Schroder.
When getting and writing testimonials from past clients, use these three components:
Before – describe in high detail the client's situation before you coached her
During – highlight a few key things you did when helping her
After – give specific accounts of real life benefits gained as a result (numbers work well)
Before
Paint a picture of their situation before having worked with you. Hone in on the challenges, pains, struggles and specifics that detail the client's situation.
Three good questions you can ask clients:
Describe your situation before we started working together
What was the most difficult part?
If you were to continue down your path you were on, what would have happened?
During
Highlight a few of the key things that you two did together. Ask the client about what he or she found most helpful in your work together.
Three great things to hit on:
Your core coaching process if you have one. Have clients comment on it.
Your uniqueness factor – like being a parenting coach for gay couples.
A specific coaching Aha! moment they had – let them tell the story.
After
This is where the gold is. Get as much detail as you can about how life is different now. Whether it's improved health, a better business, or other, give very specific proofs of things improved.
This can include numbers like pounds lost or dollars gained as well as less defined things as "my husband buys me flowers almost monthly" or "I'm off meds and feeling great."
Questions you can ask:
In what specific way is life different now?
What's the best thing you've realized from our coaching together?
How can we measure, in numbers, the benefits gained?
An example
Can you see the Before, During, and After parts of this testimonial?
"I had been looking for a job for 13 months. I had many interviews, but no offers. I had to spend $15,000 of savings just to get by. The whole thing was very frustrating to me and made me feel very insecure. Jan put me through her Winning Interview Program to help me become better at presenting myself. I got offers from the next three interviews I went on and accepted a job that offered me more money than I had asked for. I can now continue to build my savings and the pain of finding a job is gone. It took only three months time."  ~ Mike Jones, Database Programmer, Washington.
In conclusion
In summary, remember that people want to hire coaches who have proven success. Using testimonials is a magnificent way to communicate that in a very exciting way.
Let me ask you
Do your testimonials feel weak? Can you elaborate more on your existing testimonials? Have you had any Aha! moments when reading this?
I'd love to hear! Post your comment.