12 Coaching Brand Archetypes – Which is you?
NOTE: I'm working on this article, so I'm calling it a live draft. I'd love to have your ideas in the comments below. I expect this write-up to be done by the first week in July.
Below are the 12 brand archetypes commonly used in marketing. They are said to stem from Carl Jung's work — Jungian Archetypes. A search online will get you up to speed (warning: rabbit hole).
In building websites since forever, I started out a techie (make it all work), then dove into copy (make sites engaging), and then into visual design (make em beautiful).
But even after learning so much, I felt like something was missing. Something to give it life. To give it more energy. To make it amazeballs.
I think brand archetypes is it — coaching brand archetypes — I'll call it.
Here's my summary of the classic brand archetypes translated into coaching personalities so you can use them to make your website more exciting, engaging, and energetic.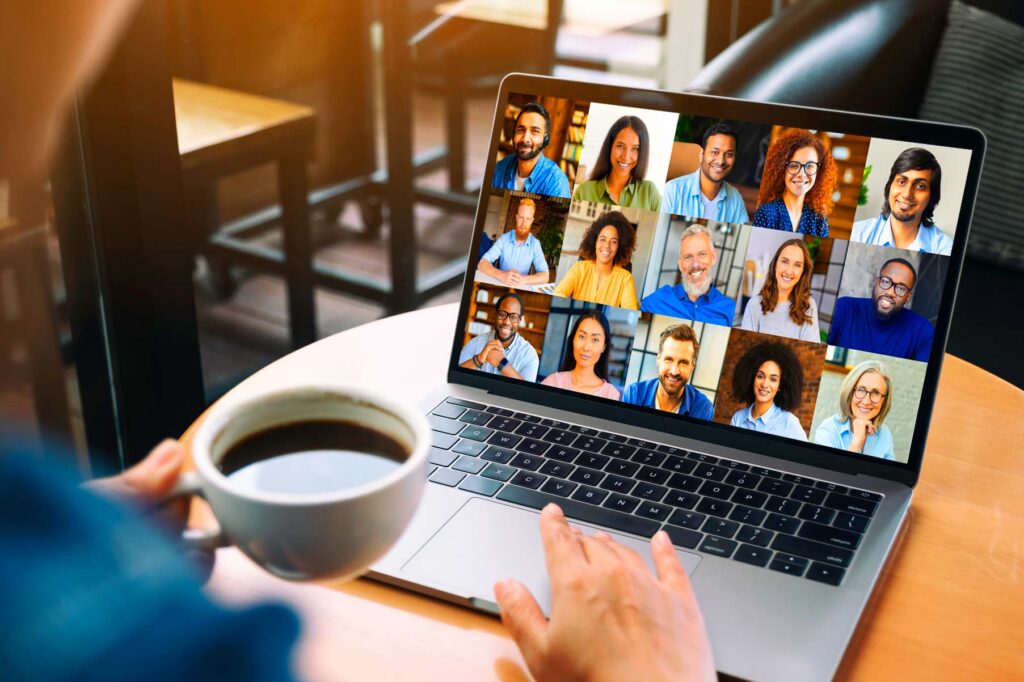 Which of these 12 coaching brand archetypes most closely reflect who you are as a coach?
Here are the 12 with the classic name in parenthesis.
The Rebel Coach (The Outlaw)
The Transformation Coach (The Magician)
The Bravery Coach (The Hero)
The Passion Coach (The Lover)
The Fun Coach (The Jester)
The Best-Friend Coach (The Regular Person / Everyman)
The Caring Coach (The Caregiver)
The Empowerment Coach (The Ruler)
The Inspirational Coach (The Creator)
The Simplicity Coach (The Innocent)
The Wise Coach (The Sage)
The Discovery Coach (The Explorer)
Let's have a look, see what fits you best, and how you can leverage that for your online content, website design, and marketing voice.
1. The Rebel Coach
Classically, this is known as The Outlaw brand.
You like to disrupt the status quo. You like changing things up in a big way. You like setting bigger, better goals, and then going for them.
This quote rings so powerfully with you — "Rules are made to be broken."
Your clients are likely drawn to you because you bring a powerful sense of fighting against the norms that are holding people back. You inspire them this way.
2. The Transformation Coach
The transformation coach mirrors the The Magician brand archetype.
The transformation coach loves it when amazing things happen — like seeing a client's face light up from a powerful question.
You can sense the client's perspective has shifted in a big way, and they have a mysteriously new energy that sets them off into action to change their world.
It's magical 😉
Cora Whittington is a transformation coach, and she hired me to help her build her website.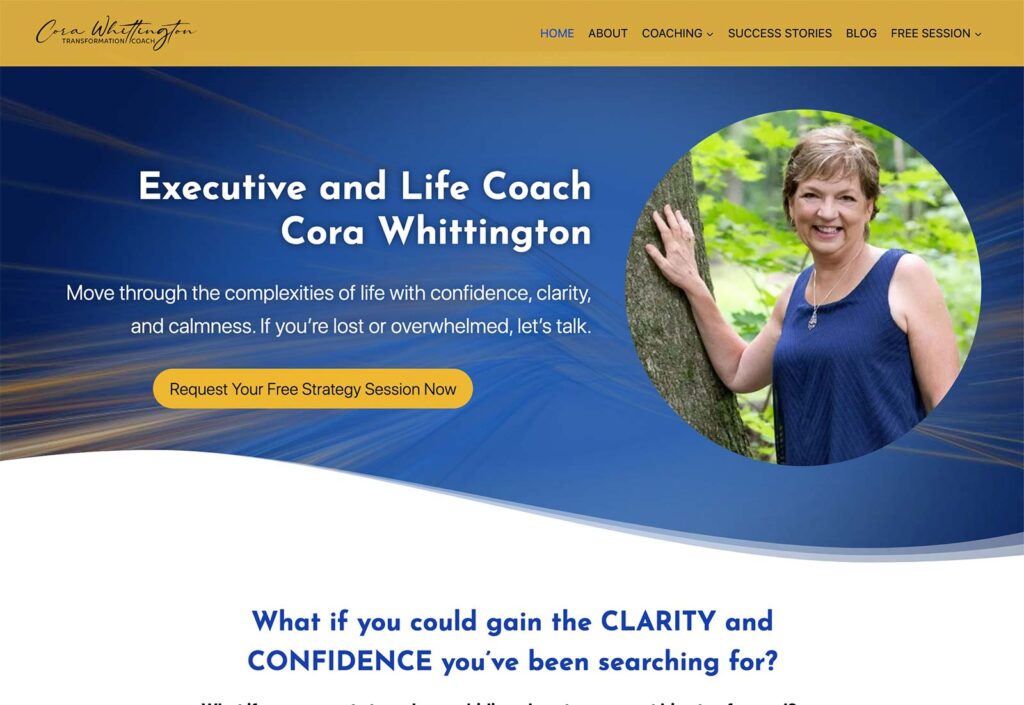 For visuals, we used fractal images (geometric shapes are good for the magician brand) and deep blue (near purple) and gold colors (more magic).
You can often make out a coach's brand/personality/colors by looking at their wardrobe. Nature is a big part of her work as she hosts coaching retreats at her guest-house.
Is this your brand archetype? Let me know in the comments below!
3. The Hero Coach
Although your clients are the real "heroes" of their lives and you know that, they are drawn to you on a deeper level. Could it be the big mark you've left that they've stumbled upon?
A quick search on Google for hero brand archetypes gets me this brief summary:
The Hero archetype is all about rising to the challenge, and it instinctively seeks to protect and inspire others. Whether on the battleground, ball field, or political stage, the Hero is determined to leave a mark on the world, often at the risk of great sacrifice.

Nvision Designs Website
You are honest, candid, brave. You aim to make the world a better place with hard work, and gritty determination.
"Where there's a will there's a way" is a great quote for the hero brand.
Btw, I absolutely love their write-up about the hero brand and the sub categories.
4. The Passion Coach
Classically known as The Lover brand archetype.
Intimacy and connection — no man is an island. People want to feel special and Lover brands exist to meet this need. In this journey we call life, what's love got to do with it? Everything.
When people are in touch with their emotions, honor them, and feel positive, great things. happen.
Good words: Sensual, Empathic, Soothing
Your striking beauty is impossible to ignore.
I only have eyes for you.
Coaching niches, types of coaches, areas of specialty could include spiritual life coaches, self-care coaches, relationship coaches, parenting coaches, life coaches for women.
5. The Fun Coach
Classically known as The Jester.
You are fun, loving, optimistic. You like to live in the moment and enjoy it all. In a word – Joy. You know that life's too short, and it's time to let hair down and start living life.
The song Put Your Records On (lyrics) by Corinne Bailey Rae comes to mind.
Girl, put your records on, tell me your favorite song
You go ahead, let your hair down
Sapphire and faded jeans
I hope you get your dreams
Just go ahead, let your hair down
You're gonna find yourself somewhere, somehow

From Corinne Bailey Rae's song, Put Your Records On
Here's the song on YouTube. Does this hit the mark?
I see people becoming more present, back in the moment, being themselves fully and feeling good.
If I can't dance, I'm not part of it.
6. The Best Friend Coach
Classically known as the Everyman.
Good words: Friendly, Humble, Authentic
When we treat each other with honesty and friendliness we can live together in harmony.
You're just like me and I'm just like you.
7. The Caring Coach
The Caregiver
Caring, Warm, Reassuring
Everyone deserves care and we must strive to bestow service upon one another.
Love our neighbor as yourself.
8. The Empowerment Coach
Classically, The Ruler
Commanding, Refined, Articulate
You are successful in work and in life. Reward your excellence and achievements.
Power isn't everything. It's the only thing.
9. The Inspirational Coach
Classically known as The Creator.
Good words: Inspirational, Daring, Provocative
See potential everywhere and uncover originality with liberated imagination.
If it can be imagined it can be created.
10. The Simplicity Coach
Optimistic, Honest, Humble
The most wholesome things in life are unadulterated and pure.
Life is simple and simplicity is elegant.
11. The Wise Coach (Think Yoda)
Classically known as The Sage.
Knowledgeable, Assured, Guiding
Education is the path to wisdom and wisdom is where the answer lies.
The truth will set you free.
12. The Discovery Coach
In brand archetypes, this is The Explorer.
You help clients find fulfillment in life, work, and relationships through discovery. You help them try new things, experience something different.
The tough part is that clients may have to face judgement as they don't follow the norms / expectations of others.
But a good walk through nature, up a hill, and away from town is just what's needed.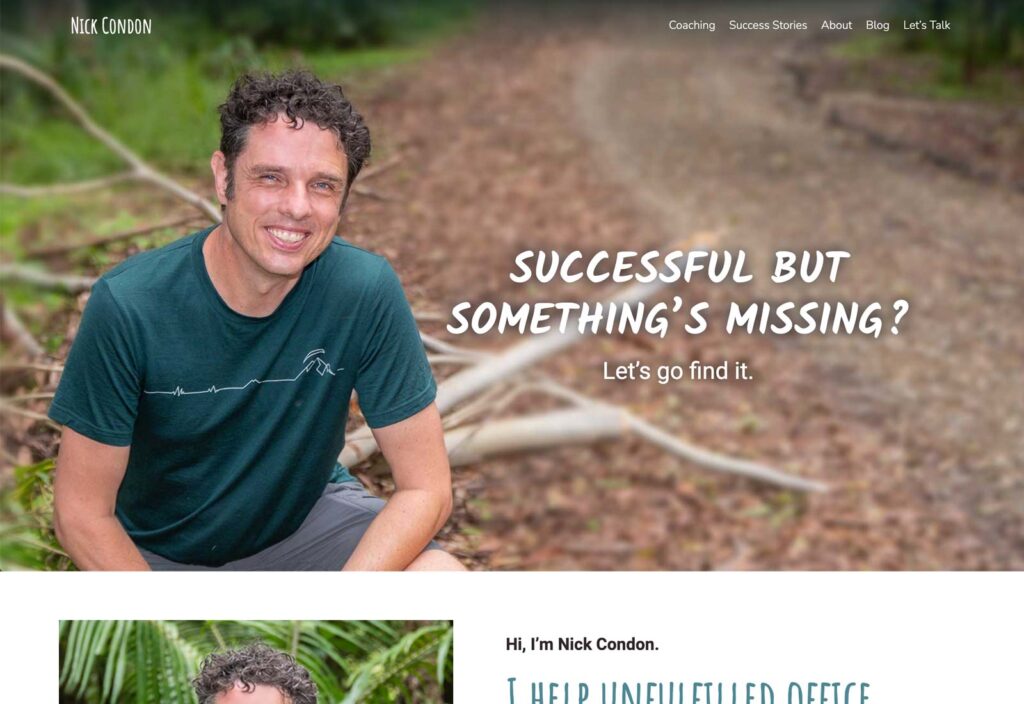 This is exactly the coaching brand archetype for Nick Condon, a career change coach who left his techie life to start an adventure travel business.
We definitely used nature shots all throughout his website, even though there's a risk that it'll look like he takes people on hikes ;P. We rely on the wording and stories to communicate what he does. The t-shirt look — we went with that to break away from the office attire vibe. Now that I think of it, we should have tossed a heap of office clothes on forest floor in the hero shot. Hmmm …
He now helps bored, unfulfilled, lost office workers discover a their new calling in work and life.
Maybe you've heard of these. Maybe not. Regardless, I highly recommend you pick one that calls to you so you can give your website, visuals, content cohesiveness while authentically bringing out your personality.
You'll see in the examples how the website comes to life, feels real, feels human, and how that makes it easier to relate to. You can feel the coach come through.
And when you find yours, I'm curious, which one mostly calls out to you? Post it in the comments.
A few website examples …
** I could use some great examples that you've seen. Post them in the comments.
Nick Condon – The Courage Coach
Tandem Results – Everyman
Lisa site – Caretaker
Marianne Welsh – Sage
Sorting out your "online personality" is like putting together the perfect outfit — colors work, patterns work the fit is good, and it brings out your best. It just feels so good.
And for your clients, when they can truly know the wizard behind the curtains, they are drawn to you.