12 Coaching Brand Archetypes – Which One Are You?
Have you ever noticed how some websites feel alive, real, powerful, and engaging? While others feel flat, empty, and cold — like there's no one around?
And while there surely is a real, human, warm-blooded coach behind the website, the words and images aren't making that deep connection.
Maybe you have a website that doesn't feel like you. Something seems off, and you hesitate to share/use/publish it. It happens. Quite often, actually.
So, how do you breathe life into your coaching website?
One great way to do this is to figure out which Coaching Brand Archetype most closely reflects your personality.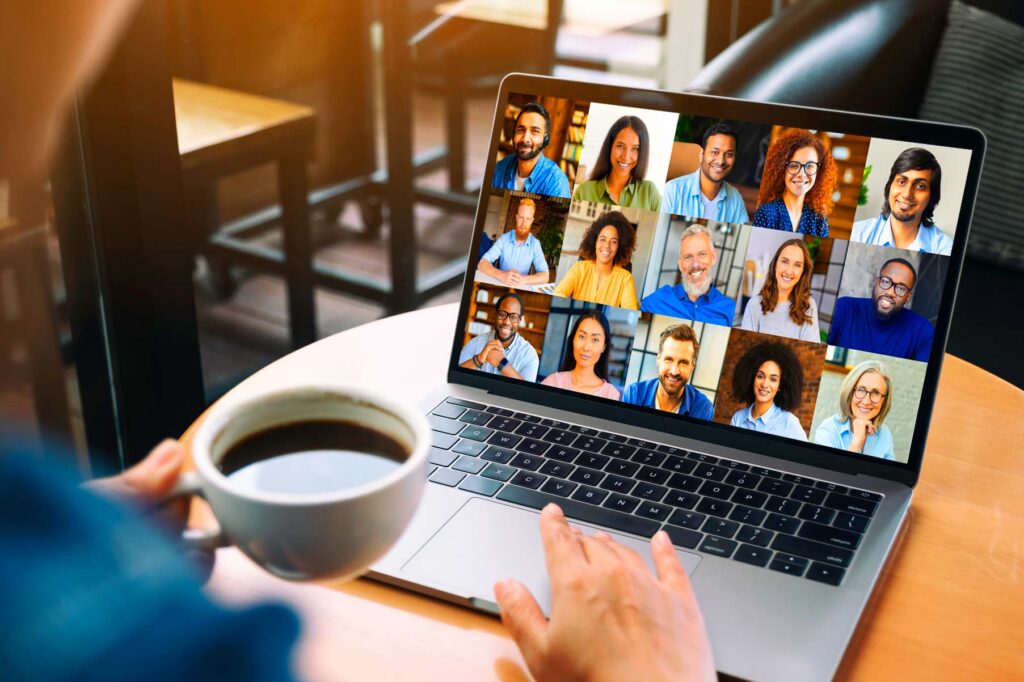 Brand archetypes (there are twelve) are commonly used in marketing, and each embodies a personality based on desires and values.
By aligning your content and visuals to one of these personalities, your website will feel more live and connect on a deeper level with visitors. You can feel it.
For coaches, building an authentic, trusting relationship with clients is big.
Which of these 12 coaching brand archetypes most aligns you?
Below are the twelve classic brand archetypes which I go into down below.
The Outlaw
The Magician
The Hero
The Lover
The Jester
The Everyman
The Caregiver
The Ruler
The Creator
The Innocent
The Sage
The Explorer
Let's have a look at each and see which fits. I'll also share ideas for content, visuals, and your overall voice.
1. "The Outlaw" Brand Archetype
The Rebel Coach
You like disrupting the status quo. You like changing things up in a big way. You like to set bigger and better goals and then going for them. Your clients are drawn to the need to try something very different.
"Rules are made to be broken!"
When I lived for ten weeks in Puerto Vallarta, Mexico, my whole routine, language, and environment completely changed (save for a Starbucks where I'd typically tackle work). That disruption was great for dropping back to the basics and creating lots of space for a fresh perspective.
Great words and phrases for your website
Challenge, outside the box, rebel, revolution, shocking, disrupt, take risks, break boundaries, change, rally, radical, transform, gamble, instincts, maverick, fearlessness, against the grain, reform, improve, racy, shocking, freedom.
Coaching specialities, niches and areas of focus
Health coaches, career coaches, relationship coaches, people who feel oppressed, marginalized, alienated, or need to break out.
2. "The Magician" Brand Archetype
Transformation Coach
You love it when amazing things happen — like seeing a client's face light up from a surprising insight, from taking braving action, or from an unexpected gift "from the universe." Old stinking thinking has — poof! — magically disappeared and its place — behold! — crystal clear thinking.
This kind of change doesn't need any accountability measures because the client is off and running, and you can't stop them. 😉
Cora Whittington is a transformation coach, and she hired me to help her build her website.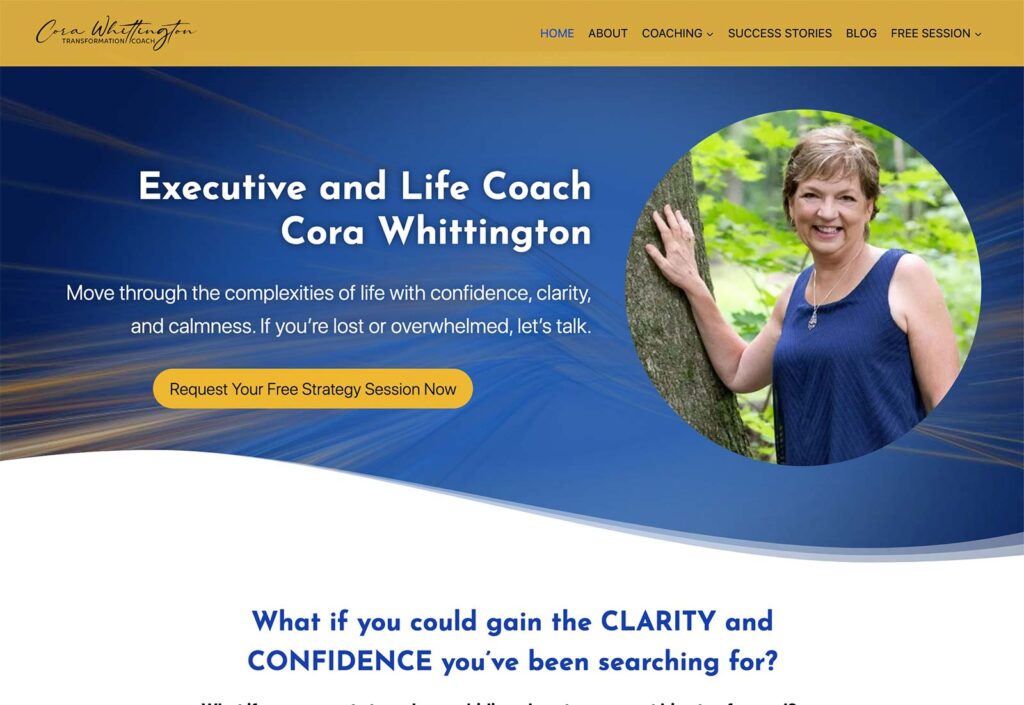 For visuals, we used fractal images (geometric shapes are good for the magician brand) with deep blue, purple, and a contrasting yellow-gold color.
A trade secret -> you can often get an idea about your brand archetype by looking at your wardrobe. The colors, patterns, fabrics, and textures often give clues.
Nature is a big part of her work too. She hosts retreats at her Airbnb/event space and takes clients into nature as part of her coaching programs. So there's a bit of The Explorer Brand Archetype as well.
"The magic of nature" was something I'd repeat during our work, and she loved it.
3. "The Hero" Brand Archetype
The Courageous Coach
You love rising to the challenge and helping your clients rise too. You instinctively seeks to protect and inspire clients to win and reach their chosen goals. It's like victory in war or winning a sports competition. You want to leave a mark on the world, and are willing to make needed sacrifices to do so.
For me, basketball's Michael Jordan and Maximus from The Gladiator are heroes — they rise to the challenges in front of them, relentlessly.
Where there's a will there's a way."
Great words and phrases to use in your copy:
Honesty, candidness, and bravery, hard work, grit, determination, courage, triumph, adversity, feat, tenacity, achieve, never give up, winning attitude, rise to the challenge, leave your mark, protect others, leave your legacy, conviction, high standards, commitment, call to duty, overcome, serve others.

For visuals consider:
powerful images, strong colors, challenging images like the classic climbing a mountain, or crossing a finish line, thick clear lines and shapes are good, and tough textures (hard surfaces, iron).

Calls-to-action: Challenge and dare visitors to take action, for their own good.
Brené Brown's best-selleing book, Dare to Lead, feels all kinds of heroic to me.
Here's an image: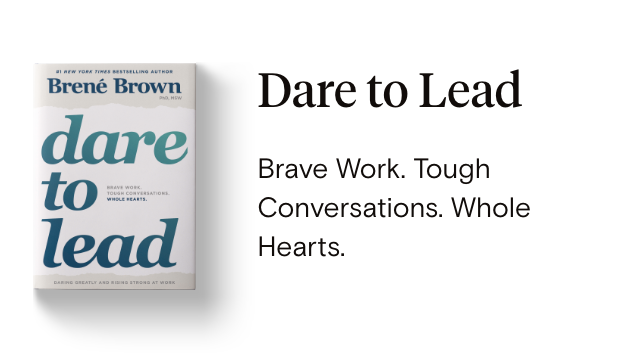 4. "The Lover" Brand Archetype
The Passionate Coach
Intimacy and connection are at the heart of the Passionate Coach. It's important for you and everyone around you to feel special, loved, desired, and worthy of realizing their biggest dreams. You know that when people are in touch with their emotions, honoring them, and feeling positive, then great things will happen.
"Pursue your passions, and everything will work out."
I left my corporate actuarial (numbers) job to pursue my creative side, where I could lose myself forever. Narrowing my services by working with coaches was another step to bringing more of what I love into my career – the people and the techniques — both amazing. That act was definitely a pursuit of passions.
Website Tips
Visuals can include colors like fiery reds, romantic purples, or softer colors and textures for a sensual feel. Dee

Good words to use in your website copy include:
sensual, empathic, soothing, passionate, desiring, intimacy, elegance, partnerships, collaboration, teams, good relationships, in love, appreciation, attractiveness, senses, pleasure, friendship
Some good niches for the passionate coach that come to mind revolve around self-care, spiritual development, relationships, parenting, burn-out recovery, and career changes. Career coaches, love coaches, sexuality, wellness, self-care, relationship coaches, life coaches, areas of coaching where your clients work on emotions, honoring themselves, build confidence, and pursue their dreams.
Hey! Does the passionate coach type call to you?
Tell me about what you do in the comments below!
5. "The Jester" Brand Archetype
The Fun Coach, The Positive Coach
You are fun, loving, and optimistic. You like to live in the moment and enjoy it all. In a word, Joy. You know that life's too short, and it's time to let your hair down and start living life. You love seeing people becoming more present, fully in the moment, being themselves and feeling good.
The song Put Your Records On (lyrics) by Corinne Bailey Rae comes to mind. Here are a few lines from that song that really warms my heart …
Girl, put your records on, tell me your favorite song
You go ahead, let your hair down
Sapphire and faded jeans
I hope you get your dreams
Just go ahead, let your hair down
You're gonna find yourself somewhere, somehow

From Corinne Bailey Rae's song, Put Your Records On
Areas of coaching / niche / speciality.
Fulfillment coaching
6. "The Everyman" Brand Archetype
The Motivational Coach
You help people fit in and feel comfortable. They can be themselves around you – fully accepted. You value hard work and honesty, the use of common sense and values. Luxury and status are low on the value scale. Jeans and sneakers are great for office attire ;). TV shows like Friends, Seinfeld, and Cheers resonate with you.
Great words: wholesome, genuine, likable, hard work, honesty, common sense, authenticity, no pretense, fit, acceptance, friendly, humble, authentic, caring.
When we treat each other with honesty and friendliness we can live together in harmony.
You're just like me, and I'm just like you.
Many general, personal, life, and relationship coaches.
Lisa Strobridge is a nutrition and fitness coach, and we use the Down-to-Earth Coaching Personality on her website.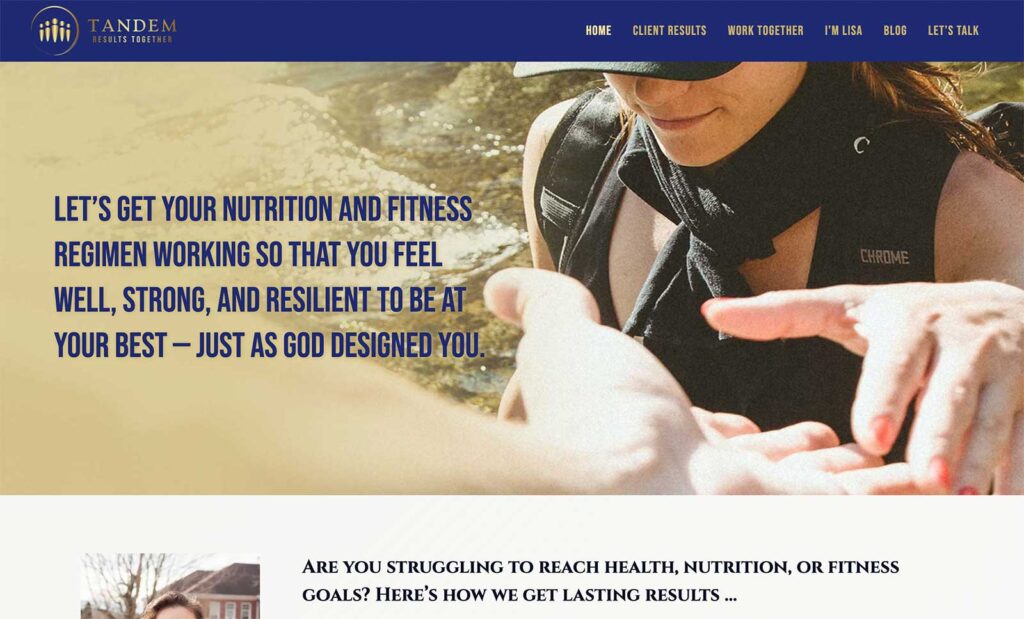 We used a down-to-earth, friendly, girl-next-door kind of vibe on her website, as this reflects her personality highly. TandemResults.com is her website where you'll see a lot of "let's do this together" in her message. Normally, I do not recommend just putting your dog on your website, but a golden retriever works so well for the friendly vibe.
7. "The Caregiver" Brand Archetype
The Wellness Coach, The Self-Care Coach
You are empathetic, compassionate and nurturing. You do well with people who have emotional pains, scars, and sensitivities, and need safety and healing. Protect clients and make them feel secure. You have your clients best interests at heart. Provide emotional support for your sessions, emails, and content.
Great words and phrases to use:
Great words and phrases to use in your content: Caring, Warm, Reassuring, Everyone deserves care and we must strive to bestow service upon one another. Love our neighbor as yourself. You're not alone. I'm here for you, compassion, support, empathy, patience, understanding.
Areas of coaching
Often found in relationship coaching, maternity coaching, recovery coaching, health coaching, personal coaching, divorce coaching, and coaching young adults, mental health coaching, trauma recovery.
Writing tip: Show empathy (not any overbearing motherly advice) in your copy.
Coaching tip: Be careful not to cross the line that pushes clients too far. Go at their level of comfort.
Lisa is a caring coach as her clients struggle with past pains and need a safe place to recover. See how the visuals, colors, and wording all work together on her website at TraumaRecoverySupport.com (opens in a new tab).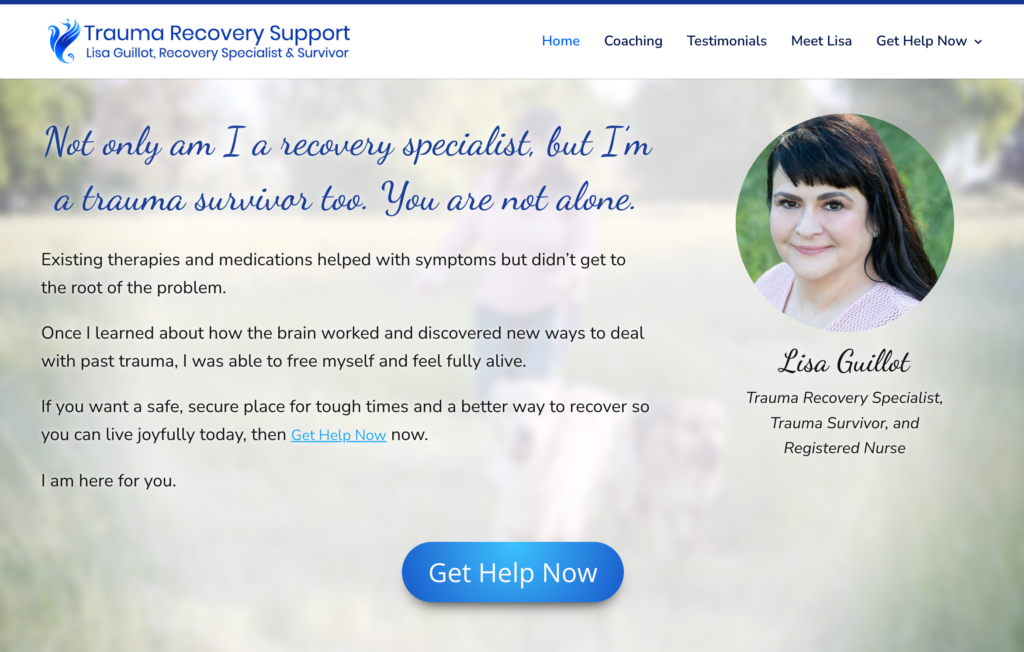 Does the caring coach brand archetype call to you? Tell me about it in the comments below.
8. "The Ruler" Brand Archetype
The Empowerment Coach
As an empowerment coach, your clients are drawn to your ability to manage chaos and create a structure to facilitate change can realize results. You walk the talk so that others can follow to prosperity and security.
Great words to use on your website include security, stability, power, control, authority, manage, structure, rules, policies, procedures, substantial, timeless, high-quality, proven, behavior, expectations, responsible, important, influential, successful, commanding, refined, articulate, stable, functional, orderly, success, excellence, achievement.
Coaching niches tend to be in security, technology, finance, money, sports, and government, high-end products or services.

In your messaging appeals to a client's desire to be important, influential, and successful.
For imagery, think classical, traditional, statuesque, noble, or sophisticated.

Power isn't everything. It's the only thing.
9. "The Creator" Brand Archetype
The Inspirational Coach
You love seeing clients come to life with amazing, exciting new dreams that they came up with! You co-create your client's vision for their career, business, life, relationship, etc. It's incredibly satisfying to work with a client through the creative process, completely trusting that it will work. You live for authentic self-expression. You don't like to feel stifled. Bringing an idea into a tangible form is the way. You see potential everywhere and uncover originality with liberated imagination.
"If it can be imagined, it can be created."
Good words and phrases to use.
Inspirational, caring, provocative, co-create, vision, design, envision, imagine, envision, lifestyle design.
10. "The Innocent" Brand Archetype
The Simplicity Coach
You emanate positivity. You have an optimistic outlook on life. Being honest is important. You do not harbor ill will towards others and seek quickly to make things right. You don't hold grudges. You believe everyone has the divine right to be themselves. You need safety so you can be yourself fully — making everyone happy. You can see the inner beauty that others don't.
Optimistic, Honest, Humble
The most wholesome things in life are unadulterated and pure.
Life is simple, and simplicity is elegant.
As an example, Kristen Carter's website (she's a life coach for breast cancer survivors) is all about living life positively. Her writing is saturated with pure, simple wisdom.
Kristen Carter's writing style is the essence of simplicity, purity, and positivity — it's the Innocent Brand Archetype. The book collection in her image adds a small touch of The Sage.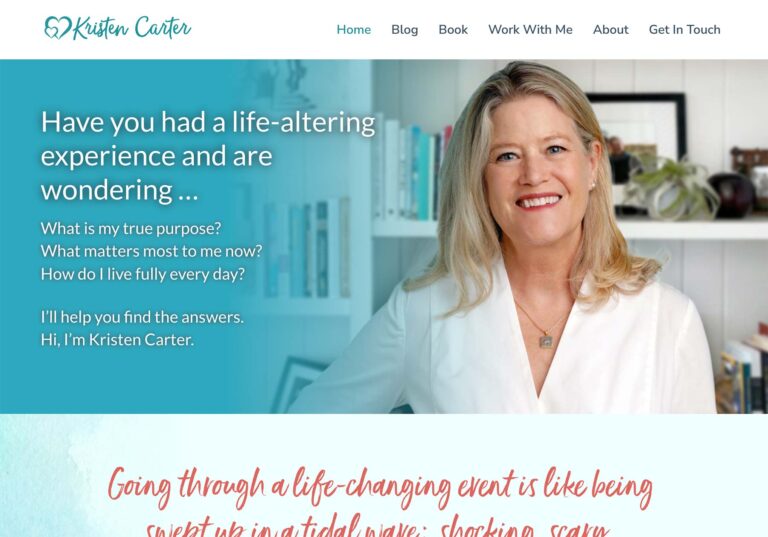 11. "The Sage" Brand Archetype
The Wise Coach, Intuitive Coach
Your clients will think you are wise and not realize that they are coming up with their own solutions. So yes, in helping them figure it out, you behave wisely. This is coaching at its best. As a wise coach, you do love sharing stories, asking questions, and opening people up to new thoughts and ideas to help them along.
Visual design Ideas for The Wise Coach
Your book collection will make a great background for your Zoom sessions.
Here are 3 images in a small collection on Usplash.com of books.
Two Examples
1. Kevin Kissinger is an executive coach. We used the wise coach personality, even referencing Yoda, on his website. "Learning about yourself, the world, from mistakes is the path to wisdom — and that's where the answers lie."
2. Kirsten Beck long time friend, copywriter, writing coach, and blogger, is a wise coach. knowledgeable.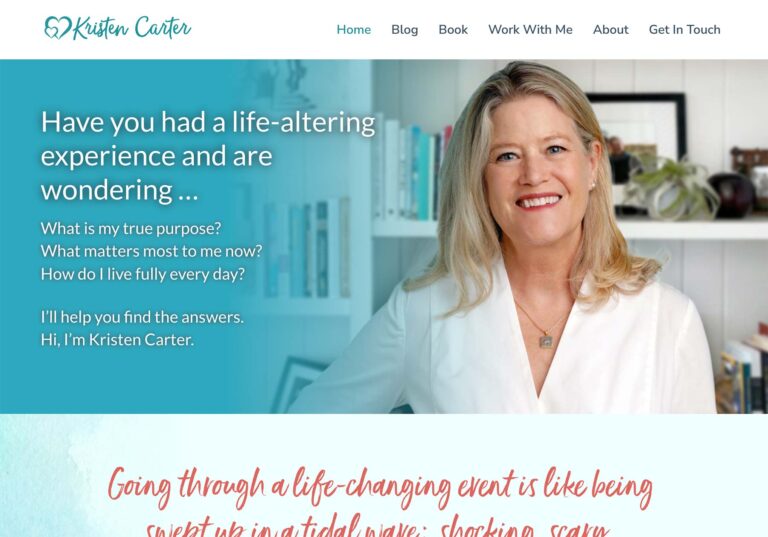 Are you a wise coach? Do you love the idea of sharing experience, wisdom, and ideas to help others find their own way? Are you drawn to others who can tell a good story with
Tell me about it in the comments!
12. "The Explorer" Brand Archetype
The Discovery Coach.
You help clients find fulfillment in life, work, and relationships through inner and outer exploration. You help clients try new things, examine their thoughts, and "look outside the box" so to speak. A walk through the woods is nature's best-kept secret for figuring things out.
The discovery coach brand archetype is what we embraced for Nick Condon, a career change coach who left his techie life to start an adventure travel business.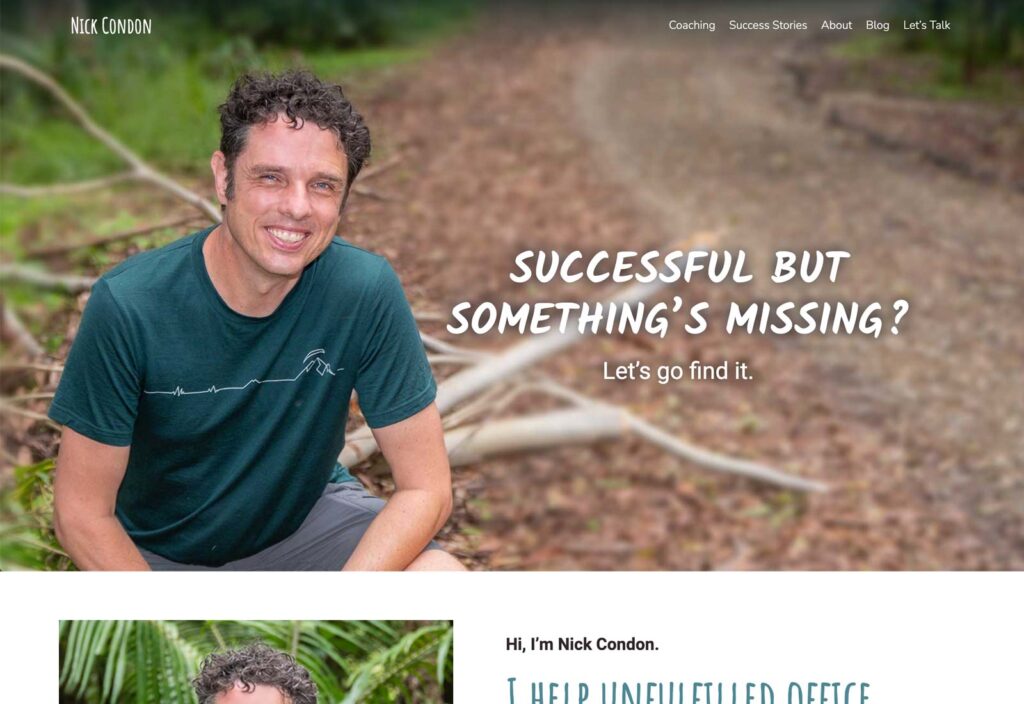 We definitely used nature shots all throughout his website, even though there's a risk that it'll look like he takes people on hikes ;P. We rely on the wording and stories to communicate what he does. The t-shirt look — we went with that to break away from the office attire vibe. Now that I think of it, we should have tossed a heap of office clothes on the forest floor in the hero shot. Hmmm …
He now helps bored, unfulfilled, and lost office workers discover their new calling in work and life.
So, which type of coach are you?
I highly recommend you pick one coaching brand archetype that calls to you the most. Use this to guide decisions around your website, visuals, and content cohesiveness while authentically bringing out your personality.
You'll see in the examples how the website comes to life, feels real, feels human, and how that makes it easier to relate to. You can feel the coach come through.
And when you find yours, I'm curious, which one mostly calls out to you? Post it in the comments.