How to Get Started on a Small Budget – Option 3 – Get a Friend
This is the third article in a series of 5 called, How to Get Started on a Small Budget. The previous two you can read about here:  free coaching websites and bartering with a professional web designer.
Let's talk about option 3, getting a friend to do the work …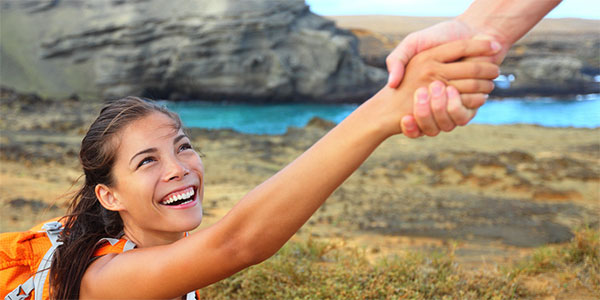 A common idea many coaches have for building their website, especially if they are on a tight budget, is to ask a friend.
It's easy to do. They'll probably say yes. You trust them. And, you can get started right away. Sweet. Perfect.
But, in my experience, this almost never works out because:
Free work ends up at the bottom of anyone's priority list. Thus, your project will always take back seat to any paid work and it will take a long time to get it done.

You risk creating some awkwardness in the friendship if it doesn't work out. That always sucks.

Friends will generally say yes quickly without a good look at their schedule. Thus, your website project will often take longer than expected to complete.
---
Whether you get a friend to help, do it yourself, barter or hire a designer, you should learn how to design a website for client attraction. This will prevent you from building a site that does nothing but suck up your time. The Coaching Site Guide can help.
---
But fear not. Asking a friend to do the job can work nicely, provided you make the following efforts:
Keep the project small at first. Avoid complicating it. Get something done quickly and build exciting momentum.

Be clear about what you want including what pages you'll have, the content for those pages and the functionality you need – which would likely be a sign-up form.

Ask for their commitment to this project as if it were a real client. Let them know how important this is and you're trying to cut expenses to see if you can get this business off the ground.

Set a deadline to get the work done and confirm it works with his or her schedule.

Balance it out. Find something that would help them immensely. Since you are asking for their time, try to somehow free up some of their time. For example, if she's a busy mom offer to babysit her child so she can go out with her man. Maybe even pay for the sitter.
These steps will help you get the job done, preserve the friendship, and get your website done in a timely manner.
There are just two more articles coming in the next two weeks. Again, if you're on a tight budget for your coaching website, here are the 5 options to reduce expenses:
Option 1 – Get a free website
Option 2 – Barter with a pro
Option 3 – Get a friend (today's article)
Option 4 – Find a low-cost freelancer
Option 5 – Do it yourself
Have you asked a friend for help? How did it go? How long did it take? What worked and didn't work? I'd love to know. Just post your comment below.