Handy and Brandy for a Better Coaching Site
They say God is in the details.
Recently, I heard someone say the devil is in the details. Interesting, I thought.
I've also heard, "It's all in the details."
Hmmm … well, here are two great details; one handy, and one brandy (branding).
Handy —> The Shortlink.
In recent versions of WordPress, there's a short link button. Great for when you are sending links through email (which often get broken if they are long).
For example, you are sending out to your new 12 weeks coaching program.
Here's a screen shot of the "Shortlink" in action.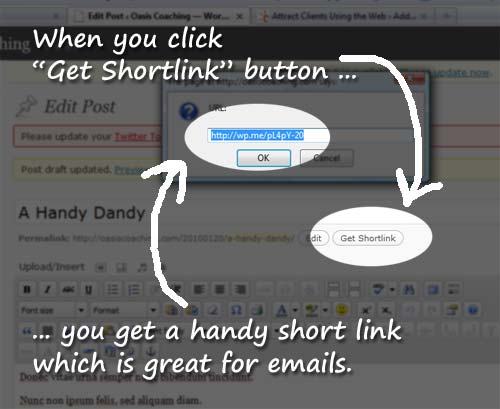 (link to image: http://tinyurl.com/ygjawa6)
Brandy —> The Favicon.
A favicon is the little graphic that shows up in the address bar next to the link – the little cute thing that you always wondered about.
Here's what one looks like.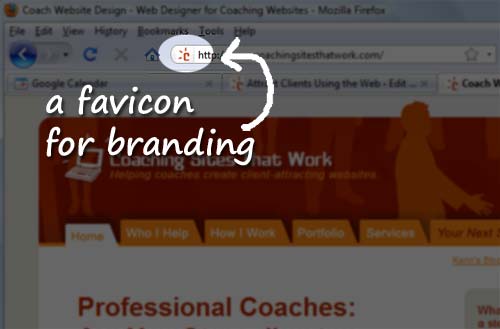 (link to image: http://tinyurl.com/brandy31)
To make one, you can use this online favicon generator. It's free and takes two seconds.
http://tools.dynamicdrive.com/favicon/
Then, once you have the "favicon.ico" file, simply drop it into the root of your website.
You may have to delete temporary Internet files to get the favicon to show up.
If you're wondering, the answer is yes – I use WordPress for client websites and I do create cute little bugger favicons.
In the words of my Long Island Starbucks British Barista Buddy, Luke, Cheerio!