How to Tell if Your Site is Gaining Position in Google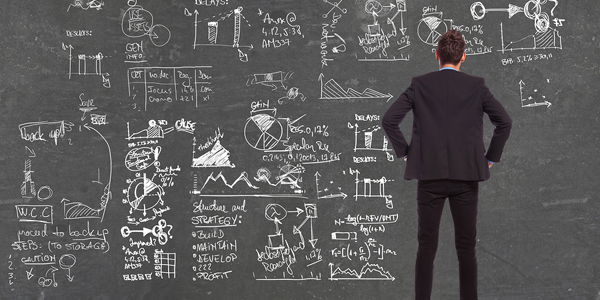 You may be trying to get traffic from Google but aren't sure if your efforts are working. Let me outline a very simple way to check your rankings and see if you're improving.
1. Clarify your keywords
Google ranks website based on keyword phrases. So, in order to begin seeing where you're ranked, you need to know your keywords.
Do you want your site to rank well for "life coach", "leadership coach canada", "dating coach for divorcees"? Again, without specific keywords you want to get found for, it'll be tough to know if your efforts are paying off.
If you don't know your keywords, then you'll need to research some ideal ones.
2. Collect monthly data
Since it takes time to build up your rankings (enhancing content, getting links, doing your tags)  and since it takes Google time to revisit and evaluate your site, I suggest tracking data monthly.
Here's a simple spreadsheet layout you can follow: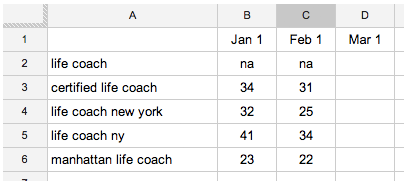 The numbers above (made up) represent the position in Google that your page holds for each phrase. For January 1st, and for the phrase "life coach ny", the position was 41st.
Also, the "na" shown in the Jan 1 column for "life coach" is what I put if you don't see any of your site's pages in the first five pages or so. NA for not applicable/available, essentially not of much use.
As you can see, the data above shows improved rankings from January to February.
If you're going gung-ho with your efforts to improve rankings (many articles per week, getting lots of links) you may see faster improvements in rankings and check your states weekly.
How do you track it? Just do a search yourself. Search Google using your own keyword phrase and click through Google's pages until you find the position of your website. Then, just mark that number in the spreadsheet on a regular basis.
All you need is (1) your specific keywords AND (2) checking your position for those keywords.
Are you tracking your rankings? Are your site's pages improving in ranking? Are high rankings that important to your business? (maybe not!).
I'd love to hear what you're up to. Comment below.