Inverted Pyramid for Writing Engaging Web Pages
Visitors to your website want information fast so they can quickly consume it and move on to the next thing.
If it's hard to find the desired content on your pages, people won't stick around. Online, people are incredibly impatient and attention is super low.
There's a technique that works great for laying out your page content called the inverted pyramid.
Essentially, it means organizing content in sections with the most important stuff first, then the deeper you go, the more detail you get.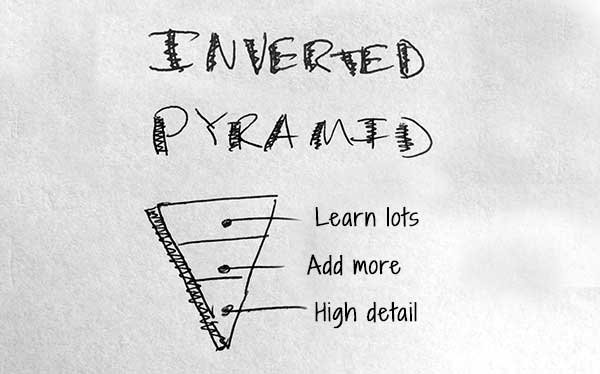 It's very common in journalism.
This approach allows an editor to easily fit an article into a limited space (think print material) by cutting from the bottom.
The least important material gets cut first, leaving the best stuff at the top.
The great thing about web pages is that there's an infinite amount of space available. So, we don't need to cut off anything.
BUT, we do need to keep the material easy to follow. And so, the inverted pyramid approach works great for this.
In this article, you'll get tips to put the inverted pyramid into action on your coaching website.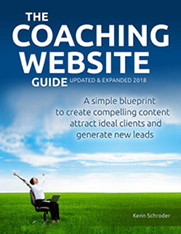 Not only should you organize content well, but you oughta make that content exciting so that your visitors (potential clients) will eagerly contact you for coaching. Find out how in The Coaching Website Guide.
Here's how to apply the inverted pyramid to your pages
Step 1. The top thick layer of the upside down pyramid.
Start with a good page title that indicates exactly what content is about.
Readers need to know they are in the right place so they can decide to dig further or go somewhere else. And a great title will do it.
Then, tell them what they'll get on the page and why they should read it.
Get this stuff above the fold – that first screenful of content you see before scrolling down.
Step 2. The middle layer of the pyramid adds more juice.
In the next 2-3 screenfuls of content, deliver the information that was promised at the top.
This could include things like …
Key steps to a process if this is a page about your coaching technique
The details of a case study with a client, outlining the work you two did together
The features of a coaching program you offer
Step 3. The bottom layer for added higher detail.
Then lower on the page, more detail with things like
Related articles and pages
Links to other websites
Pdf's or other downloadable content
Links to books on Amazon.com
Here's an example …
I love the healthy advice at Mark Sisson's website, Mark's Daily Apple. It's about primal living and the health benefits of it.
The article titled Definitive Guide: The Primal Blueprint is a massive article at approximately 17 screenfuls.
Here's how it uses the upside-down pyramid approach …
The Top Layer
Remember, the top layer will tell us the essence of what the article is about. And many readers will stop there, happy with what they've learned.
In the top layer of the article, Mark tells us …
His basic premise for his work as a health guru – that optimal health comes from living similar to our ancestors.
How the modern world causes health problems.
How his Primal Blueprint plays into food choices, exercise, and behavior.
Here's what it looks like …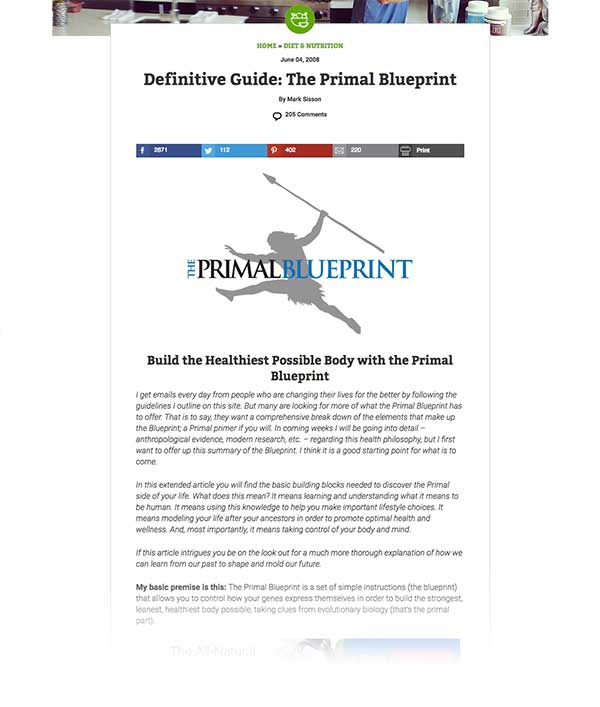 The Middle Section 
This next section adds a lot more to the initial outline of content.
In this section, he goes into The 10 Rules of Living 10,000 Years Ago.
Here's what it looks like …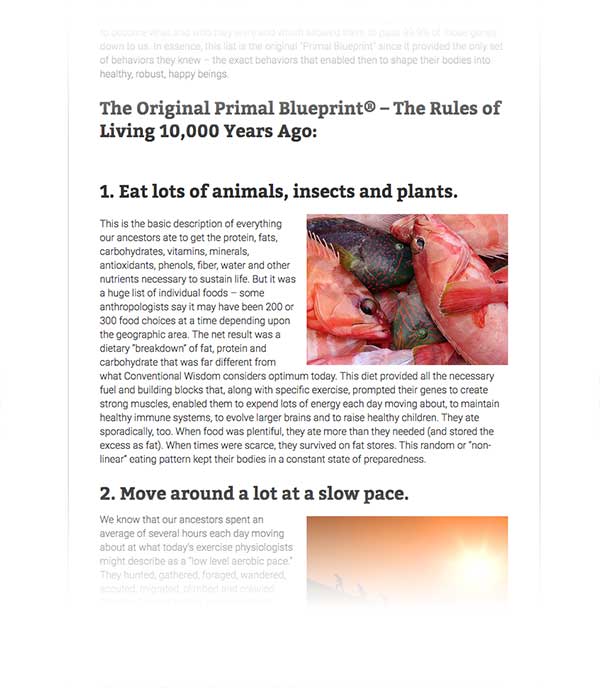 The Bottom of the Pyramid
The last major section called The Rules of Living Today adds more to the story.
You could cut it this section out and the article will still be robust.
The links to additional articles also make bottom-level content.
Here's a visual of the last section …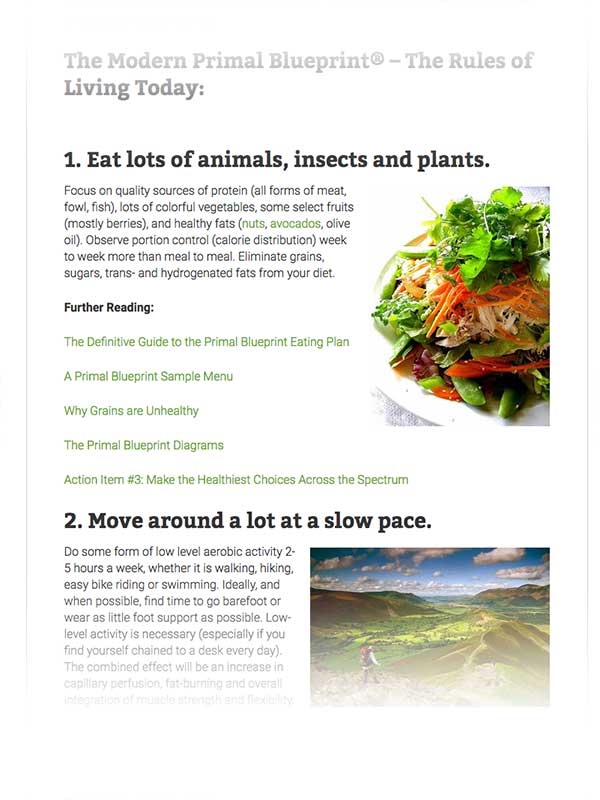 The inverted pyramid on short and long pages …
While the amount of content and the layout of the page might vary to serve its purpose, the inverted pyramid style should still hold.
For example, for a page that's meant to get people to add their email address for a free pdf (an opt-in landing page) all of the content could fit into one screenful, without any headline or supporting content. It's ultra simple.
As another example, for a sales page offering a pricey 8-week course, there will be a lot of detail to facilitate the sale. Thus, splitting content into many pages might not be a good move because the risk of getting lost goes up.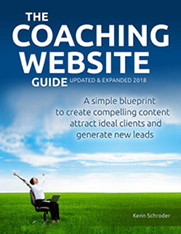 Get website visitors to eagerly contact you for coaching with writing tutorials and templates in The Coaching Website Guide.
In summary, use the inverted pyramid to deliver your content smoothly so they can discover how great a coach you are.
This approach makes it easy for people to find what they want and go as deep as they like.
It respects their precious time and they'll happily give you their attention.
With that attention, you can develop the relationship and build trust – eventually leading them to become your client.
I'd love to hear from you. Just post below.