Jan's Beautiful Freebie Cover Design
As you know, I love creating freebies – those giveaways or downloads that visitors to your website instantly get when the join your list.
They are a must for coach marketing.
When done right, these free treats help you build traffic, grow your opt-ins and position you as an expert – the trusted partner people love to follow, recommend and hire.
One key to a great freebie is giving it a visual that looks top-notch.
Here's Jan's cover for her free download at her site, http://www.janbavea.com.au.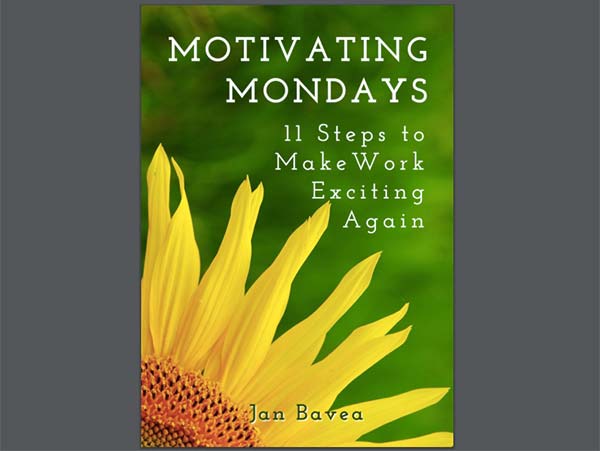 Here are the reasons why it's awesome:
ONE: It has a great short title in it "Motivating Mondays" that speaks to her market – those who dread going to work and have a career they dislike.
TWO: It has a powerful tagline, 11 Steps to Make Work Exciting Again. This also speaks heaps to the ideal client.
THREE: It's easy to read the title, especially when it's scaled down to thumbnail size. So it looks great in all those hard to reach places on the web like your smart phone or in your opt-in box.
Here's the image as a thumbnail. Nice and easy to read.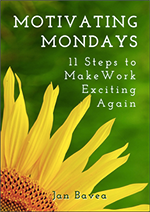 FOUR: Here's an image of her website and freebie together. Notice how the colors, feeling and message all work together nicely.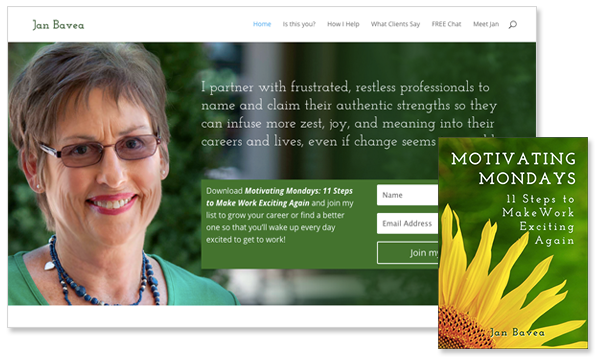 Such a nicely done visual gives her freebie the look of an authoritative book. And we all know that "published author" status is a huge credibility bonus.
Just awesome!
How's your website and freebie working together? Have you created your freebie yet? If not, what ideas do you have for it? Love to hear from you. Post below.