The Key to a BIO Page that Builds Bonds
People care less about "what you do" or even "how you do it."
They care much more about your WHY.
"Why you do it."
Why you coach.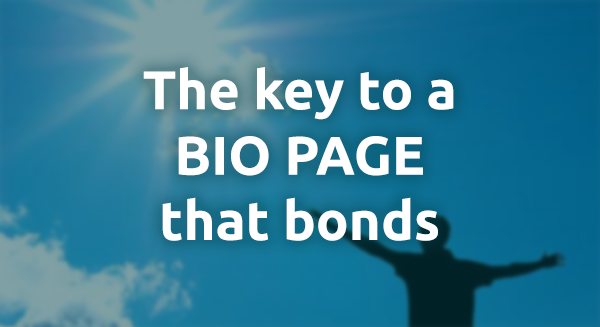 Clients go bonkers for coaches with a BIG WHY
It's nice to tell people about your assessments or how your techniques get them past their deepest fears or you have an intuitive sense that helps them see clearly and make progress.
But people go bonkers (get excited about being around you) when then can feel what makes you tick deep inside – your inner being that brings you to life – your WHY. Your WHY for coaching.
Many people are accountants. Many people practice law. Many people become entrepreneurs.
Few do it with a relentless, earnest zest. Few are buzzing with energy that steams out their pores. Few are in touch with their WHY for what they do.
If you're hiring a coach who isn't excited about his/her work and isn't eager to help you and live their WHY, it's hard to connect with them.
Do you remember that waitress who seemed to have an unshakable happiness about her as she served customers? She was just happy to serve. She was bubbling with smiling with a calm, peaceful inner joy as she worked.
Her WHY was simply just to serve people at the restaurant.
People are drawn to and love to work with people who are know their WHY and who live and breathe it every day.
What is your WHY? Your deepest WHY?
Your WHY that when you revisit it, you're whole body comes to life. Your energy soars. Your heart feels warm, sunny. A glowing smile emerges from your chest, right out through your face. The kind of smile that gets others to smile without knowing what is going on – but they love it.
Here's a one solid, sweet little About-Me-Page Hack so to speak to quickly tap into your why and get your website visitors sold on YOU.
The one thing that needs to come across on your About Page, to bond deeply with your visitors (possible clients) is your WHY.
Check out this Ted Talk with Simon Sinek, author and motivational speaker, where he shows you his golden circle for inspiring people. It's very moving and great for helping you express your WHY for your Bio Page.
As ideas start bubbling up on how to express your WHY, start writing them down!
---
Got some exciting ideas for your big why? Post them below.