Mitzi's New Coaching Website
Mitzi Bockmann, life coach for moms in New York, helps women dream big so they glow with joy, their kids thrive, and careers flourish.  Here's the new Mitzi Bockmann Life Coach for Moms (New York) website.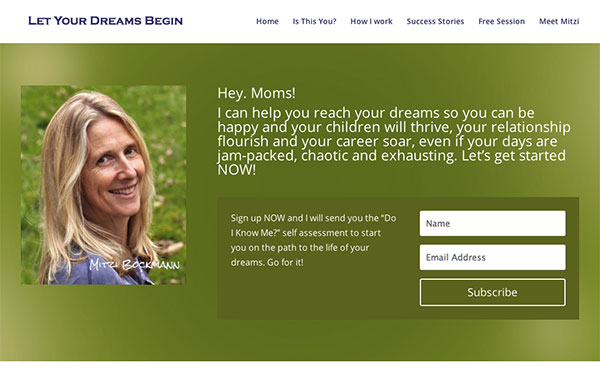 Mitzi recently finished her website as per the Great Coaching Website Course I ran back in November. And she rocked it!
Not being a super techie or web designer or writer at all, she pulled it all together fast. And she can easily update it on her own. Not to mention it has the right stuff for client-attraction: email list, call-to-action, client-focused copy, benefit-rich headline.
There are so many great things about her efforts and her website, but I'll hone in on her menu.
I've seen so many coaching websites that have confusing (often way too big) menus that just scare visitors away.
Hers is great because …
It is small, just 6 items.
I can tell what each menu link is about – and they are the things visitors care about like, Is this for them, How coaching works, and About Mitzi.
It's right at the top, easy to find without being distracting.
It doesn't invade the page and so juicy content can show up right away when I land on the site. It fits nicely with the logo as well at the top. Very modern.
Nice work Mitzi.