Three Things I Love About Jen's New Coaching Website
Jen Paradise is a creative, superstar student from my coaching website course that ran in November. Here are three things I love about Jen Paradise's new website that just went live.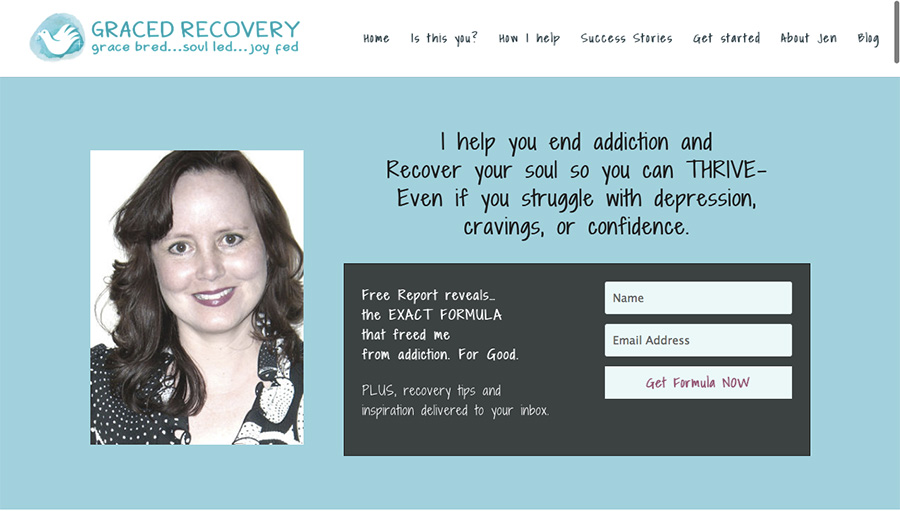 Here's the link to Jen Paradise's website: GracedRecovery.com 
1. She did it FAST!
She built it fast, mostly done in two weeks, following the simple steps I outlined in the course. Grab on to her coattails, this coach is full steam ahead!
In the past, she struggled to get her website off the ground and her business in place because her creative mind would take over and she would spend a lot of time on juicy ideas – ending up not as far along as she'd like.
The course gave her structure to get things done timely while providing room to be creative and have fun with it.
2. Its got client-attraction functionality.
Most coaches don't pay attention to a website's ability to attract clients – unfortunately. But having a site designed for client attraction is #1 important thing in my book.
In her website we have: a compelling core message, an opt-in list, a freebie, and a free consultation invite. Tried and true tools for building a coaching business.
Jen took the advice in the course to heart and even secured one new client before her site was done. Her  website was as credibility booster which helped her get that small win.
3. Great colors.
Jen followed the advice on color schemes for her website and chose a graceful blue along with a strong black to communicate her message – grace and strength for beating addictions. Perfect!
You can feel in her words and in her message that Jen would be a great person to turn for help.
Here's Jen's Feedback from the course …
This course was AWESOME. I am so excited that I got my website up in 30 days. Wow. I had been struggling with my website for months trying to get something on WP. I considered paying someone thousands to do it for me. Then Kenn came along and showed me step by step how to do it myself. Which was awesome because now I have control of all the design and content at my fingertips. Kenn made something so complicated, so easy. The support from Kenn and our FB group has been amazing, especially with fine-tuning our core message. I am so glad I made the decision to take this course and get Kenn's coaching package. It has truly been a great business decision. Thank you, Kenn, for building a simple, easy to follow course designed specifically for coaches and service oriented people!!! Now I can get on with helping people instead of tinkering around endlessly trying to build a website!
Congratulations again Jen for getting your site done fast with the right marketing tools. I'm looking forward to your continued success. 
Comments welcome below.