The 8-Second Rule on Coaching Home Pages
When people arrive, they've gotta jive with your site! They need to feel that this is a place that's easy for them to navigate, easy for them to understand, what it is, where to begin, and most of all that there's some value to be gained here. That's your home page's job.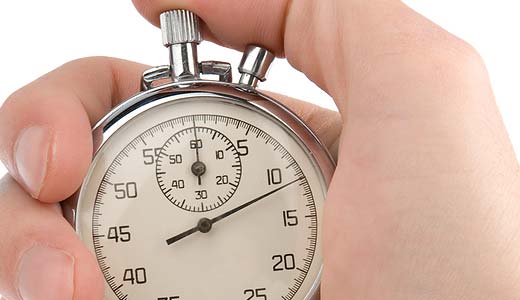 If they don't get those answers, they hit the road and almost never return. They need to know that this is the site of a coach (expert, consultant, guru, etc.) and that there's good advice that can be garnered.
And you've got to do this in 8 seconds or less according to usability experts. I'd guess this number is even lower. It's those first few moments we scan the site to ensure whether this is worth our while or not.
Here are five tips for engaging people from the get-go:
1. Have a tagline with benefits
Taglines are great for expanding on your business name (which for many coaches doesn't say much). Get benefits into your tagline to give people the thing they really want – the better life/career/health/etc.
Over at LinkedIn, I recently reviewed over 30 websites of coaches.  A good many are guilty of hiding the ultimate benefit. They often put that at the end of their business summary, services or about pages.
There's a good chance that when you talk about your services you are doing the same – talking about benefits at the end. Try bringing those benefits out to the front.
2.  Navigation that gives an overview
Not only does your website's navigation menu help people get around, a quick scan of it also gives them a summary of what's available at your site. Take that opportunity to give them a good overview.
For example, if you're a fledgling coaching business, you'll have pages/sections like these:
Home
Free Stuff
What I do
My Clients
Services
Events
Blog
Articles
About
Contact
Free Consult
Don't include amorphic things like this:
Freedom
ABC Technique
Your Best
Discover
Learning Center
Reach Out
These things are too vague, and while they may have meaning to you, they mean very little to a visitor.
Instead, think in terms of what THEY want and structure your site around that. Then, as they get to know you , introduce concepts, services, techniques and offers. Gain their interest, desire and trust first. Then sell em – err – invite them to discuss coaching together.
3.  An obvious place to begin

If there is no obvious place to begin, we flounder around.
Home pages that are overloaded with stuff fighting for your attention overwhelm you and make you leave. Determine what your visitors really want and lead them on to it.
For many new coaches, getting them to opt-in to your email list, blog or other keep-in-touch strategy is the move. This gives you the chance to build a trusting relationship with them over time.
Whatever your choice is, make it big, prominent, and glaringly obvious.
4. Your photo and your title (aligned to the client)
You ARE a huge part of your brand. It's you who your clients will be working with. It's you who they will follow for support. And thus, you should be right there on the home page saying, "Hi!".
Be sure to include your name and title next to your face so people know it's you and know what to refer to you as.
5. A lead-in headline
People come to your site because they are hoping you can help them. Thus, you want to engage them in content that does just that -> helps them.
You could begin with an article, blog post, or discussion of the challenges you help clients overcome. This headline also ought to be focused on your visitor and the challenges they face or goals they want to attain. That's what gets attention.
Summary
Remember, your site has a few seconds to make a great first impression. It must be clear what your site's about, how to get around, where to begin – and of utmost, the big benefit to be gained. Else why should people stick around?