Coaching Website Tweak for Altazar
To improve Altazar Rossiter's spiritual intelligence coaching website for client-attraction, here are before-and-after images along with my suggested tweak.
If you want me to review your coaching website schedule some quality time with me here and we'll find high-impact yet easy-to-do enhancements to improve your website for client-attraction.
Before image …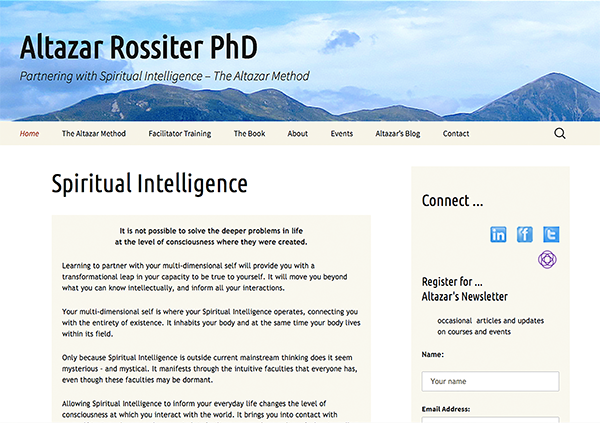 My recommended tweak …
I love the simple layout with lots of white space. I also like that the menu is just a handful of items. Nice!
I can see that you're centering your message around a concept, spiritual intelligence. That's cool.
But I expect that people can only guess what it means and while curiosity is good to peak, if there is no reason they should peek, then there's the risk of a "false beta" – which basically means they get disappointed.
So to avoid the risk of people wasting their time, and to engage them right away with excitement, I strongly recommend you tie the value of spiritual intelligence to benefits in your headline.
After image …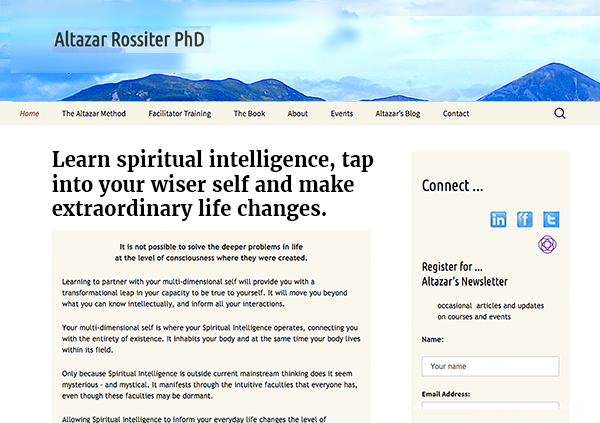 What's your take? Got ideas to improve further? Dislike something? Love to hear from you. Comment below.