The First Step to Compelling Website Content – Creating Your Core Message
If you want to attract clients with your website, the content needs to be exciting, intriguing, and compelling. It needs to motivate visitors to contact you for coaching.
However, most coaching websites are boring and confusing – as you may have seen.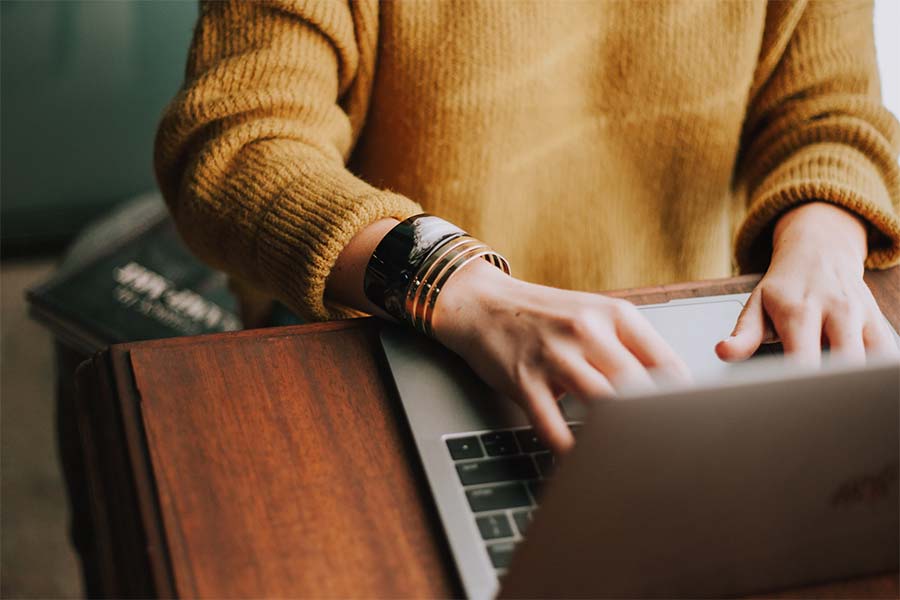 To fix that problem, I like to construct a compelling core message before building a website. It's a short, core message write-up that says what you do excitingly. It's like a 30-second elevator speech, except for your website.
This will give you a super handy point of reference for writing great content.
Here's the video tutorial, followed by some tips to improve your writing.
---
This video is based on a chapter in my book, The Coaching Website Guide, which has my best tips for creating a website to attract clients.
And hey, if you're finding it difficult to put together your core message, you're not alone. This step is often a lot of work, and it's common for it to evolve and improve over time. So, give it your best shot.
Let's move on to some examples and tips for improving it …
Five ways to tighten your core message and make it sing
Here are my favorite ways to make your core message sparkle.
Polishing Tip #1. Read it aloud.
For most, their core message ends up a bit wordy. You can easily see this if you try to read your core message aloud.
So, try verbalizing it yourself, or ask a friend to read it back to you, or even use Google Translate to play it aloud.
Then, edit it so that it rolls off the tongue smoothly.
Polishing Tip #2. Get feedback on it from others.
Share it with friends, colleagues, and ideally, people who would make ideal clients.
This act of "getting out of your own head" does a lot.
Polishing Tip #3. Remove jargon, acronyms and clumsy phrases.
I've found that many coaches love their concept talk like "inspirnation" to mean inspired nation or "lovergy" for love energy.
It might sound cool to you, but will your target client get it?
Polishing Tip #4. Use descriptive juicy, sexy, succulent words.
Which of these two is more exciting?:
a sports car
a brand new, candy-apple red Corvette convertible
Take the time to find expressive words to give your core message emotional impact.
I LOVE using OneLook to find super words, like this …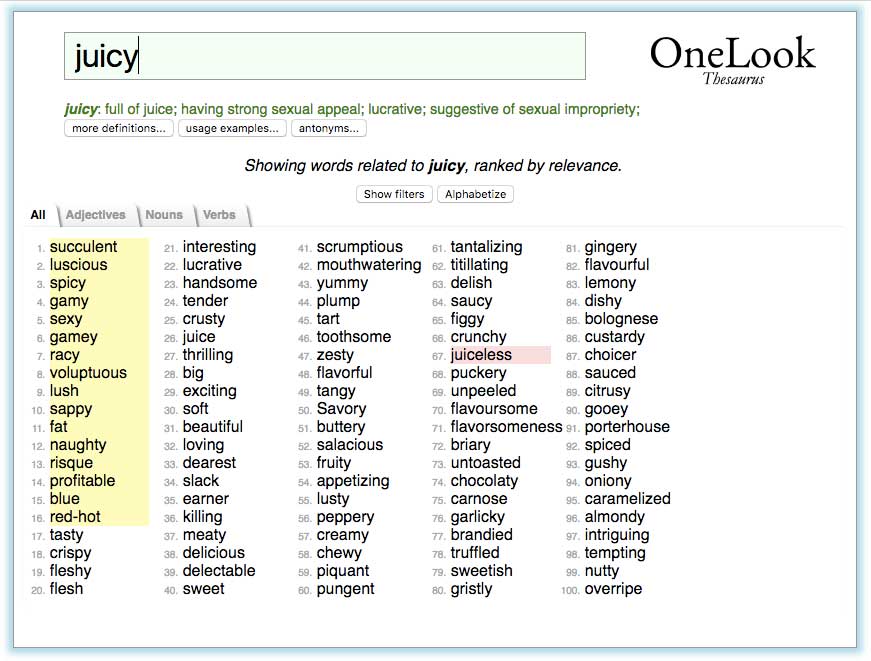 Polishing Tip #5. Come back later (my favorite)
I agree with this -> great writing is the art of re-writing.
Putting your work down for a day and then coming back is fantastic for improving it.
I do this not only for core messages, but for all kinds of website content like blogs, pages, and emails.
As a result, website conversions like book sales, subscriber opt-ins, and leads go up.
See Emily's core message go from 76 words to 39 and triple in power (my opinion) …
Most of the time, core messages end up wordy, as did Emily's. She's a student from a group course I offered a wee while back.
As you'll see, the key is to have the guts to cut your core message in half, possibly cutting it in half again.
Here's Emily Archer's core message draft …
I help people living with diabetes who are frustrated and ashamed of their inconsistent lifestyle choices to reclaim control, health, and self-respect. My passionate curiosity will help you create a powerful vision, a culmination of your now deep-rooted healthy lifestyle habits. In partnership, we will develop a personal lifestyle management strategy that empowers you to master new habits and focus your energy to achieve and sustain lifestyle improvements you are proud of, for longer, stronger living.
There are some great words and concepts, but it could use some refinement.
After re-thinking it along with feedback from others, we made cut it down to …
I work with people who are frustrated and overwhelmed with problems from diabetes. I help them create lasting strategies to regain control and increase energy so they can get back to enjoying their lives with the people they love.
Here's a visual with her core message, her chosen font, and her photo.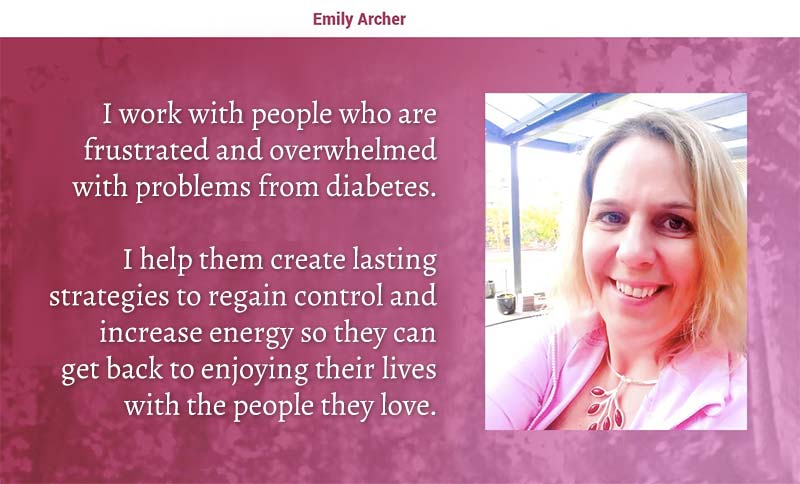 Better, huh?
Watch How Denis's Website Comes to Life by Adding a Simple, Well-Written Core Message
Below is a website I reviewed and tweaked, for Denis Niedringhaus, a career coach for ex-pats.
Here's the before picture of his home page, which is typical for many coaches, with big images, a big logo, and a list of services.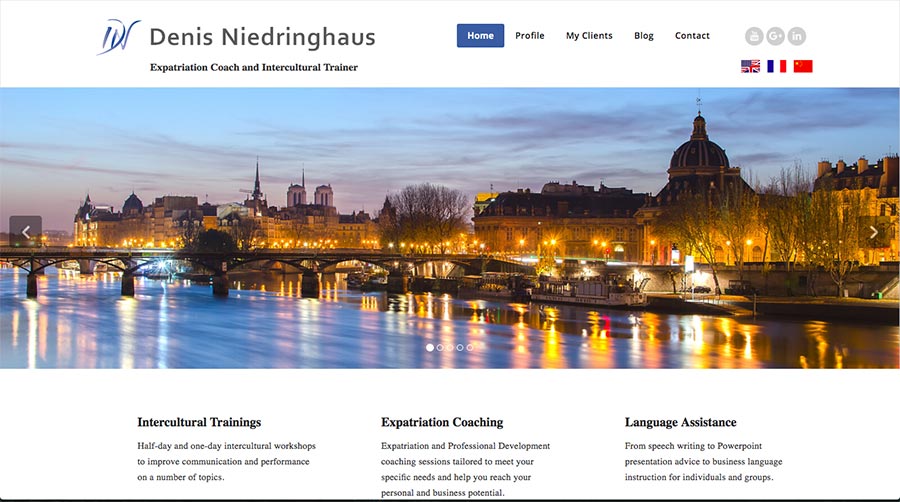 Here's the after image, injected with his core message in a large font.
Can you see how fast his website comes to life? How much easier it is to know what he does? If you were an ex-pat, you'd probably get excited.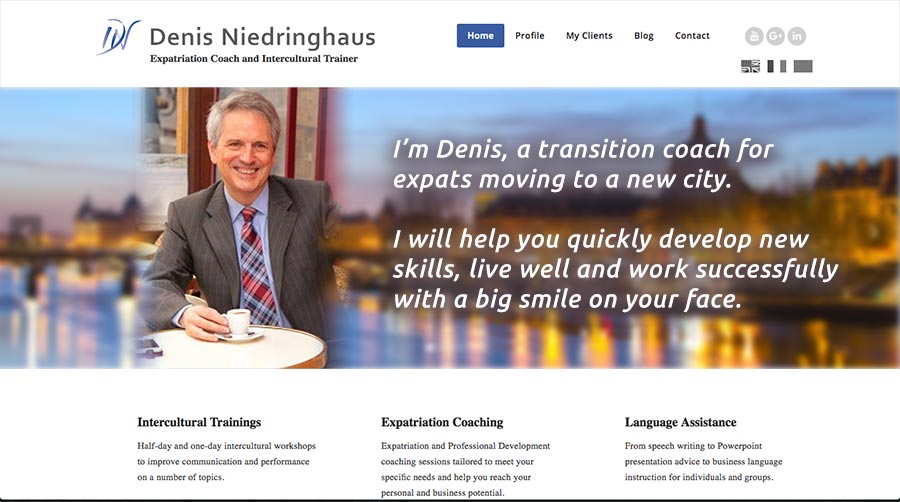 See Rachel's Core Message – Prominent, Simple, and Powerful
Below is the top area of Rachel's website, fully equipped with a powerful core message …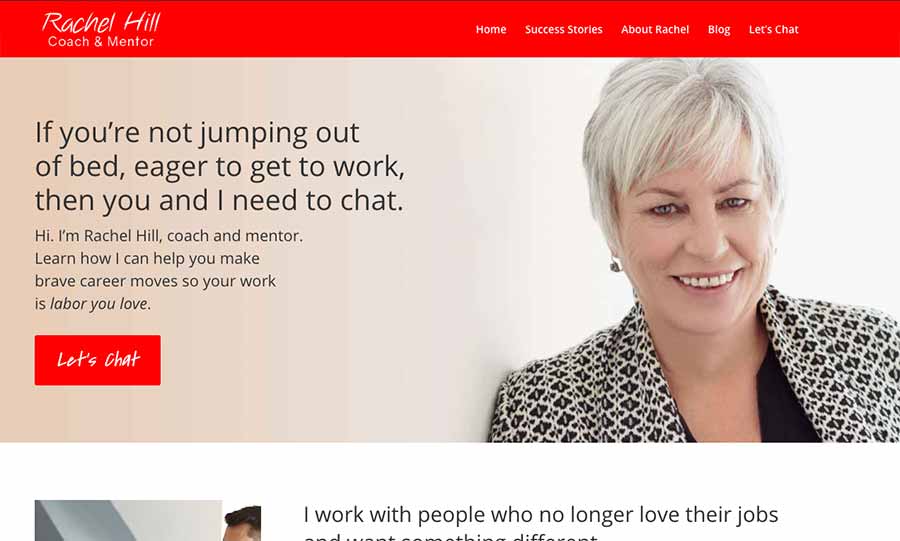 Get more writing formulas, content templates, and lead generating strategies in The Coaching Website Guide.
Here's your 2-minute action step, if you want your site to sing …
Take a moment now and post your draft below.
I love hearing from readers and will offer ideas to improve it.