Goofy Headpiece and Write Easier to Attract Great Clients
About 17 years ago when I left my corporate commuter life, I embraced my childhood passion of "creating on computers". Instead of "working for the man", I had the dream of being able to do WHAT I want, WHEN I want and get paid well doing it.
That dream came true in various ways over time and now I'm able to use that flexibility to enjoy precious moments in special places around the world – like this one.
Below is a picture of me, my special lady, and relatives stopping along our Christmas Day walk on the promenade of the art-deco coastal town of Napier, New Zealand – plus goofy head adornment (for my fellow New Yorkers, you may be surprised that on the Southern Hemisphere, Santa struts in speedos because it's summer time).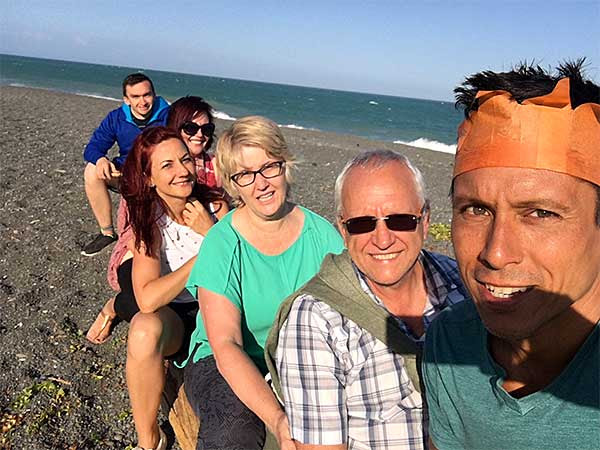 (Napier is super interesting. From Wikipedia, It's a popular tourist city with a unique concentration of 1930s Art Deco architecture, built after much of the city was razed in the 1931 Hawke's Bay earthquake. More about Napier's story.)
I'm at a cafe attached to a hot pool spa on a Sunday morning, the last day of 2017, before our walk up Te Mata Peak with friends, writing you these tips – getting a little work done and helping you along.
Now the future and online is everything. The world is at your finger tips and designing a lifestyle business that allows you do the work you're good at from anywhere and at anytime is soon to be commonplace (provided it's not hands-on like massage therapy, but even then, a little ingenuity could get it to work).
It's great to have lifestyle flexibility and do the work I'm good at so that the two can jive together in a more meaningful way. You should have that too as a coach.
But as you may suspect, the proving grounds will be in your ability to attract plenty of (good) paying clients – which leads us to a big tip for great writing that draws in those ideal clients.
Often, when I sign a new client, or take on a new student or connect with someone who has read my blog, they mention something about "who I am" that drew them to me.
I've found, and probably you have too, that my best clients are folks I jive with in a deep way. We are birds of a feather, so to speak. We share many of the same values and beliefs and ethics.
It's that deeper, meaningful stuff which surfaces in your writing when you are authentically you.
And so, my big tip in this post is let go of any need to be smart, a know it all, or any other stress-inducing, forced style of writing, and relax into the deeper being that is Y, O, U.
I know it sound so cliché, but, I'm giving you permission to "be yourself" when you write, but …
You can "be you" when you write, but I'm NOT allowing you to blab on aimlessly.
Your writing should be intentional, purposeful, with some structure to make it effective.
Think of writing content like growing a garden.
We ARE NOT watering the ground for random content weeds to sprout. Rather, we ARE preparing fertile soil for beautiful writing to flower – writing that serve our visitors and leads them to contacting us for help.
I am absolutely FOR good tools such as templates, guides, apps, models, and formulas to support the writing of your web pages, emails and all online content.
But, be sure to use those as tools while you infuse a good, powerful dose of Y O U (your personality, insights, quirkiness and all) as you create content.
Here are three solid reasons to "let out" your true self, the talented coach who aims to serve …
1. When it comes from the heart, it reaches the heart. 
Writing from that deeper place of warm connection travels much further than just the brain of your reader.
It goes to their hearts, where feelings arise and energy builds. This moves them. It moves them towards contacting you to discuss coaching.
2. It's easier to be yourself than to be someone else.
It's not always easy to write content for your website.
I've hit many sticky spots over the years especially when blogging.
Whenever I've "tried to be a better writer", I find I struggle and fail.
But when I settle into my relaxed, easy, normal self, writing is immensely easier. The same is true for every coach or client I've worked with.
It becomes as easy as texting your best friend.
3. It's so much easier for your visitors to read and understand your writing when it's sourced in your true self. 
When you write in your own style, be it long-winded smart speak, short quippy stuff, or bubbling with enthusiasm, your recipients can settle into your personality and follow your words with ease.
Just think about the last new person you met. Doesn't it take some time to warm up, get a sense of who they are so that you can really understand (feel) them?
Being yourself gives people a real human they can "get" and it makes reading easy and enjoyable.
Let me end 2018 with a shot of Te Mata Peak
On the last day of 2018, we went up Te Mata Peak for a gorgeous view of the surroundings, and caught an exciting view of hang gliders soaring the area.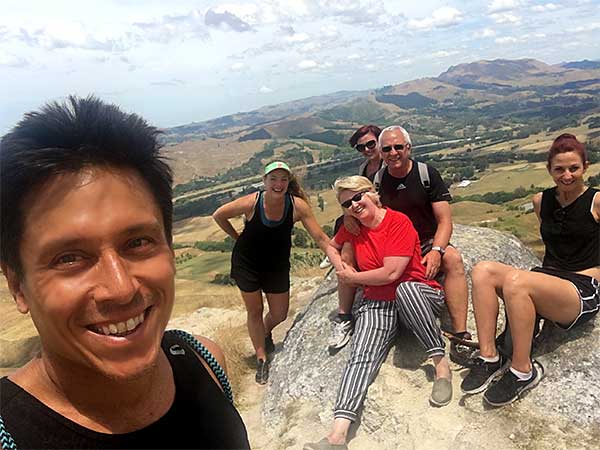 To sum it up, be yourself when writing website content and use tools, formulas, or templates to give it a structure.
It'll be easier to write content, visitors will enjoy your website more, and you'll connect deeper with people – and great clients will reach out to you for coaching.
If crafting your website content is giving you grief, you may want to nab a copy of The Coaching Website Guide to make your website into a client-attracting machine.
Happy holidays! Happy new year! Make it good one.