The Coaching Website Guide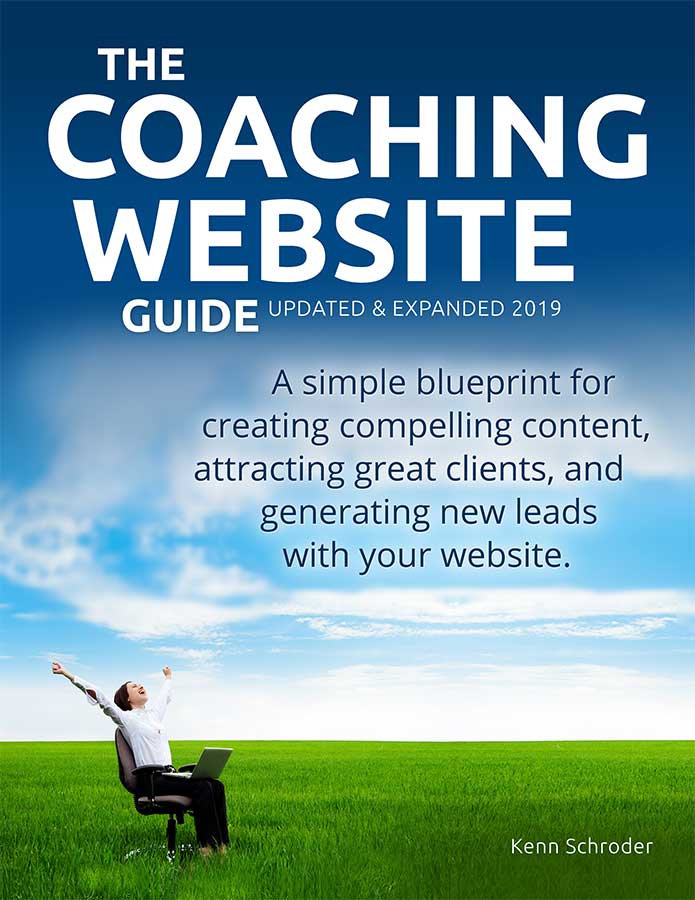 A simple blueprint for creating compelling content, attracting great clients, and generating new leads with your website.
Why Most Coaching Websites Never Bring a Single Client
A micro story of why I wrote The Coaching Website Guide.
I was having a fair amount of success with my clients' websites. But, I was curious about the rest of the world.
So, in 2012, I hopped on the phone with 45 coaches to see how they were doing. Three weeks later, I found out that …
1/3 of websites never made it online
1/3 took forever to build
1/3 got it done fast
… and of the ones who did get it up, only three of them brought new clients.
Yipes!
From research, I found out that 93% of coach websites never generated leads
So, in percentages, only 7% of these coaches' websites worked.
This discovery sparked me to write The Coaching Website Guide to help rectify the situation.
Imagine working on your site for months, spending a lot of money on it, and you get nothing.
Worse: think about having to start over.
Worser: think about giving up on your dreams altogether.
:0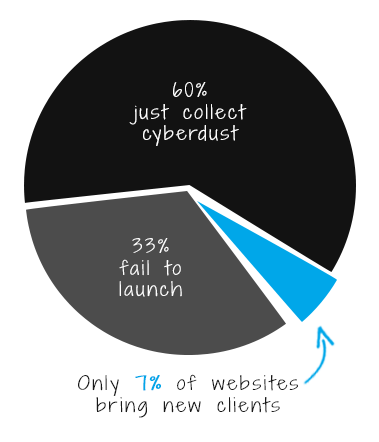 I was once among the failing majority until one trip to Paris …
In the early days of my business, 2001-2006, I had redesigned my website over 20 times. Each time it looked different, but I wasn't getting what I needed — more new clients.
It was until 2007, during my first travel-while-you-work trip to France when everything came together. I managed to sign three new clients in one week for 10k+ income, and I was like Neo discovering new powers in The Matrix — Woah!
After that, I was getting dozens of new client leads per month, all via the Web. As I reflect, the big aha that changed it all was this …
The big discovery was that everything on your website — pages, words, visuals, menus, buttons, headlines, links, forms, cogwhistles, and doohickies — all of it — must be designed to get visitors excited and lead them to become your client.
Before my trip, I had reworked my business systems (basically random acts of blindness) and got very intentional about them, as per said epiphany above.
What I've never seen work, which most newbies do, is take a random website template, add cool quotes, put up pretty pictures, copy over generic coaching faqs, and list out their credentials. While nice to have, these things are not motivating to the client.
Why should someone contact you if your website doesn't get them excited — or hopeful, inspired, exhilarated, motivated, energized?
After figuring this out, I took that wisdom to my clients' websites, and they too reaped the rewards.
Heard enough? Then get your copy of the guide below and apply all of my learnings so you can generate more leads with your coaching website.
Having had success, I went wild and reviewed over 1,000 websites of coaches. Here are the top three problem areas …
I've been the so-called "resident web designer" in various social groups, especially LinkedIn, where I reviewed websites and gave advice.
This first one is a massive discussion from 2012 that lasted an entire year. The second is from 2017.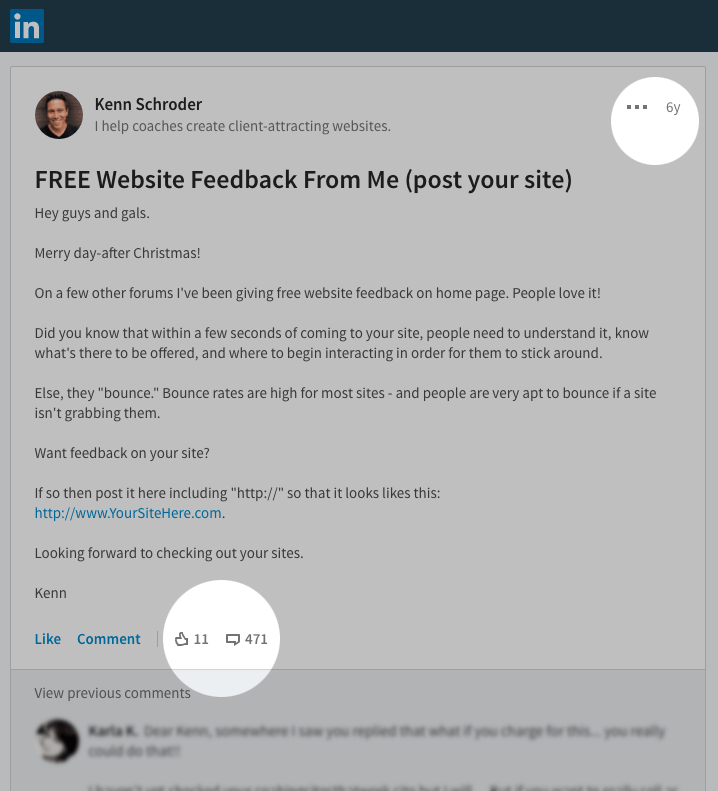 And here are the top three problem areas …
Problem 1. The content was boring with things like …
details of the coaching approach
coaching industry updates
pretty pictures and random quotes
a laundry list of confusing services
Problem 2. The websites were difficult to use because …
the content was poorly organized
the font styles made it hard to read
the menus were long and confusing
they had too many pointless, distracting bells and whistles
Problem 3. The sites didn't inspire people to contact the coach …
Many of the sites had no clear invitation to get in touch. For some, you'd wonder if the coach was actively taking new clients.
Some had the weak, buried, one-liner "free consultation available upon request" that we all fear will be an awkward sales pitch.
If you want clients from your website, you've gotta lead them to
As you can see, a good website needs to be easy, engaging, and exciting if you want visitors to perk up and call you. Buy the guide now.
But don't feel too bad if your website is collecting cyber-dust because …
It's common for most new websites to do nothing since …
technology makes it easy to "jump in blind" and make a mess
good design, solid writing, and smart technology takes time
there's too much info out there that will lead you astray
most designers don't understand coaching (or how to communicate it)
If you cringe at the idea of someone actually visiting your website, you're not alone. And don't fret for too long because there's hope.
Take a breath. Softly smile. Accept your learning. Recall your peace.
Then, please do something about it and take advantage of my experience with The Coaching Website Guide.
I think you'll find it indispensable.
Buy The Coaching Website Guide, get the bonus infographics and my 30-day guarantee now and start getting new clients with your website.
What's Inside The Coaching Website Guide?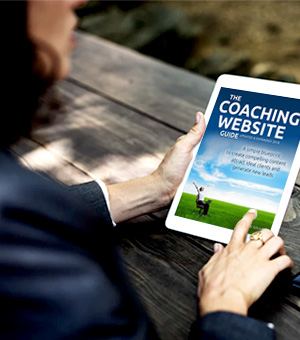 In this big 320-page pdf, you'll learn how to:
There are Also Three Strategy Diagrams for a Website That Attracts Clients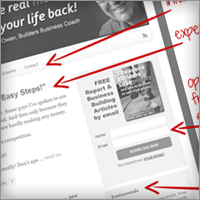 The Homepage Elements
Learn how to elevate your credibility and instantly engage visitors.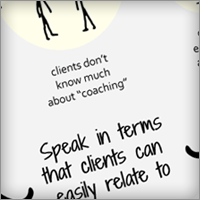 The Language Clients "Get"
Learn how to create content that excites your potential clients.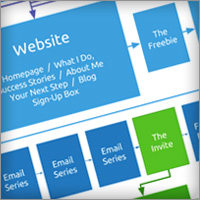 The Conversion Website Map
See how your website, pages, and emails lead visitors to contact you.
Check Out Chapter 1 for Free
Preview chapter 1 to see if the content is any good.
Don't spend the next six months creating another boring and (as one coach put it) "fugly" website that you'll be afraid to show anyone.
Instead, create a professional website that you'll confidently share, knowing it will impress.
The Key to Writing Authentic, Exciting Content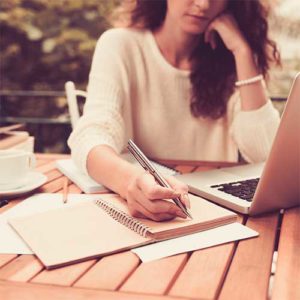 Ever notice how people's eyes glaze over when you talk about coaching? And even if they do "get it," it still doesn't get them excited.
And this is the problem with so many coach websites — they talk about things that clients don't care about.
The key to engaging content is to speak to the deepest needs of your visitors — the stuff that they can relate to the most, like their dreams and desires, their struggles and frustrations.
If you can do this while being real, human, and honest, then your copy will connect with them powerfully.
The guide comes with diagrams, formulas, and examples to help you write like a pro. Get it now with the bonus infographics and my 100% Happiness Guarantee.
Are you overwhelmed with your website? Here's how to stay focused and get it done timely.
Losing sleep over your website is understandable. There's a lot to learn and do, and it can feel like climbing a mountain.
Finding and managing a designer often adds stressful back-and-forth because they don't "get" coaching.
There are also the mental-blockers like perfectionism, fear of failure, and writer's block that can get in the way.
To overcome these struggles, create a clear sitemap of the pages, content, visuals, and functionality needed.
I wrote all about this in the guide. It'll keep your head from exploding and actually launch.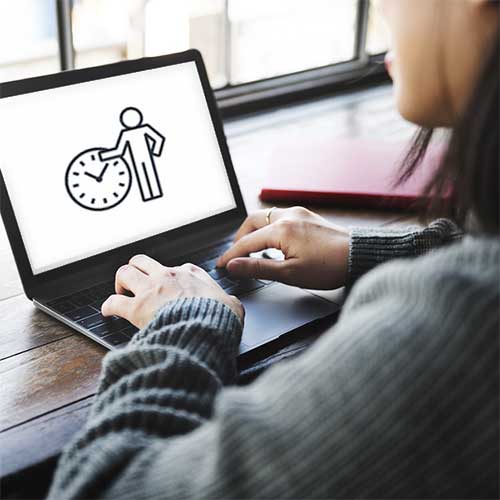 Get my time-tested tactics to launch on time in The Coaching Website Guide. It's just $129 with my 100% Happiness Guarantee and the bonus infographics.
What Coaches Are Saying About the Guide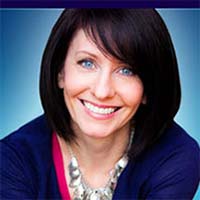 Your guide was extremely helpful and gave me a blueprint I could follow in structuring my own coaching website and content.
The site is doing its job by attracting a regular stream of consultation requests and clients. Thanks so much for sharing your insights and wisdom.
~ Chiara Pietrogiovanna, Life Coach
---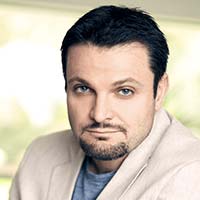 You are very relatable. I instantly felt like you're someone I could spend time with, the same age, love helping people, love outdoor activities, and obviously bright (yes, I claim that! lol).
The guide is very nicely laid out in a step-by-step process for either assessing (if you have one) or creating (if you don't have one yet) your coaching site.
I also like the clearly explained steps of getting a client – from delivering good content, taking them to your site, adding more good value, and offering them coaching after emails.
The fact that I bought this guide is obviously testimony to the fact that you practice what you preach. So many online "gurus" don't. You feel authentic in my mind as a result.
~ Gideon Hanekom, Relationship Coach
---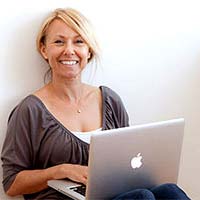 You described how to make my website about the benefits to the client. I honestly thought I already had, but when I read your guide, I could see I was totally fixed on my own perspective and was explaining the processes.
I changed the text, got new photos taken, and wrote my free ebook in about four weeks. My website has already generated 13 new clients. The guide has been invaluable, and I'm really excited about the next phase of my business.
~ Hannah Hempenstall, Life Coach
---

Kenn, the section on the giveaway and opt-in box are absolutely priceless. If coaches followed that advice, they'd be well on their way to really understanding client attraction. PS – Thanks for helping the members at LinkedIn!
~ EG Sebastian, Client-Attraction

Web development can make even the brightest person's brain feel like pudding. You lighten the heaviness with your approachable style and then feed lots of substance in "little bites" so readers don't get overwhelmed.
~ Lisa Manyoky, Branding Strategist

Not everyone can write. Not everyone can hold an audience. Your Guide is very well written. I have the sitemap and hub model pages pinned on my wall. The way you built up the content writing section was done so nicely that even a novice can understand it.
~ Gary Henson, Business Coach

"What made it easy for me were the models, layouts, templates, formulas, and examples – and your subtle humor along the way. I like that. It makes it real, and it makes me smile. It doesn't get much better than that.
~ Carol Leek, Business Coach
Kenn is providing what coaches and consultants need to market their business on the Internet effectively. Read and use this step-by-step guide to develop your expert website and your customized online marketing system to attract and engage more clients.
~ Mike Rafati, Incredible Coach

Kenn, I think you're brilliant! The whole idea of the "expert website" resonates with me. This guide is going to keep lots of coaches from floundering for a couple of years, wondering why their site isn't attracting clients.
~ Gayle Scroggs, Mentor Coach

It's easy to comprehend and really simple to work with. I've finally narrowed my niche – a huge step after 2½ years in business. Thank you so much for making that available to coaches like me!
~ Anne Fischer, Success Coach

It's really hard for coaches to see their service from the benefit to the customer/client's perspective. I thought you did one of the best jobs of explaining that I've seen. Plus, the step-by-step approach was exceptional.
~ Barb Zeigler, Set and Get Your Fees

I like that the site is intentional and purposeful about getting clients. The message comes across to me loud and clear, "It's not about you stupid but what your clients want," – but you say that nicely.
~ Dr. Tim Conrad, Resilience Coach
Your coaching business dreams are worth it! Get the guide and put your best foot forward. 100% Happiness Guarantee and the bonus infographics too.
3 Bonus Tools When You Buy the Guide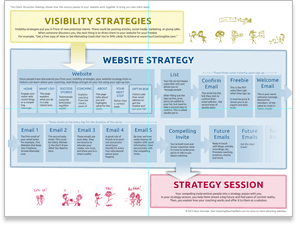 Bonus 1: The Client-Attraction Website Map
Print and stick it on your wall. This visual shows how the various components work together to attract ideal clients, build instant rapport, and lead visitors to contact you about coaching.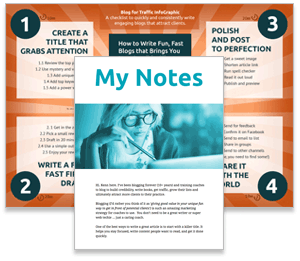 Bonus 2: Blog for Traffic Infographic and Notes
Use the "publishing is the new advertising" approach to get attention from potential clients online. My Private Notes show you how I reached thousands of visitors monthly, got over 14k subscribers, and earned over 90k in passive income — and I'm no one's guru.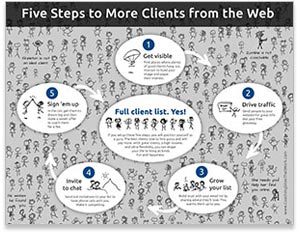 Bonus 3: Clients From the Web Infographic
If you want a website that brings in clients while you sleep, you need to have a few things in place. When the coaches I work with aren't getting enough leads, I whip this out and troubleshoot. It works like magic.
I want the guide!
Choose GUIDE or KIT below.
Option 1 of 2: The Guide $129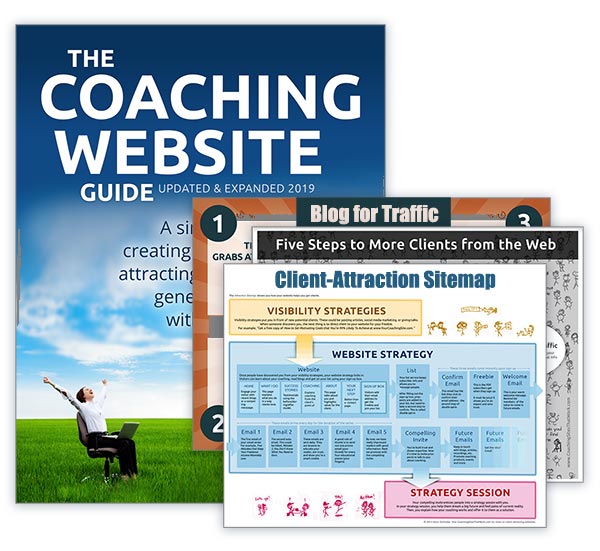 Design your website to attract new clients.
You won't regret it.
A 320-page PDF of my best advice
Bonus 1: The Client-Attraction Sitemap
Bonus 2: The Blog for Traffic Infographic & Notes
Bonus 3: Clients From the Web Infographic
100% Total Happiness Promise
Option 2 of 2: The Quickstart Kit $297
Dive right in and start building exciting momentum with …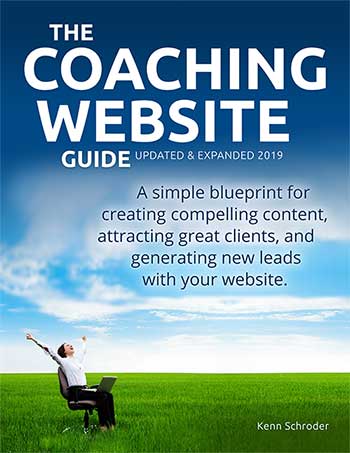 The Coaching Website Guide
320-page PDF of my best tips for a website that engages and excites visitors about coaching.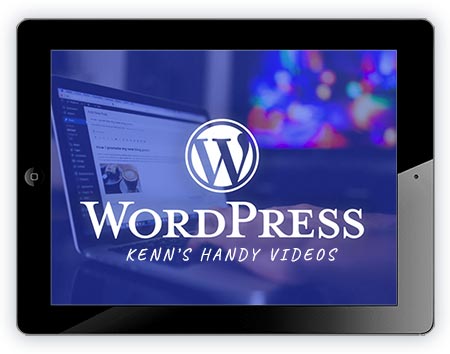 WordPress Videos
Quickly learn the basics and harness the #1 content publishing platform on the Web.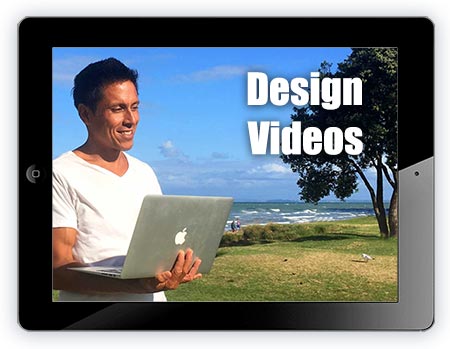 Design Videos
Learn how to make your website both eye-catching for visitors and authentic to your coaching style.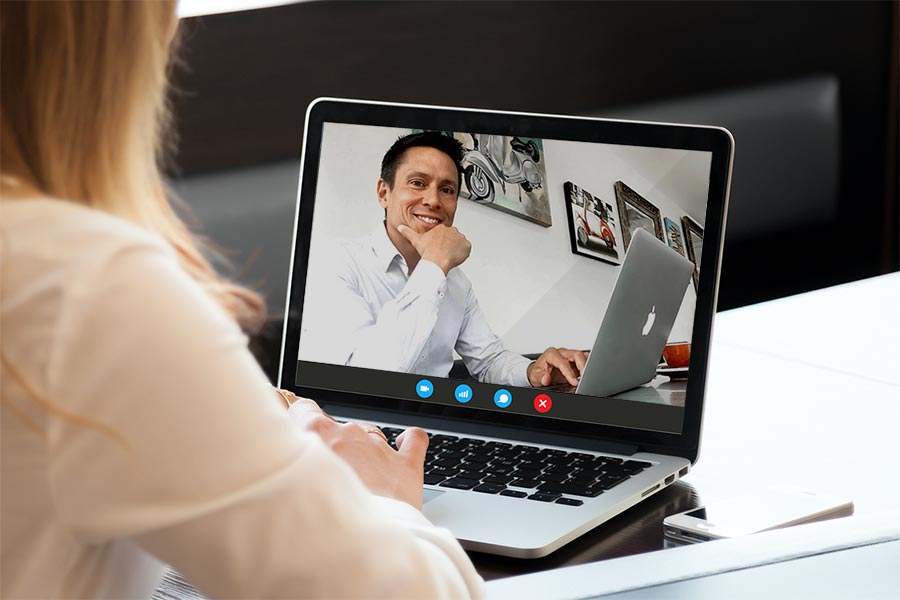 Web Coaching (Optional)
You get 30 days of direct email support, my personal feedback on your website, and launch challenge.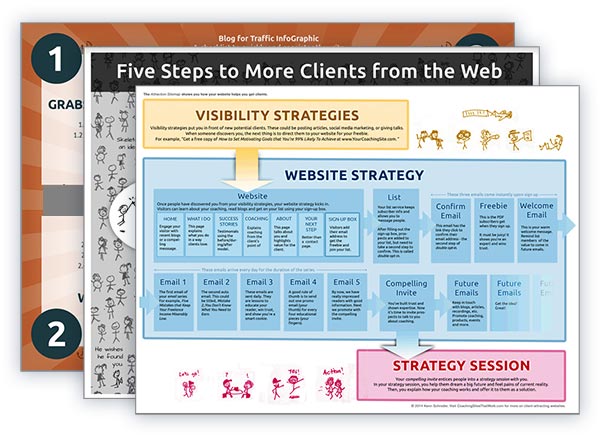 3 Bonus Infographics
See the big picture of getting clients online as well as the inner workings of your website.
100% Total Happiness Promise
I want you to get a lot from the guide. If you're not satisfied with it, just reply to the purchase email within 30 days and it'll be taken care of right away. No fuss.
Common Questions
Who is The Coaching Website Guide for? It's for coaches who want to build high credibility, who want authentic websites, and who want more clients.
What if I'm not very technical? This guide is not a point-and-click tech manual. It's for content, design, and strategy for creating a website that attracts clients. If you're only technical help, you'd best hire someone or get training.
Will I learn WordPress? WordPress is outside the scope of this guide, but I do give you some of the basics. This guide is for use with any website creation tool.
What about SEO? Is it in the guide? No. It's too big of a topic. However, I give you some of the basics that have helped many coaches start getting new clients from the Web.
How is your guide different from all the free stuff out there? The free advice out there is general, overwhelming, and loosely relevant for coaches. This guide has the stuff I've found that works for coaches.
I'm a techie. Should I buy the guide? Yes, if you're a coder who struggles with the copy. You'll use this guide to write good content and organize your website to bring in new leads.
Can I get a refund if I don't like it? Yes. Instantly. You've got 30 days.
Should I get the guide if I'm not using WordPress? Yes, because the guide is all about the strategy for generating leads. It matters less what website creation technology you use.
Got a question? No sweat. My doors are always open. Just email me at email hidden; JavaScript is required, and I'll respond within a business day.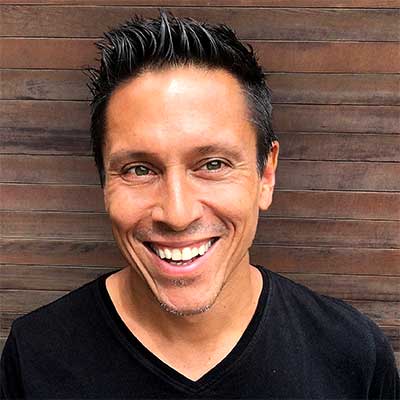 On a personal note…
Feb 14th, 2021
Valentines Day Update 🙂
New Zealand
#LockdownLife
Dear coach on the grow,
Hey, a big congrats on your brave decision to establish a coaching business.
Coaches are awesome people doing doubly awesome things. You're a bird of my kind of feather.
Perhaps you want to leave a job you no longer enjoy. Or shift gears into something more meaningful.
Maybe you want to coach people online because in today's fast-paced, chaotic world, making good decisions is more critical than ever.
There's also a good chance you also want the lifestyle benefits of working from wherever and whenever you like. Thus, enabling relocation, travel, or extended trips.
If so, then you and I have some things in common.
I left my high-paying, comfy insurance job to pursue work that excites me. I wanted time and location flexibility to pursue other passions.
I've been fortunate enough to have lived abroad in Paris, Argentina, Mexico, and currently in New Zealand.
I've been lucky enough to work from cool cafes or the comfort of home. I'm around great people. I can travel easily. I can live more fully.
It's all great stuff, and you should pursue the goals that light up your life. Abso-definitely!
But as you know, the challenge ahead is finding new clients — consistently, predictably, and profitably.
I already know from experience that there are already 5-10 clients around you who would sign up with you if only they knew about you.
Your job is to make it easy for them to discover you, learn about you, and get on a call with you.
This is where your website is vital. It should be one that you can't shut up about. One you can confidently and easily share with the world.
People will check you out, and your website needs to represent you well. Without one, or a crumby one that lowers your value, a dull, ugly one, coaches resist any effort to spread the word.
And that'll get you nowhere.
If $129 feels pricey for a stinkin' pdf (that you'll have to print or read on a screen too. Yuk!), then …
… I hereby give you full permission to bonk me on the head in real life.
But consider this …
If you jump in blind and create a website that doesn't work, you'll spend $1500 to $5000 and struggle for months (years for some) before having the courage to stop, rethink, and start over.
Or worse, throw in the towel and give up on your coaching business dreams.
Why not just get the guide now, do it right the first time, and maximize your chances of success?
Also, the info in the guide isn't any dusty sweeping of online litter. It's well-sourced from 20+ years of in-the-trenches work.
And hey, if you get just one new client from your website, this guide will have paid for itself.
Besides, there's nothing to lose because I'm happy to refund you if needed.
Kenn