Before and After for Jeannie
Here's a website before and after for Jeannie Murphy at http://www.ForTimesLikeThis.com.
If you want your website looked at to improve it, just schedule some quality time with me here and we'll find high-impact yet easy-to-do enhancements to improve your website for client-attraction.
Here's the BEFORE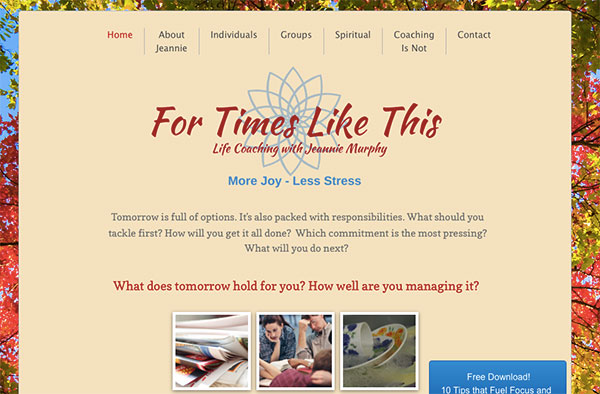 Here's my suggested tweak
I'd get your free giveaway up to the top of your website for two BIG marketing reasons:
(1) Because it will be a tool to drive traffic to your site. Imagine networking live, or chatting online, when you interact, you can tell people, "Hey, get 10 tips to fuel focus and promote productivity at my website." It's much better than saying, "Hey, check out my site" which no one ever does.
… and …
(2) Because it's a tool to grow you list via ethical bribe. They get the freebie by joining your list – and of course they can easily jump off your list when you want. It's like get a free topping with your pizza. It's a way to get people in the door, and give them a taste. Attract.
And don't be like "Is he really comparing coaching to pizza? 😉
Here's the after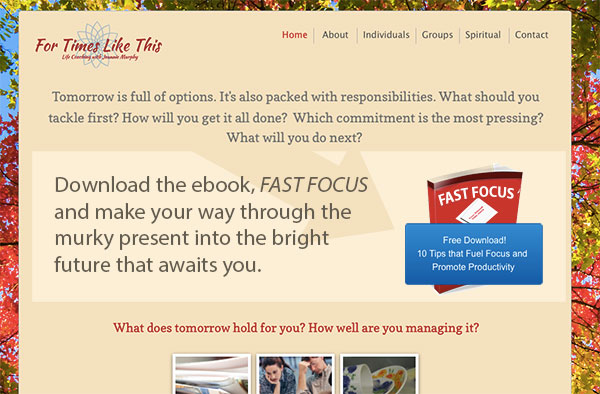 Also, by having people on our list, you gain control and can actively grow the relationship as you send them emails. If you don't get them on your list, you may never interact with that visitor again. Boo.
Love to hear what you think. I read all comments and will respond. Just post below.