Life Coach Sandy Lee's Website Before and After
I've been reviewing coaching websites on LinkedIn. If you want yours reviewed, find me on LinkedIn and post your site. See Coaches Support Group, Blogging for Coaches, Life Coach Network groups.
If you'd rather not wait, then schedule some quality time with me here and we'll find high-impact yet easy-to-do enhancements to improve your website for client-attraction.
Here's some advice I gave to Sandy Lee of www.genesislifecoach.net.
I like:
I really like this, "How will it feel to discover the life that keeps you mesmerized because your spirit and bank accounts finally line up with who God created you to be?"
The images you have are nice too. Visually nice.
To improve, three things …
I would argue strongly that the #1 thing you want to do with new visitors to your site is "get them into your system" so that you can both (1) serve them and (2) win their trust. This is done nicely with an email list. So, get your email list invitation (a) working (it's currently not) and (b) prominent on the home page and (c) coupled with a juicy freebie that you give them instantly for signing up. Just think, once you've got them happily on your list, they can learn more about your stuff over time  If they aren't on your list, you'll probably never hear from them again.
Get that awesome statement about "How will it feel to discover …" visible, big, and unmissable. At current, It's nearly invisible.
You are Sandy Lee, not Genesis Life Coach … so don't hide behind the name of your business, but warmly, presently, and passionately "be visible" … as "there" as you are when you coach clients. This means not to say stuff like "work with us" when it's really you and to have your name, face, and personality shine through sooner.
BEFORE: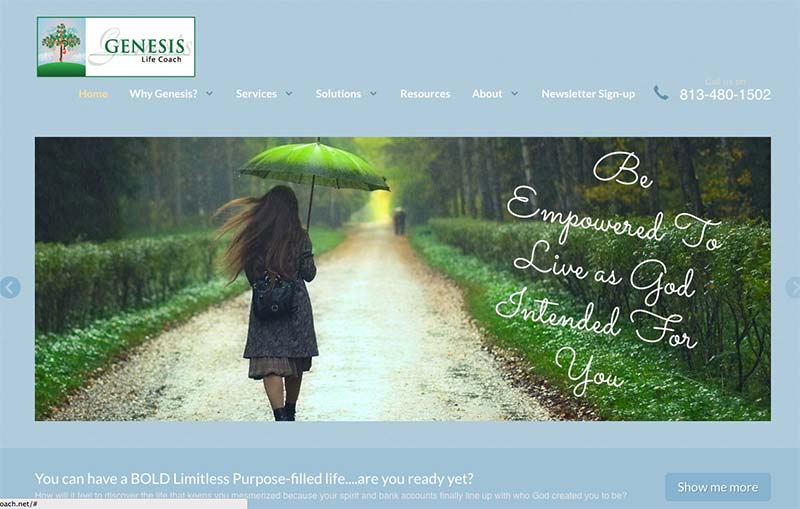 AFTER: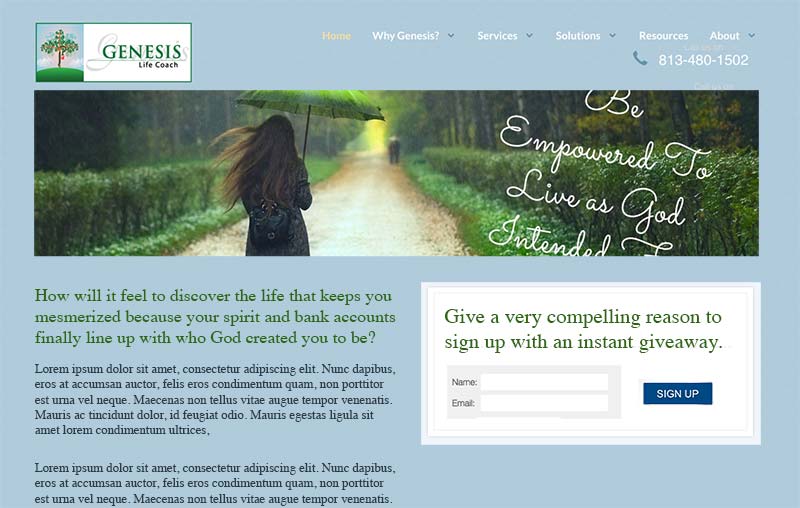 To get more clients from the web, consider:
Further honing your core message so it sings brightly from the heavens. The basis of your core message can grow from the statement I mentioned above, "How will it feel to discover …"
Create a golden freebie that captures the soul. Give it to them when they join your list.
I wrote all about (a) how to make a great freebie that both serves your clients and (b) how to fine tune your message to help others see you as a great option for help as a coach in The Coaching Site Guide, over here.
Congratulations on getting a website up! 66% of coaches who attempt to do this, either never get it done or it takes 6-12 months or more to do, with much fuss. I'll add that of the ones that do go up, most do nothing for getting clients.