The Mountain Sketch for That Oh-So-Fun Initial Coaching Session
I know a lot of coaches struggle with their initial sessions. They deliver a powerful call, but the coachees don't end up committing (and not paying obviously).
There are many reasons for this, but from my experience, the reason is that the "value to the client" isn't big enough. The session doesn't make the investment in coaching and clear, obvious, exciting, easy YES of a decision.
What I've found most impactful to show "the value coaching" is to show the client, clearly, what's at stake.
For a client to commit to working with you long term and pay deserved rates — while also eager to put in real hard work — for say 3, 6, or even 12 months — the value must be excitingly clear.
Coaching with you has got to be well worth it. And for the client, the value is the difference between these two possible futures:
The dream future (mountain) – the peak you want to help them climb for a better life, career, health status, relationship.
The nightmare to avoid (hell) – which is a future of undesirables, problems, pains, and bad stuff that might come in the future if action isn't taken.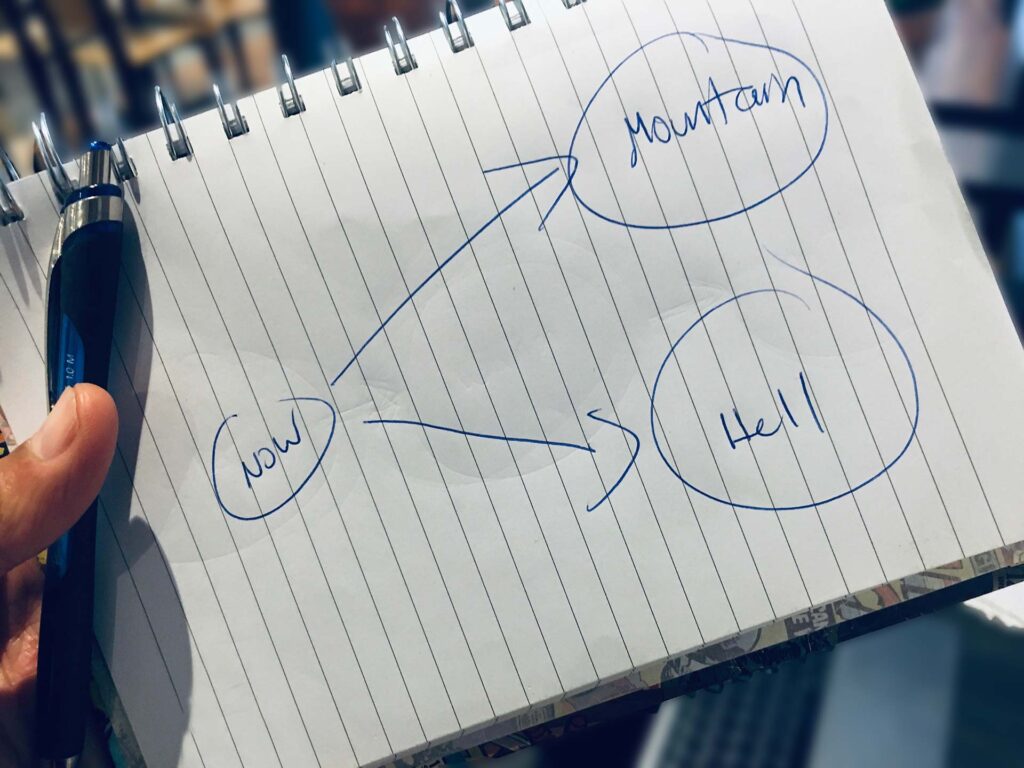 In my book, The Coaching Website Guide, I wrote about handling this initial session as well as website strategy for attracting clients.
I'm nearly convinced (and you can tell me otherwise in comments) that being human means we (1) need to grow, learn, evolve, and work on good things, AND (2) we instinctually seek to prevent problems, traps, pain, death, and danger.
I think it's hot-wired in us. I think it's to be accepted and respected and embraced. It's what it means to be alive. (If you feel otherwise, please post below, love to hear about it).
But if you agree, then why not find out what your potential client's future dreams and scary nightmares are? Ask about their exciting mountain and feared hell?
It might take some patience, trust, and tact for them to open up, and maybe they — or will partially — or maybe you ask them to think about it secretly.
The amount of positive momentum that comes with a real, honest, emotional look at the difference between A and B is incredible — and is the reason clients should hire you.
You will help (coach) them to face it, honestly, supportively, positively, energetically. You'll care. You'll be there. You'll encourage. You'll hold accountable. You'll cheer them on.
You'll listen when it gets confusing and they need to find the next steps. That's why you are amazing to have. You'll help them up the mountain and avoid the hell.
Find this helpful? Please hit this LIKE button!