How to Take a Great Headshot
You might be shocked to discover what a bad or missing photo says about you.
If you don't have a photo at all on your coaching website, people will assume that as you are…
not serious about what you do,
afraid to show your face, or
too busy to get one and thus not serious
A poorly taken photo is not good either. It's going to a job interview in an ugly suit that doesn't fit right.
In this post, I'll show you how to get one of those top-notch, approachable, headshots that clients just love to see when they visit a coach's website.
Some signs your photo needs retaking:
it's blurry, fuzzy, or grainy
the picture has weird shadows that give you a mullet
it's hard to see your face, or you're wearing sunglasses
the background is distracting like having strange people
you are poorly dressed and don't look the part of the coach
Not having a photo, or having a low-quality one does not instill confidence in your clients.
True, it does take time and work to get a photographer, to get dressed, to take the shots, to pay for them, and then get your techie to update your website.
But visitors won't be forgiving if they don't see your face or if the headshot is not up to snuff.
Just remember, your clients have difficult problems to solve and significant goals to attain.
If they are going to pay big bucks for coaching, they want to hire someone who is serious, committed, and will treat them with the utmost importance.
A good photo says that you care about your work and take your business seriously.
11 Tips to Get the Perfect Shot
1. Do a lot of laughing before and during your photoshoot. It helps loosen up the body and bring about a warm, genuine smile.
2. Don't include anything distracting in the background of your headshot. It will distract from your face.
3. For your outfit, consider your audience and the image they'd be drawn to. If you work with serious, busy executives, a clean, crisp suit would be in order. If you help women get fit, then a healthy outdoor look in fitness gear could work.
4. Look into the camera and make eye contact. This makes you look confident, and it builds trust.
5. If you're a woman, you probably already know what colors look good on you by just looking at your wardrobe. If you're a man, go find a woman to talk to 😉
6. Professional photographers are a good idea, even though they will cost. But if budgets prohibit, you can do equally as well by finding a friend with a good eye and applying tips in this article.
7. Outdoor light is GREAT! A room with a lot of outdoor light coming in will do just as well. When outdoors, avoid direct sunlight by standing in the shade or on the side of a building. Bright light can make you squint and create odd shadows.
8. When indoors, try to fill the room with multiple light sources and shoot without the flash. The flash will often turn short dark hair into mullets or big fuzzy wigs. I suggest getting back outside.
9. Avoid folding your arms, which is associated with distrust. Avoid touching your face, which is often is often done uncomfortably and makes for poor body language.
10. Stand or sit upright, but do so comfortably. You can take a few moments to flatten up against a wall but then try to relax your shoulders and breathe and smile.
11. Thinking about how you've helped people in the past is great to bring about a good feeling inside. That will come out in your photo. This 11th tip is probably the best thing you can do.
Learn how to get that Cover Girl smile, add in some good copy, and make a website that brings you new clients in The Coaching Website Guide.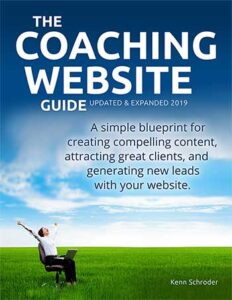 What to Wear

Spend some time thinking about what kind of outfit that your audience would find appealing.
Are they middle-class working parents with high school teens who need parenting support? A business casual dress similar to the school's guidance counselors might do.
Are they senior citizens dealing with the financial challenges of retirement? Then, professional business attire might be in order.
If your clients are affluent, country-club golfers looking for a life coach to help them balance work and family, then maybe a fund-raising event would have dress styles that work.
Avoid clothing that distracts from your face, such as overly bright colors, a weird hat, or an unusually large animal brooch.
If you are unsure, then have a chat with your clients or people who could be your clients to get ideas.




Tips for Taking Your Photo
If you've got the funds, a pro will know how to get you smiling, how to handle lighting, and how to compose a great shot.
However, if budgets prohibit, I wouldn't worry in the least. I've seen super-duper photos taken by digital cameras with a friend while applying the advice on this page.
For your website, a recently bought digital camera or phone will likely have the resolution (pixels) to do the trick.
My 5 best tips for doing it yourself …
1. Take lots of photos.
I often shoot 50-100 when helping a friend. And in that, I often find a few real gems. You can easily delete the junk ones. Plus, it may take a few minutes to get warmed up.
2. Photos taken outdoors are excellent for healthy, vibrant images.
When shooting outside, don't use flash, and stay out of direct sunlight as it causes squinty eyes and odd shadows. Shaded places are better, and cloudy days work well.
3. Have your friend hold the camera while standing firmly.
Better yet, hold it against a tree or a wall to prevent any blurriness from movement. You can use a tripod along with the camera's timer as well.
4. Laugh a lot!
Do lots of laughing to get into a great mood. They make for super, friendly warm smiles.
5. Edit the image
If you have access to an image editing program like Photoshop (or an app or camera setting) that allows you to add color, sharpen an image, or balance the lighting, this can do wonders.




At Least Eight Places Your Photo Will Be Used Online
When you start your business, your photo may only be on your website. But as you grow, it will start to be used elsewhere, such as:
your website
Facebook profile – any social sites
in your bio on your school's website
anywhere you submit articles
at any find-a-coach services or directory
on any printed materials
your Messenger, Zoom or Skype profile
listings on coaching or professional associations websites
Do it right the first time and get a clear, approachable photo. Be visible, transparent, and present. Clients love that.




Get Into a Positive State to Make Your Smile Shine
If you do any meditative, relaxation, or focusing techniques to balance your energies, like perhaps the Sedona Method, it can help you release and open up.
You can also take a few minutes to think about one of your clients you've helped in a big way. That'll feel good inside.
I suggest an upright posture without being too stiff or a slight leaning-forward pose like one would do when listening. No slouching, and don't look too relaxed.
Be sure to take a lot of pictures. I've taken as many as 50 to 100. In the coal, you'll find gold.




A Few Good Reads on Photos
I'd love to hear from you. What's your biggest takeaway?
I'd love to hear what's going on in that busy little mind of yours. Just post below.