A Savvy Content Marketing Strategy for Coaches
Coaches are quite the savvy folks. They are very good at listening, seeing where others may be stuck, and posing questions to help them through the fog — to uncover a client's powerful self-driven, unique way forward.
I predict that you're that person — and have endless brainy wisdom. If you can xfer those ideas into a sharable form (I love blogs, and that's what we're talking about here), and do it well, then you've got the coal to fuel amazeballs marketing that'll send clients to you in droves.
But, pulling together wise words into articles, blogs, or posts that people will enjoy is often tough, especially for first-timers.
I know it. I've been there. I recently updated a blog post from 2012, and as I reviewed it, you'd wonder if English was my first language. ;P
Once you pull together smart write-ups, the next step is to get it out online in where it'll be well received, places where new clients are paying attention.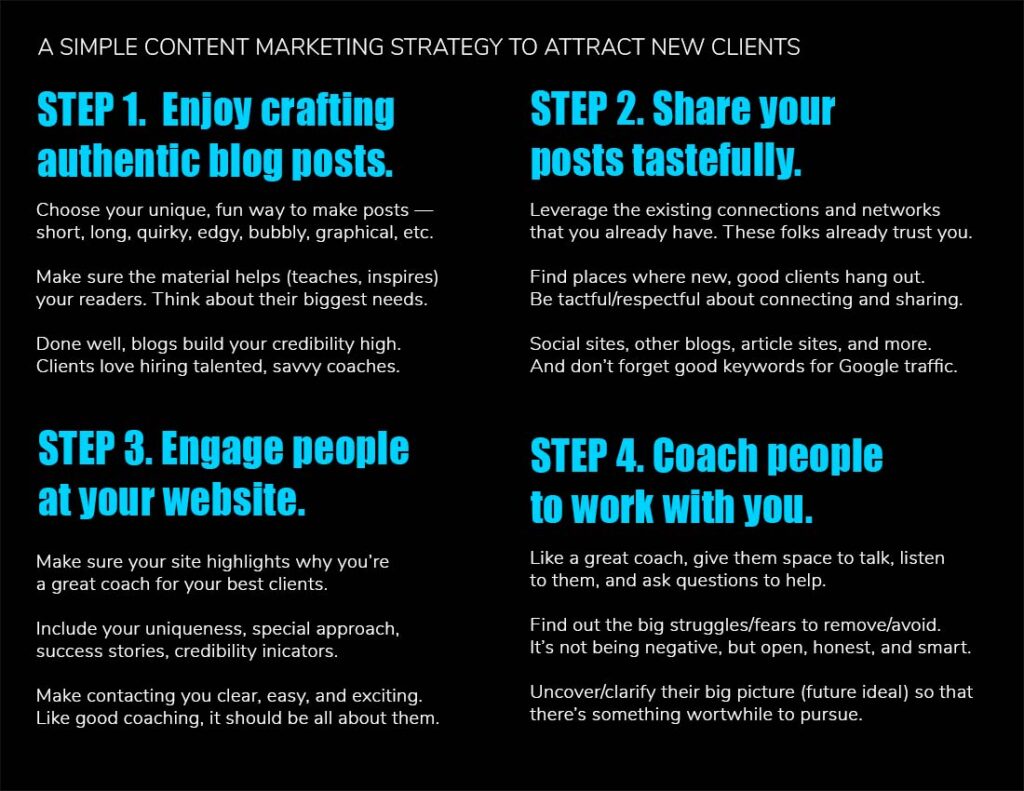 Above is a graphic of the content marketing strategy — a combo of blogs, keywords, SEO, and social media — with steps for attracting clients.
So, in this blog post, let me share a simplified outline of four steps to give you that top-level view of a content marketing strategy for marketing your coaching business. I'll address a few sticky spots within each as I go.
STEP 1. Enjoy Creating Authentic Posts
Find your unique, fun way to make posts —short, long, quirky, edgy, bubbly, graphical, etc.
Each coach is a unique human with their own voice. I like to embrace that. It makes posts interesting, engaging, and a blast to create.
Also, SEO specialists agree, uniqueness of content is a big plus in the eyes of Google. Duplicate or "same old" content doesn't fair as well.
Find your special, natural way of communicating via content.
Just make sure the material helps (teaches, inspires) your readers — which boils down to addressing their biggest needs.
Writing about a general topic is tough because you can end up writing forever. You get idea overload.
I find it better to narrow in on a specific client, friend, colleague (an individual person) with a particular challenge and write your posts to help overcome it.
Get clear about the exact problem.
If you can find your special way for content and help clients look at their unique challenges, that's a winning combo!
STEP 2. Share your posts strategically, tastefully.
Leverage the existing connections and networks that you already have. These folks already trust you — they will hire you and refer you.
When we launch new websites and build traffic strategies, the first batch of clients typically comes from those who already know, like, and trust you.
Makes sense, right?
Definitely get your content out to your existing tribe.
Find places where new, good-fit clients hang out — be tactful/respectful about it!
In addition to working your existing networks, tack on new sources like other blogs, social platforms, or web-based magazines. The places to do so are endless.
But don't just force-feed (spam) your material. Learn about the medium/platform and respectfully engage with it.
Social sites, other blogs, article sites, and more. And don't forget good keywords for Google traffic.
If you can pay attention to good keywords (a little research goes a long way) and mix those into your writings, it'll begin to help.
STEP 3. Engage people at your website.
Make sure your website speaks to the challenge and desires of your clients.
Whatever content you put on your site, various coaching programs, an About Me page, credentials, and accomplishments — make sure your content always comes back to value for the client.
Big value for clietns includ areas such as:
careers/work/leadership,
health/wellness,
money/finances/security,
relationships/dating/love,
survival/meaning/fulfillment.
Include your uniqueness, special coaching approach, success stories, and credibility indicators.
These all highlight the value you bring to clients.
Make contacting you clear, easy, and exciting.
Getting in touch with you for that full-on free session, that quick consult, or paid power-hour should be quick and easy.
It's your job to lead them to the opportunity of working with you.
STEP 4. Coach people through the process of deciding to work with you or not.
Though being new and wanting a full list of clients may make you want to sign everyone one up, the reality is that it probably won't make sense for every client to hire you.
Nor, would you want everyone who shows up as a client.
Sooo … lead the process to figure this out. Coach them to the decision of working with you.
Give potential clients the space to talk, listen to them, and ask questions to help. Coach them.
This will be powerful for getting them to see/feel the value you can bring and likely make them want to hire you.
Find out about the big struggles/fears to remove/avoid.It's not negative; but instead, it's open, honest, and caring.
Helping clients not only with goals but pain-riddance is good!
It may be tough to face the hard stuff, but that's what they want/need from you.
Uncover/clarify their big picture (future ideal) so that there's something worthwhile to pursue.
But, definitely ask about their dreams, desires, struggles, and stresses. After all, there must be something worth going for — some change, transformation, adventure worthwhile.
Remember, your content marketing strategy has gotta be simple and fun! And …
If your content marketing strategy isn't enjoyable, it won't be sustainable long term, and it'll show in your words.
If this biz work can be as joyful as your Wednesday night tennis group or your Friday night book review club, then you win.
AND consistency is a big key to content marketing success as people get to know and trust you more, they'll reach out to you for coaching.
Let me ask you …
Hey, found this article helpful? If so, please like LIKE so I know! I track these likes to see what I should blog about. So thanks!
I love hearing from folks too. Got an idea, thoughts, or suggestion? Please post it below. I'll add you to my list of favorite people on the Web ;D