A Simple Home Page Title Tag Formula for Getting Traffic
The title tag is a VITAL element for getting traffic from search engines. When properly done it can do two things nicely: (1) improve your rankings so that you show up higher on searchers, and (2) attract more clicks from being visually attractive.
Each page on your site has a title tag associated with it. This tag is hidden in the code. The content in this tag is what search engines show to searchers. It's smart to optimize this.
Two keys for optimizing it:
1. Get good keywords into your title tag.
The best keywords to use in your site are the ones that people ARE actually searching on. If you're a health coach, these could be "nutritionist san fran", "gluten free diet" or "weight-loss coach." They are words people know and use.
Bad keywords to use are ones that people are NOT searching on, like "holistic energy healer" or "new age life coach", or "your wellness awaits."  While these terms might be "cool" to you, are they really words your clients would use?
So, be sure to use phrases that people will actually use.
When you put those good keywords in the title tag, search engines will be more likely to show your page to searchers and searchers will be able to quickly spot your link.
2. Get benefits into your title tag.
In addition to getting your keywords into your title, getting big benefits into it will increase your chances of getting clicked.
Let's say you did a search for "health coach New York." Let's also say the following two listings were at the top of the page:
 "132 East 56th St NY, Clinical Testing, Health, Coaching …"
 "Health Coach NY – Lose Fat Naturally with Dr. Stevens"
Which would you click on first?
While they both have the words "health coach ny" in them, the second is more readable and boasts big benefits.
A simple formula for writing your home page title tag:
 [top keyword phrase] – [benefit with keywords]
 And here are some examples:
Nutritionist San Fran – Lose Weight with Nutritionist Anne Cook
Dating Coach for Men – Attract Sexy, Fun Women with Adam Vines
Effective Tech Management – Manage Tech Teams Effectively and Succeed
Here's a live example: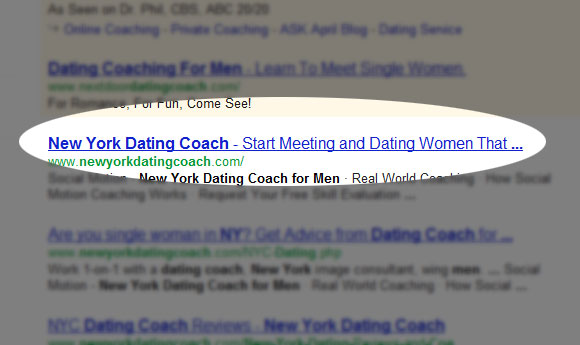 Do you see how the title has both the keywords (new york dating coach) and benefits (start meeting and dating women)?
In conclusion, bear in mind that your home page title tag is the one most likely to show up on search engines and if you can get your good top keywords into it and some benefits, you'll be in the running for high visibility and high clickability.