Alex Finishes Her Site in a Week
Alex Carter, leadership coach for nonprofits, is a student in website course that ran in November.
Two things I LOVE about her website are speed and simplicity.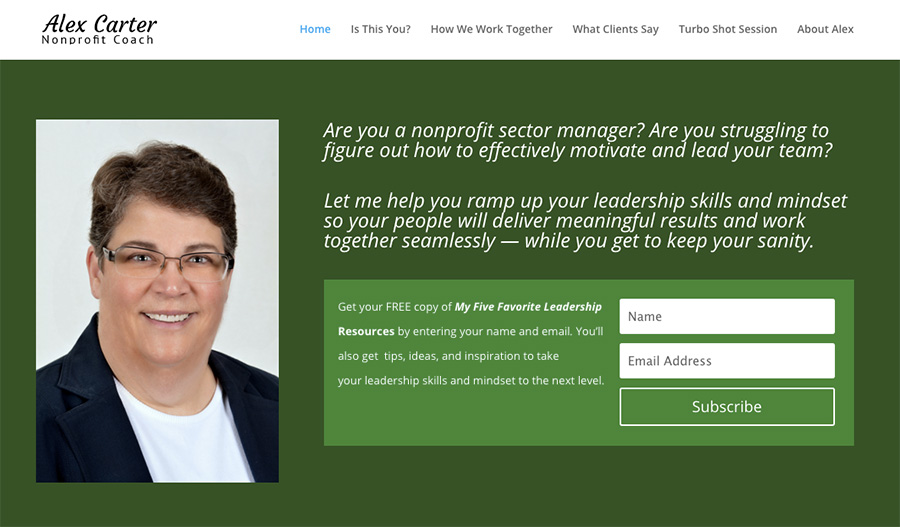 You can visit her website live here.
Her content is very easy to read, direct, and simple (and of course client focused). 
All you need to do is check out her site and start reading. It's so easy and fun to ready, I can't stop reading it.
And moreover, already like her as a person and I get a very good feeling about what it would be like to work with her as my coach.
That is priceless!
She embraced the notion of "done" over "perfect".
Her website is simple-looking which might turn off some coaches who aim to create "works of art" kinds of websites with graphics up the wazoo.
But don't be fooled as her website has the vitals: a client-focused core message, an opt-in box, an email list, and an invite for 1-1 coaching.
She can easily get in and expand the website: enhance graphics, add content, add a blog, add a free download and more as time goes on.
It's done and VERY usable right now to promote her coaching.
[box]Do you want to build your coaching website fast? Do you want one that's ideal for client attraction? Then check out the course, Build a Great Coaching Website on WordPress, here.[/box]
And she did finish it in about a week. Wow!
Imagine you had your website up in about a week, with minimal fuss, looking crisp and clean and you could grow it as time permitted?
I know so many coaches who have been stuck for months to years. And many more who actually get it done, only to have to trash it or redo it because, the message weak or not focused on the visitor. Bleh!