Blog Traffic Checklist – Get Blogs Out So Clients Can Come In
Blogs are great for building credibility. When people see well-written, current articles on your website, you look like a true expert. And that higher image gains trust and attracts the kinds of clients who seek that one-on-one special attention that coaching brings.
But those blogs won't do much if people aren't coming to your website. I see many new coaches blog, but aren't taking the time to get those writings out online.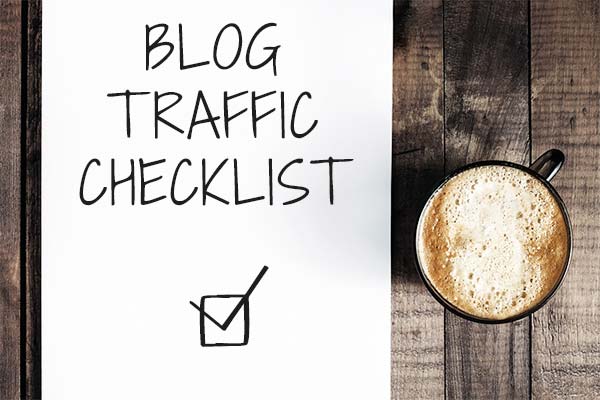 You've gotta take the time to spread them around the Web (there are an endless number of ways to do it) so that ideal kinds of clients can discover them and make their way to you.
Below is a checklist of to-do's to start getting traffic with your blog posts
These are the quick and easy ones to get in place right away.
I recommend dedicating the time to do them all at one clip. As you do, document the process and start automating them with software (WordPress's publicize settings are great for this) or with your VA.
1. Share your blogs on your Facebook profile
Your friends can become clients and can be your best referrers. If you're niche is super tight, like executive coaching to finance leaders, then it might not make much sense. But if you're coaching on healthy eating habits, and doing group challenges, well then Facebook probably a must.
2. Share them your Facebook Page
If you have one, be sure to put your latest article on your Facebook page. It'll reach the folks who liked your page. It'll make your business look active. And if you
3. Share them on LinkedIn
LinkedIn has evolved over the last few years to facilitate more social interaction. It's pretty good and on the grow with various books and how-to-market-on-linked-in gurus popping up all over the place.
LinkedIn is a professional space, so as a pro coach, you should automatically just share your blog titles as an update.
4. Send blogs to your email list
If you keep an email list or any other form of database of people you know or potential clients, then send it along to them.
It's a nice way to keep in touch, let people know you're actively coaching so they can remember you and refer clients to you.
5. Send your articles to the "special" folks
I find that with any coach, there are people in your life, network, and past who …
Love you and what you do as a coach
Are natural referrers, socialites, word spreaders
Are raving past clients or current clients
Run groups or have big networks and love to connect folks
In sitting with my clients, after just a little prodding, 5-10 names can pop up of people you really, should, oughta keep more in touch with. Start making such a list and reconnect with them, and share your article with them.
Start developing this list.
Sure, lowly beginnings, and nothing grandiose like all the insane boasts you find from people selling marketing online, but …
Sadly, the simple, free, obvious approaches to success like "getting more sleep" for health and "save more money" for finances aren't appreciated because, well, they don't sell ;P
And the above list of simple tasks are all doable, easy enough, and they will multiply the existing ways most coaches get their first clients – through people they know (right?).
I can say from all the marketing efforts from 17 years, then no single client, book sale, course registrant, or coaching client of mine ever paid me a cent without these elements at play
They know about me over some period of time
They trust me to some degree
They have a need, desire, or goal that I can help with
Oh, by the way, here's a handy infographic that shows that there really are clients sitting around you, kind of waiting for you to show up on their radar.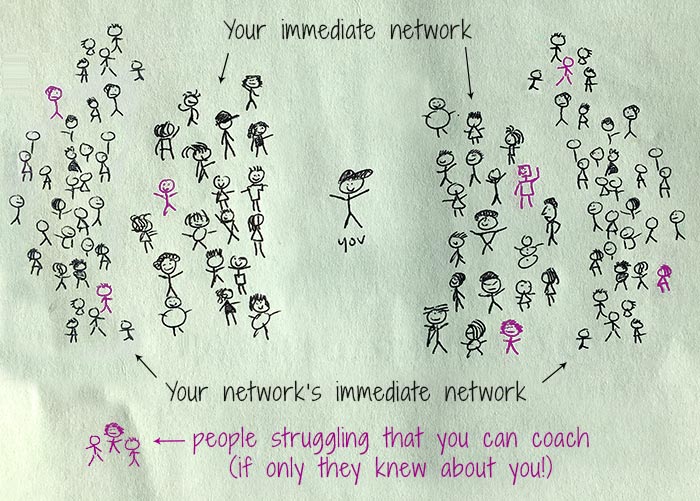 So, in summary, enjoy writing your blog posts, but be sure to get them out there, starting with existing networks, channels, and peoples who are already within arms reach.
What other ways can we start getting our blog posts out to bring traffic?